Congratulations to our Winner, Whitney Padilla!
Be sure and watch for next week's Labor Day to Labor Day 12-week Giveaway prize!
10 more prizes coming your way!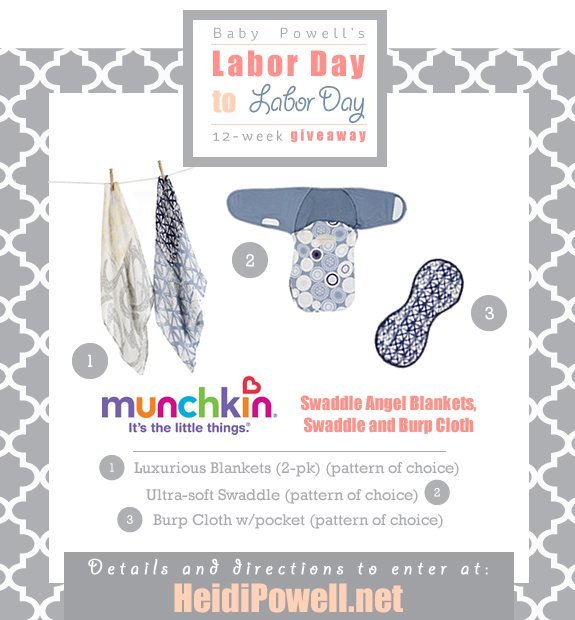 #BabyPowell Munchkin Giveway
Some amazing Munchkin goodies for your little munchkin! I might be slightly obsessed with these adorable new Swaddle Angel patterns Munchkin just came out with, and between us (and everyone reading this), I already have an entire set of everything we?re giving away on here?we?ll keep the pattern a secret for now to avoid spilling the beans on the baby?s sex! I can?t wait to use them with Baby Powell!!
All of these items are ultra-soft, and if you?ve never used them before, trust me ? BABIES LOVE THEM! I have no doubt you will too ?.
Check out these Munchkin products that you can win this week ? valued at $105.00!
1. Swaddle Angel Blankets ? 2 pack (pattern of choice). These two stylish and luxurious bamboo swaddle blankets are super soft and comfy for baby, double-layered in the center, and have these awesome corner loops that make attachment to stroller easy! You?ll LOVE.
2. Swaddle Angel easy swaddle wrap ? This might be one of my favorite things right here. All 3 of my babies have loved simple swaddlers that keep them feeling nice and cozy, just like when they were in Mom?s belly!
3. Swaddle Angel Burp Cloth – It?s unique design and ultra-durable (yet super soft) material (rayon from Bamboo) is perfect for any emergency spit up situation! The cloth was created with YOU in mind, and had a handy front pocket to make clean up easy for Mom or Dad.
How to Enter:
1. Follow me on Facebook, Twitter, Instagram, and/or Pinterest. The more follows and shares, the better your chances of winning!
2. Comment on at least two of your favorite HeidiPowell.net blog posts and share the posts on all of your social media channels. (Don't forget to use the hashtag #BabyPowell and link to my site!)
3. Comment on THIS post (below in the comments area) which blog posts you shared.
Random winner was announced on Wednesday, September 11, 2013. Thanks ?to those who entered!