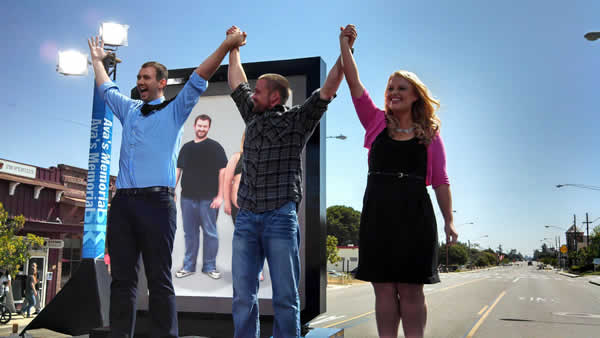 A year ago we were celebrating the amazing transformation of one of the spunkiest couples we've ever met – Ashley and Jason Hylton. Initially we set out to help Ashley on the journey of transformation, but Jason stepped up and embraced the journey with his lovely wifey…and the rest is history.? So let's catch up with Jason and Ashley to see what they're up to now!
It's Q&A time with Ashley and her hubby, Jason!
Q. Ashely, what's the latest and greatest from this past year?
A. Jason and I are doing great since the show! Honestly, I don't feel like life has slowed down at all. That's not necessarily a bad thing. Jason and I have continued to work out and eat healthy. We will never go back to the way things were before. Since the show, I have become a certified person trainer. I mainly work with people that have a lot of weight to lose. It's so awesome to be able to relate to these people and help them. I'm still going strong with my photography business. I've learned so much about myself in the last 2 years. It certainly has helped me with confidence as a person and with my work.
I have had a few set backs. Thanks to my time on EWL I have learned how to deal with what life throws at me. Shortly after my finale, I found out I was pregnant. Unfortunately, after 3 months I had a miscarriage. I ended up having surgury. Despite the setbacks, I feel like I have things under control. Learning how to properly grieve while on my weightloss journey has helped me so much with recent events. I couldn't be more thankful.
After my episode aired I received hundreds of emails from parents that have lost children. Some have been able to move forward and do great things. some are completely lost and about to give up. At one point I felt the same way as most of these people. completely alone in my pain. Getting those emails showed me that none of us are alone and there is comfort. The healing process I went through on the show and even now has given me such a heart for these people. Ive been able to reach out to them and help them to understand that they are not alone and there is healing. There are people who understand what they are going through and its ok to reach out for help. It is amazing to know that this isn't just about weight loss for me. Being able to help people after the loss of child has become a passion of mine. I look forward to seeing how god can use me in this area. If anyone out there has dealt with the loss of a child and are looking for support please look up The Still Project. http://stillproject.org/ This organization has changed my life. Ive made some life long friends as well. You wont regret it 🙂
Q. How are you staying lean and mean?
A. I am absolutely in love with Crossfit and trail runs. They have become my go to workouts. I do trail runs to clear my mind and remind myself how far I've come. It's a great time for me to just be alone with God and think. Sometimes we need to just need to relax, get some fresh air and breath. Now, When I feel like getting my butt kicked, I do crossfit 🙂 I belong to a box called Central Coast Crossfit here in Orcutt. Being surrounded by supportive, amazing people has kept me in check. No only are these people my support, they are my friends. They have been with me through my whole journey. I'm very proud to be a part of this group.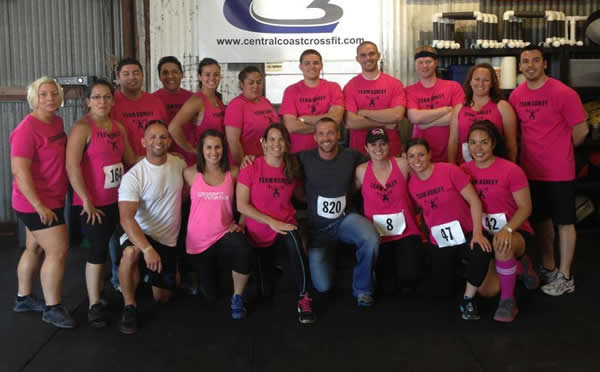 Q. What would you tell someone who's about to start the journey of transformation?
A. If I could give anyone workout advise, it would be to find something you love. Something you can see yourself doing for a long time. Only surround yourself with people that want you to succeed. Don't be afraid to try something new or something that seems too difficult. We see results when we step out of our comfort zones. 🙂 Who knows, maybe that one thing that scares you will be the thing that changes your life.
Q. How would you prep someone for the mental part of the journey?

A. My advice to someone who is just starting out is to really figure out why you are the way you are. Why did you gain the weight in the first place? The best thing I did on the show was film a message to myself. I told myself exactly who I wanted to be and why. I told my future self how miserable I was. How my body hurt with every step and how my son was on the verge of losing his mother. I talked about my goals and my dreams. I reminded myself to never go back to where I was because I am worth so much. So my advice would be to write yourself a detailed letter about how you feel and how you want to feel. When you have bad days or you feel like you want to give up, go back and read that letter. It's easy to get lost in a scale, a stigma, a bad day. Sometimes we just need a reminder as to why we want to succeed. oh, one more thing. Be kind to yourself 🙂
Q. Have you ever lost your motivation?
A. I'm not going to lie. I lose motivation all the time! The cool thing is that we get a chance to start over everyday. When I wake up in the morning I remind myself of my worth. Self confidence and self love is something I struggle with. We repeat the negative things so many times that we start to believe them! Why not start repeating the positive until they knock out the bad? 🙂 My family is my biggest motivation. Not just Jason and Tyler, but my future children. I remind myself where I came from, why I do what I do and get going. I focus on the positive and only surround myself with people that love me and want to see me succeed.
Something that I've realized- the battle with self worth, love and confidence is a struggle for me every single day. The difference now is that despite the struggle, I will never give up on myself again. This is something I learned from Chris and Heidi. I will battle this for the rest of my life. Not just the food addiction, but the self worth. The difference now is I will never give up on myself again. I love myself enough to never give up.
Q. What do you indulge in on your reward day?
A. My favorite food to enjoy on cheat days is frozen yogurt. I have a huge sweet tooth. It tricks me in to thinking I'm eating ice cream 😉
Q. What are your secrets to eating when you're busy and on the go?
A. When I'm on the go it's easy for me to grab a protein drink. I drink Vemma Bod-e drinks and shakes every day. I used the products the whole time I was on the show and fell in love with them. They have really made a difference. I always keep almonds and Quest Bars
in my car and at my office just in case.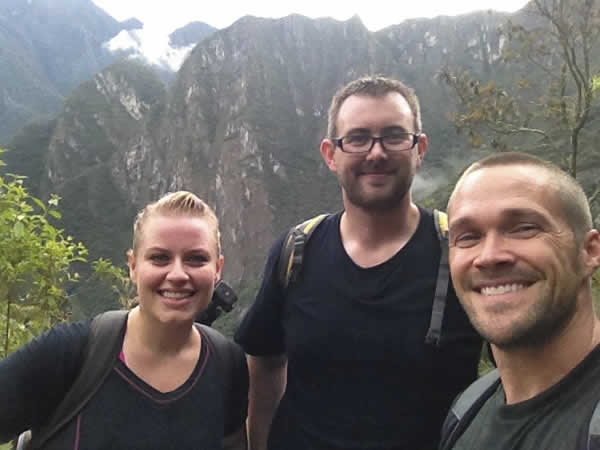 Q. Any favorite moments from your year of transformation?
A. My favorite moment with Chris was when we went to Peru. It was hilarious listening to him speak full Spanish to the locals. They all looked at him like he was crazy. There were so many small moments with Chris on the trip that I loved — scary bus rides on small roads, crazy people on airplanes, workouts on the streets of Peru. Nothing compares to that moment when we reached the top of Macchu Picchu. What a crazy moment for Chris, Jason and I. It's something I will never forgot.
Oh, lets not forgot Chris getting bit on his butt by a stray dog while we ran stairs. That's something we will never forget!
Did you miss Ashley's original episode? Watch it now on youtube!
Want to connect with Ashley? Find and follow her here:
http://ashleyhylton.com