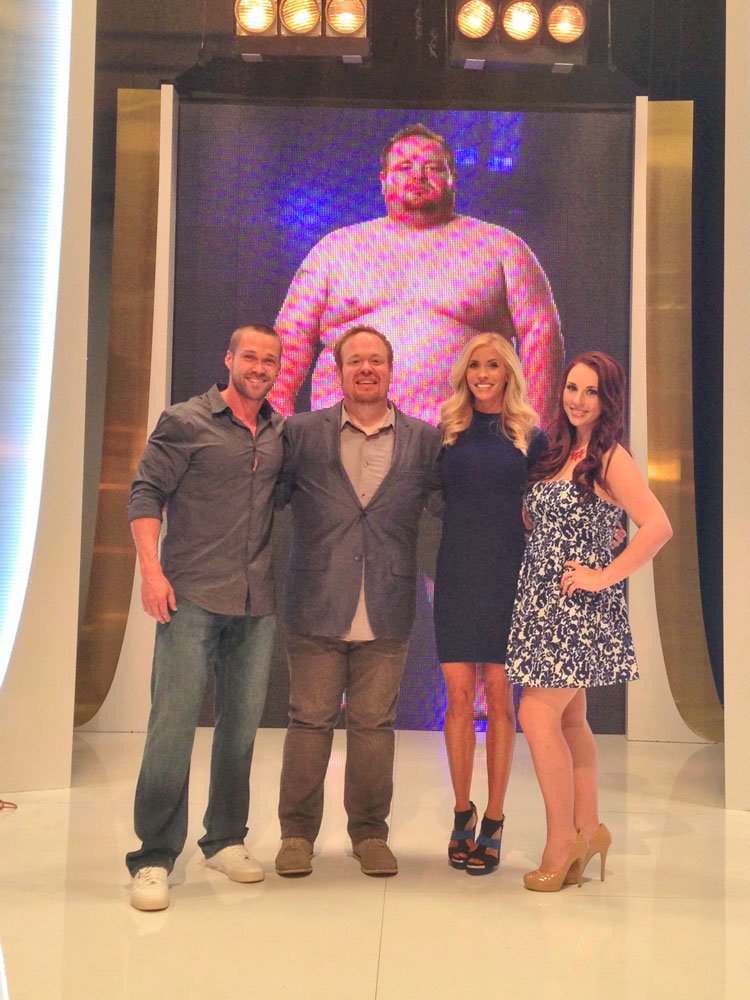 Who wasn't blown away by this guy last night?? With the humor, the mad song-writing and performing skills, and one incredible physical and emotional transformation, how could you not be?! Now that our friend's episode has aired and his year with us has ended, time to chat it up with him about weight loss, the wifey, and what's next!
[slideshow_deploy id='8182′]
Heidi: Jayce, Chris and I absolutely love you, and are so proud of all you accomplished this last year. There sure were some challenging times (understatement), but those times sure made it all worthwhile, and they made the success that much sweeter, I know this. Bringing you and Emilee into our lives has been a blessing. I couldn't be happier for all that is about to happen in your life!
Jayce: Thank you!
H: Now for the questions…Jayce, you're no longer "the guy behind the guy." How does it feel to finally be the man at the microphone?
J: It's amazing! I'm no longer shy and feeling judged when I'm on stage. I love it!
H: Your moment of clarity was when your son Tyler said, "Dad, you deserve this." Now that you've reached your goal, what does Tyler think?
J: I picked him up yesterday to bring him to Nashville for the summer. He was so shocked! He just kept hugging me and couldn't believe he could get his arms all the way around me! Haha 🙂
H: You and Emilee got married when no one was looking this year! How is life with Mrs. Hein?
J: Perfect!! She really is my rock and has been amazing beyond words throughout this transformation.
H: What's next for you?
J: I've got a single called "Small Town Summertime" that will be released on iTunes the night my episode airs. I will continue to write and perform as much as my schedule allows. And I plan on making up lost time and doing lots of fun things with Tyler, Emilee, and Emilee's 3 children 🙂
H: Jayce, you have the best impersonations ever! Can you record one of me and Chris for my readers?
J: I will for sure!!! Ha, ha
H: If you have a favorite healthy recipe or snack that you?ve discovered since becoming part of the show that you?d like to share, let?s hear it.
J: ?I am a huge pasta fan, but as we all know, pasta is loaded with calories and carbs! I've discovered shirataki noodles which have no calories, no carbs, no sodium, etc! I use these in all my favorite pasta dishes!
H: What is your favorite exercise and why?
J: I love CrossFit! It changes up constantly, it challenges you, it makes you work hard, you burn a ton of calories, and it's quick!
H: What is the first thing that comes to mind when you think of Chris?
J: Sincere! Genuine! Honest! Mentor! Friend!
H: What is the first thing that comes to mind when you think of Me? Haha – watch your answer?;). I'm kidding.
J: Tough! Honest! Sincere! Hard working!
H: Awww? :). What is one thing that you think people would be surprised to learn about me or Chris?
J: That you guys really are as genuine as you come across on the show! I get asked all the time if that's just an act for the camera. It's not! On or off camera, you get the same Chris and Heidi!
H: Ditto, my friend. You are as amazing off camera as you are on! Before we go, tell us when we'll be able to buy your album?!
J: I am hoping to have the single "Small Town Summertime" ready to go on iTunes during the show! Not sure they will be able to do it because of the short notice, so if it's not up during or right after the episode airs, keep checking iTunes, and it should definitely be there sometime in the next week. 🙂 My album is in the works, but I do not have a release date at this time.
Thanks for your time, Jayce! And congrats on your huge?victories. 🙂
If any of you want to learn more about Jayce, you can find him on Facebook, Twitter, and his website. And PLEASE don?t forget to order Jayce?s single on iTunes!!!
xoxo
Heidi