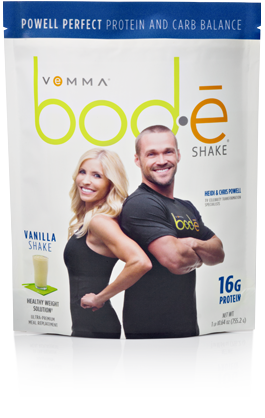 Bod?? Shake, which was designed by Chris and me, is a one-of-a-kind full meal replacement shake, as well as the perfect companion to our carb cycling program. It comes in two yummy flavors?Vanilla Ice Cream and Chocolate Ice Cream.
What?s in each shake?
Each shake delivers the perfect balance of protein, carbohydrates, fats, and other vital nutrients that combine to feed your body?s 63 trillion cells and help you to transform and achieve a healthy weight:
16 grams of protein: A blend of whey, organic pea, and organic whole grain brown rice proteins works to suppress your appetite and protects against muscle loss.
7 grams of soluble fiber:? Helps you feel fuller and satisfied longer, while maintaining normal insulin levels.
24 grams of carbohydrates: Enhances your body?s natural burning processes upon waking and throughout the day.
690 milligrams of Omega-3 essential fatty acid (Alpha-Linolenic Acid): Naturally derived from flaxseed to enhance overall brain support and wellness.
12 full-spectrum vitamins (including antioxidant vitamins):? Vital for health and well-being.
1/3 dose of a Vemma formula serving:? Plant-sourced mineral blend: Over 65 major, trace, and ultra-trace ionic, life-giving nutrients.? Phytonutrient ingredients: A blend of powerful plant and natural components that help promote good health.? Organic glyconutrient-rich aloe vera: A powerful phytonutrient known to provide the body with many beneficial effects.? Organic decaffeinated green tea: Supplies additional antioxidant power and phytonutrient protection.? Mangosteen superfruit: Provides some of the highest quantities of phytonutrients (xanthones) found in nature.
Each shake is also free of preservatives, hormones, trans fats, high fructose corn syrup, artificial sweeteners, colors, and flavors. You can be assured that every Bod???Shake is a pure blend of high quality ingredients that will also satisfy your taste buds!
How does Bod???Shake support healthy weight goals?
Protects and supports a healthy heart
Enhances immune response and supports your immune system
Creates abundant energy
Fights against free radicals
Promotes good vision
Supports a normal, healthy intestinal tract
Maintains healthy skin, eyes, teeth, gums, and hair
How does Bod???Shake fit into Carb Cycling?
Bod?? Shake is the perfect daily breakfast choice for both low-carb and high-carb days. However, since it does contain carbs, it should only be consumed on high-carb days for any post-breakfast meals. Bod?? Shake should not be used as a total diet replacement.
Is Bod???Shake gluten free?
We can?t make the claim that Bod?? Shake is completely gluten free since it?s manufactured in a facility where wheat is processed.
Can children consume Bod???Shake?
Yes, Bod?? Shake contains suitable vitamin levels for children ages 2+. Please consult your healthcare professional for children age 2 and younger.
Is it okay for pregnant or nursing mothers to use Bod???Shake?
We recommend consulting your healthcare professional before using Bod?? Shake or any other nutritional supplement if you are pregnant or nursing.
Bod?? Shake?it?s truly ?Powell Perfect,? and makes reaching a healthy weight achievable!
Visit the Vemma website for more information about the Vemma Bod?? Weight Management Products and Bod?? Shake.
*These statements have not been evaluated by the Food and Drug Administration. This product is not intended to diagnose, treat, cure, or prevent any disease.