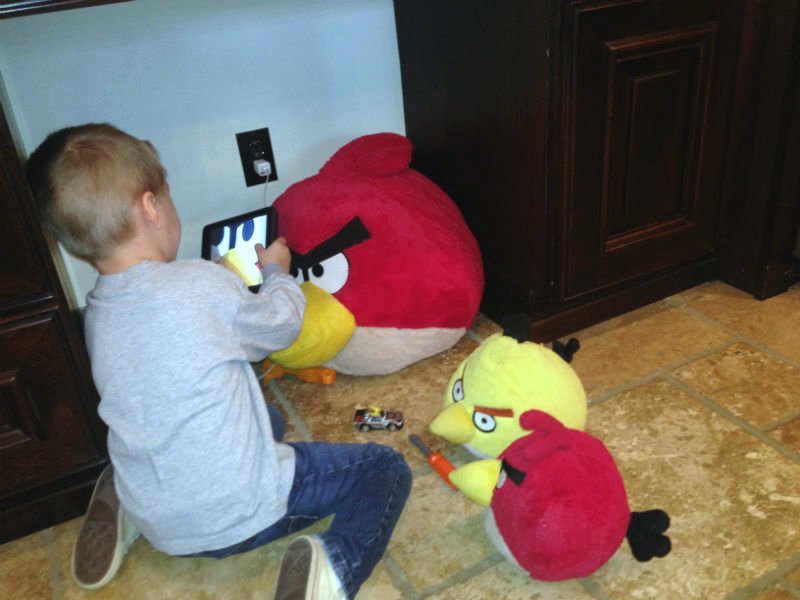 Too much media time is an epidemic that seems to be affecting kids and adults all over the world… and sadly, the Powell Pack isn't immune to the problem either! A love of Xbox and Angry Birds has snuck into our home and taken over WAY too much of our sweet kids' time. After far too many minutes spent with glazed over eyes and sore thumbs from bird launching, Chris and I developed the perfect way to combat couch potato syndrome: Time spent in front of video games is to be earned with some good ol' fashioned exercise! A quick circuit, designed by Chris, earns 15 mins of iPad or Xbox time, with a limit of earning a total of 60 minutes a day. The workouts aren't rigorous, but they're just enough to keep our littles moving and stave off excessive techno time.
Cash LOVES Angry Birds (like father, like son!), so to earn his time on the iPad, he does:
7 running laps around the pool
10 push ups
10 squats
Matix can't get enough sports games on the Xbox, so for him to earn 15 mins of video games, he does:
25 pushups
25 jumping pull ups
25 squats
400 m run
I love the idea of not only teaching them to keep electronics to a minimum, but the importance of making exercise a part of their every day lives too. The best part is they've learned to love the exercise as much as the time on their electronics, makin' me one happy mama. 😉
With iPods, iPads, computers, phones, and video game systems becoming such an integral part of everyday life, it's hard to keep our kids from spending too much time on their devices and get them up and moving, but it is so important in the fight against childhood obesity and setting our children up for a successful, healthy future. What are some ways your family limits media time and encourages outdoor play? Any tried and true methods? Share your ideas in the comments below?I would love to hear what works for you!
Xoxo,
Heidi