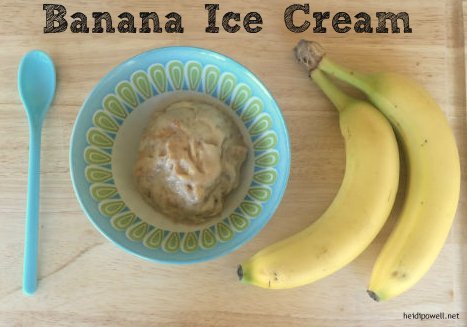 Is it just me, or is there absolutely nothing better than a big fat bowl of ice cream after a long day spent referreeing kids?! Especially in this sticky summer heat with them going in a million directions…with a million friends over at a time. I like to think it's my right as a mama…to eat as much ice cream as I want. But as much as I would love to dig right into some well-deserved Ben & Jerry?s Peanut Butter Cup ice cream, it doesn't always fit into my meal plan. Thank you to flexible dieting sometimes it does, but on the days it doesn?t, I HAVE to treat myself somewhere. After much trial and error, I've found my ice cream GOLD, my friends. This sweet treat not only fits into almost any meal plan, but seriously tastes just as good (if not better than) the real deal. Oh…and did I mention it only requires 3 common household ingredients + 5 minutes start to finish to make?! Yes. For real.
Guilt-Free Banana Ice Cream
from Jacqui McCoy?s kitchen
What you?ll need:
1 banana, sliced and frozen
? cup unsweetened vanilla almond milk
1 tablespoon Justin?s almond butter (chocolate almond butter is yummy too!)
How you?ll make it:
1. Put the banana pieces, almond milk, and almond butter into a blender.
2. Puree, turning off the motor and stirring the mixture two or three times, until smooth and creamy.
3. Pour into a bowl and serve.
What?s in it:
215 calories, 9 g of fat, 33.5 g carbohydrate, 3.3 g protein.
Xoxo,
Heidi