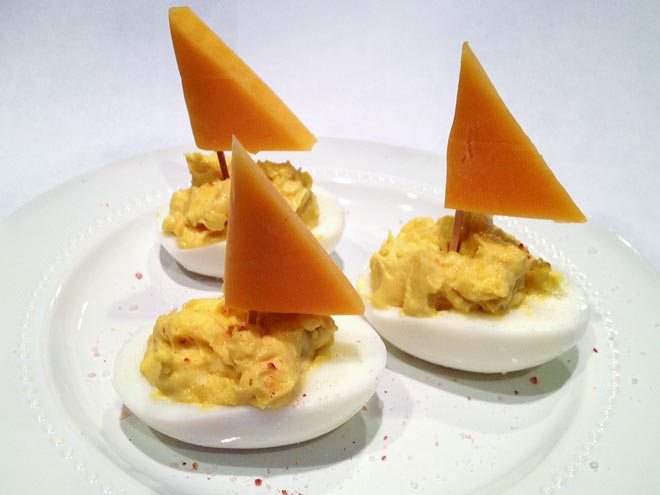 It?s National Egg Day today! Packed with vitamins and minerals and coming in at just 70 calories each, the egg is an EGG-cellent way to enjoy a healthy meal or snack. They are high in protein with 6.3 grams in an average large egg. 3.6 grams of protein come from the egg white and 2.7 grams come from the yolk. The high quality protein found in eggs actually helps you stay full longer and is a great source of energy.
Eggs are inexpensive! Prices can range from 15 to 33 cents per egg depending on the type of eggs you buy. Of course, not all eggs are created equal. Fresh off the farm is best if you can find them. Free range, cage free, and organic eggs typically cost a little more at the store but the benefits far outweigh the few pennies you spend.
A study has shown that eggs from truly free-ranging hens have:
? 1/3 less cholesterol
? 1/4 less saturated fat
? 2/3 more vitamin A
? 2 times more omega-3 fatty acids
? 3 times more Vitamin E
? 7 times more beta carotene and
? 4-6 times more vitamin D
Of course the ultimate difference is taste. Once you?ve eaten farm-fresh egg you?ll never want to eat commercial eggs again!
Egg whites are what I prefer most of the time but occasionally I?ll leave in the yolk. There are so many different ways to cook eggs including poached, boiled, scrambled, fried (try them fried up in a little bit of coconut oil for a fun new twist), deviled, baked, and let?s not forget the holiday favorite eggnog.
For my busy life, we enjoy omelets. Simply toss in a few veggies like peppers, tomatoes, onions, fresh herbs, add some low fat cheese, and top with salsa and you have an amazing breakfast in about the same amount of time as it takes to cook up one of those calorie laden toaster pastries.
I also love making it fun for the kids to enjoy this high protein source with deviled eggs for a snack. Add a little cheese "sail" and a deviled egg is now a summer-fun sailboat sure to bring smiles to every kid.
So in honor of National Egg Day today, get crackin? and enjoy some eggs today!