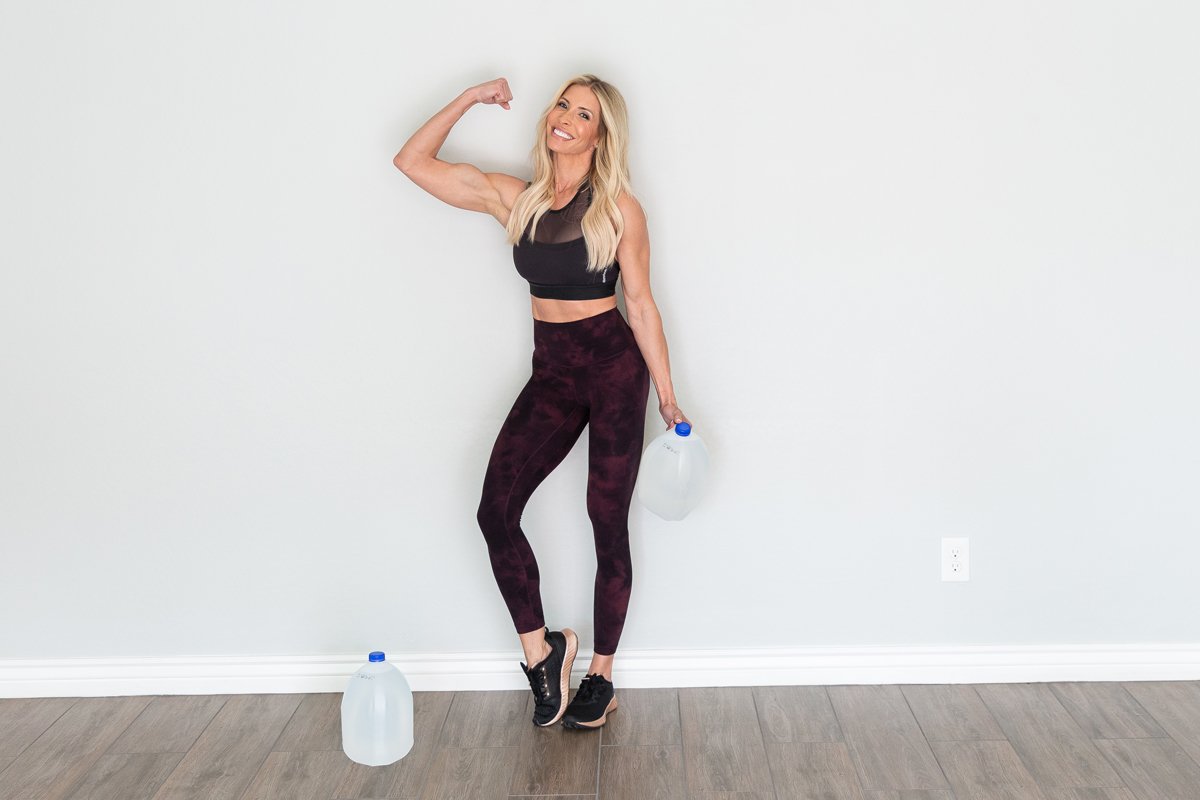 You guys, let's be honest: While we may have the best intentions to set aside an hour for some sweat-it-out, self-care, "me" time in the gym, life doesn't always play out that way. Lack of time might seem like a setback, but every busy mama's superpower is the ability to pivot, right? If you find yourself short on time, pivot and get in a great sweat with this full body at-home workout. Why full body? Well, it's the best way to hit all your muscle groups in a shorter period of time.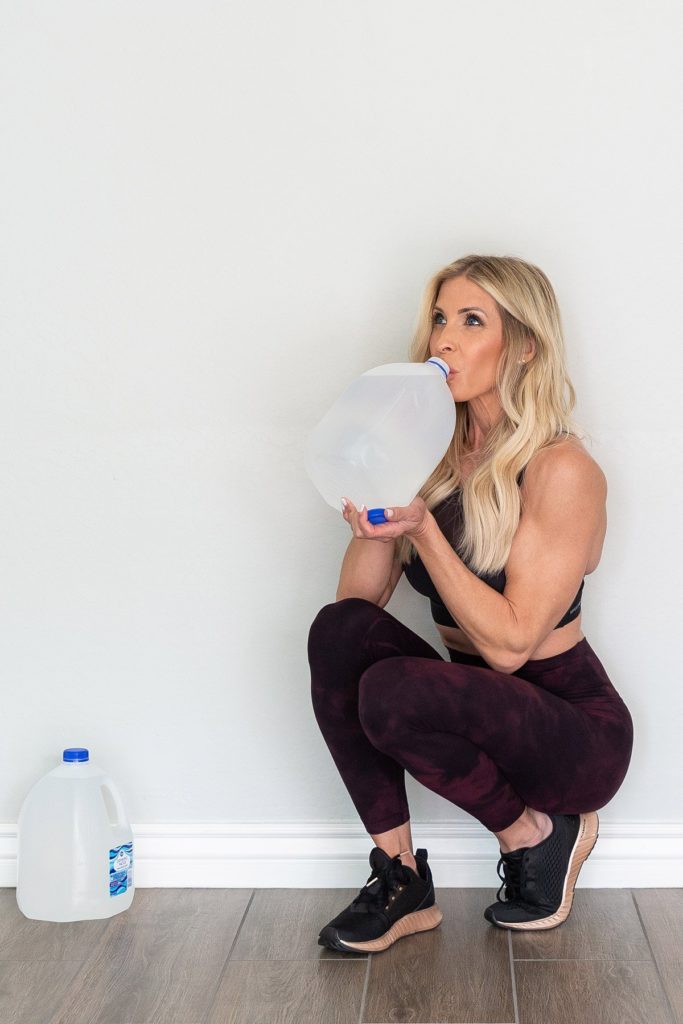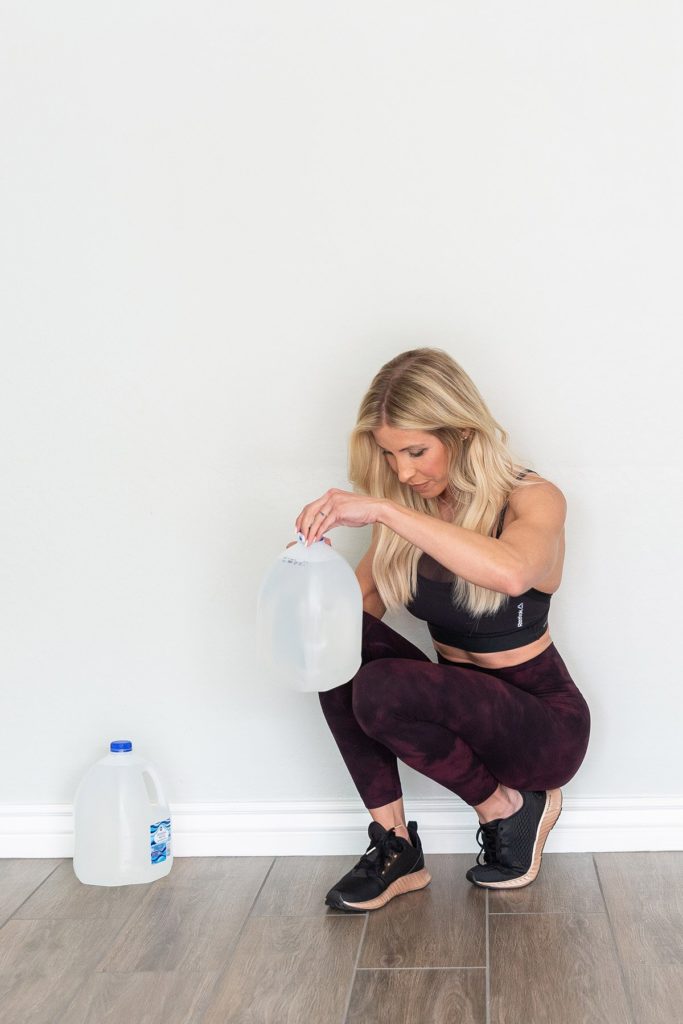 Outfit + Product Details:
Lululemon Align Leggings, Lululemon Mesh Sports Bra (sold out // similar here), Reebok Flashfilm Sneakers, Yeti Rambler Water Jug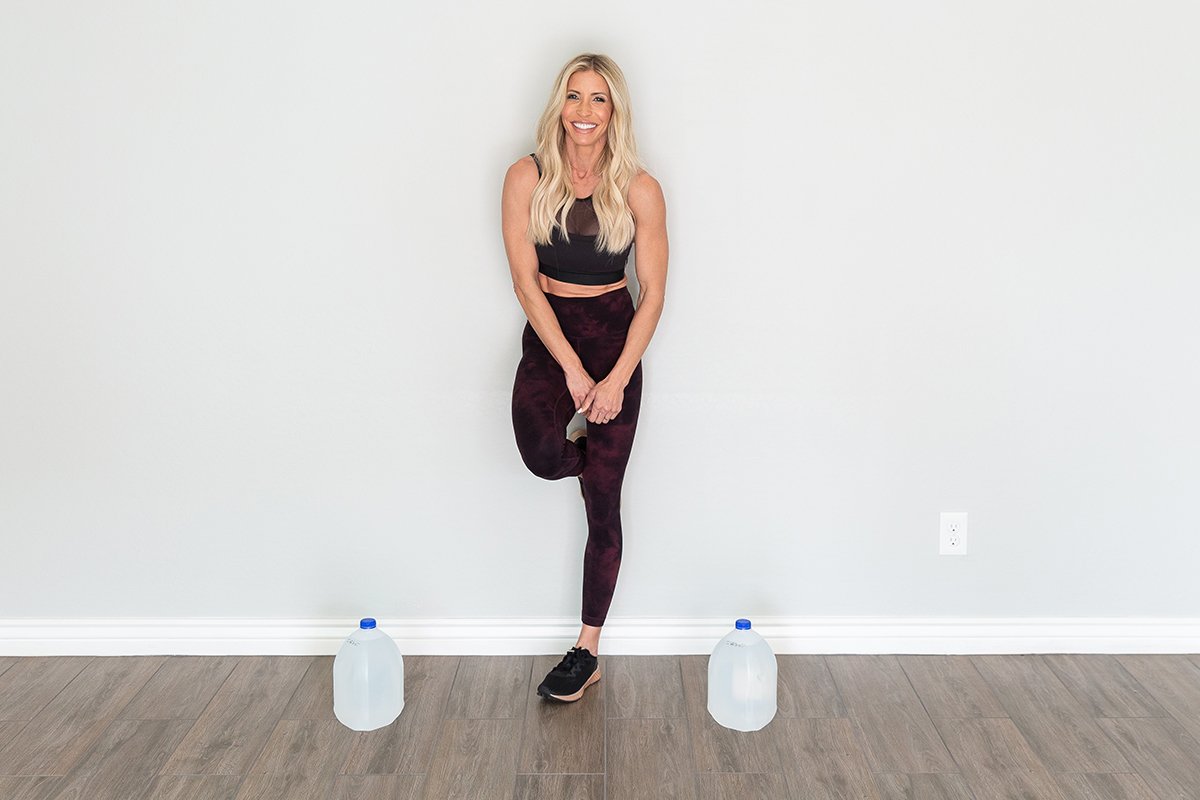 For this workout, all you need is yourself and dumbbells (or water jugs). Bonus points if you grab a resistance band to elevate the movements. Grab your favorite workout gear and take that daily baby set forward into looking and feeling your best, then do 3 sets of 15 reps for each movement.
Wall Sit Curl Press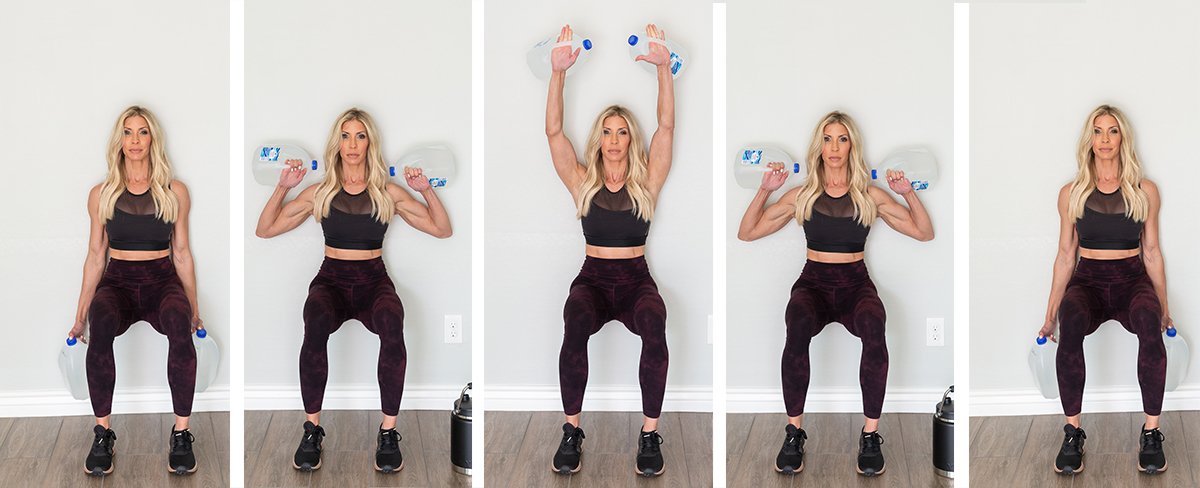 To get into position, hold a water jug in each hand. Stand with your back against the wall, then step out with your feet, placing them shoulder-width apart. Slide down the wall until your thighs are parallel with the ground, forming a 90 degree angle with your legs. Hold the position, keeping your core tight.
Without shrugging your shoulders, raise the water jugs along your body up to chin height, flipping the handles of your water jugs so your palms are facing forward, "Butterflying" your elbows out to the sides.
Press the water jugs up to full elbow extension, then slowly lower them back down, flipping the water jug handles and your palms to facing backwards as needed, lowering your arms until they're down at your sides. Repeat, remaining in wall sit position for all 15 reps if possible.
Water Jug Jack Squat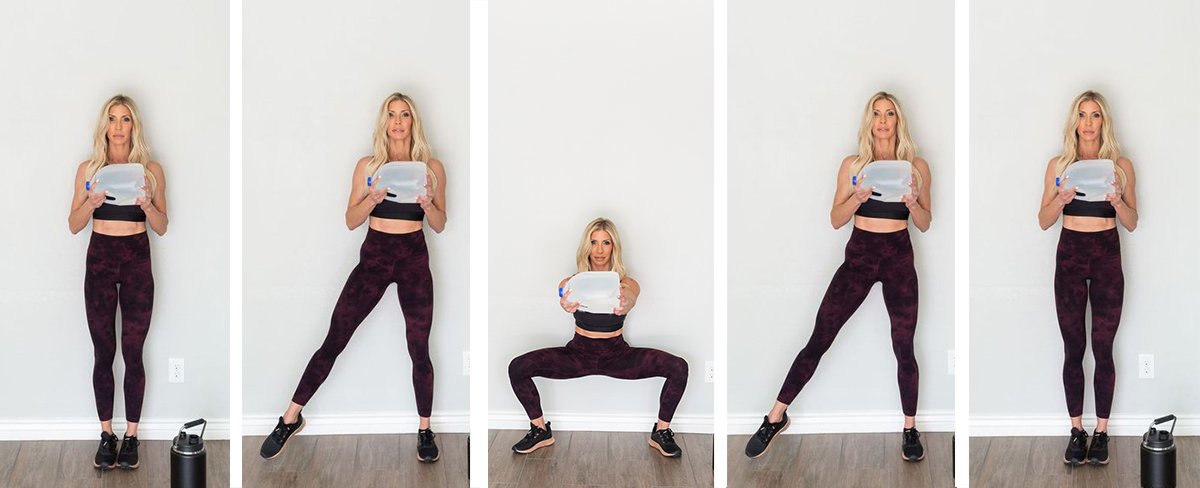 Begin standing straight, holding a water jug in front of you with elbows bent.
Step out to the side with your right foot, going into a squat position, pushing your arms out in front of you until they're parallel with the floor at the same time.
Return your foot and arms to the starting position, and repeat on the left side for one rep.
Reverse Lunge Front Raise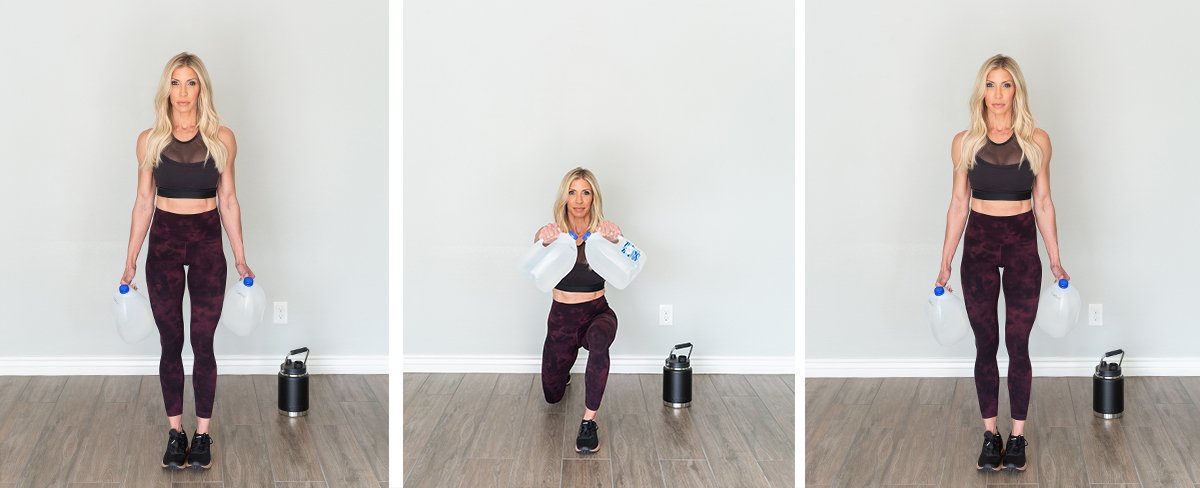 Begin in a standing position with a water jug in each hand, hands at your side.
Take a step backwards with your right foot until you gently "kiss" your right knee to the ground, raising both arms straight out in front of you until they're parallel with the ground at the same time.
Keeping the front knee over the toe, step forward with the right foot, driving through the forward heel back to a standing position and returning your arms to your sides. Repeat on your left side for one rep.
Russian Twist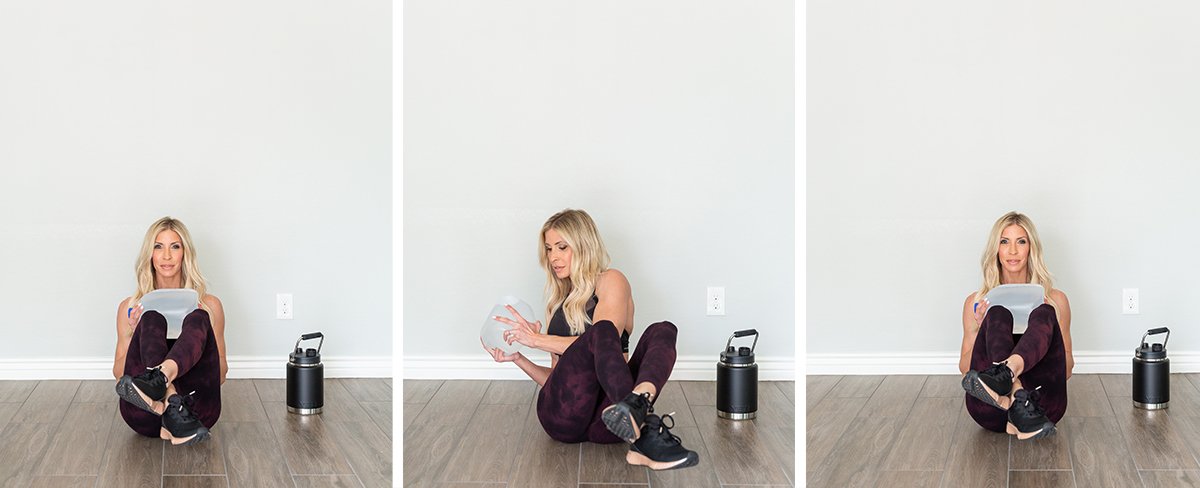 Sit on the floor with your knees bent and feet flat on the ground, holding a water jug in your hands.
Lean back so your upper body is at a 45-degree angle to the floor and your feet are off the floor.
Tighten your core and rotate/twist your torso all the way to the right, then back to the beginning position. Repeat on the left side for one rep. Be sure to keep your core tight throughout the movement.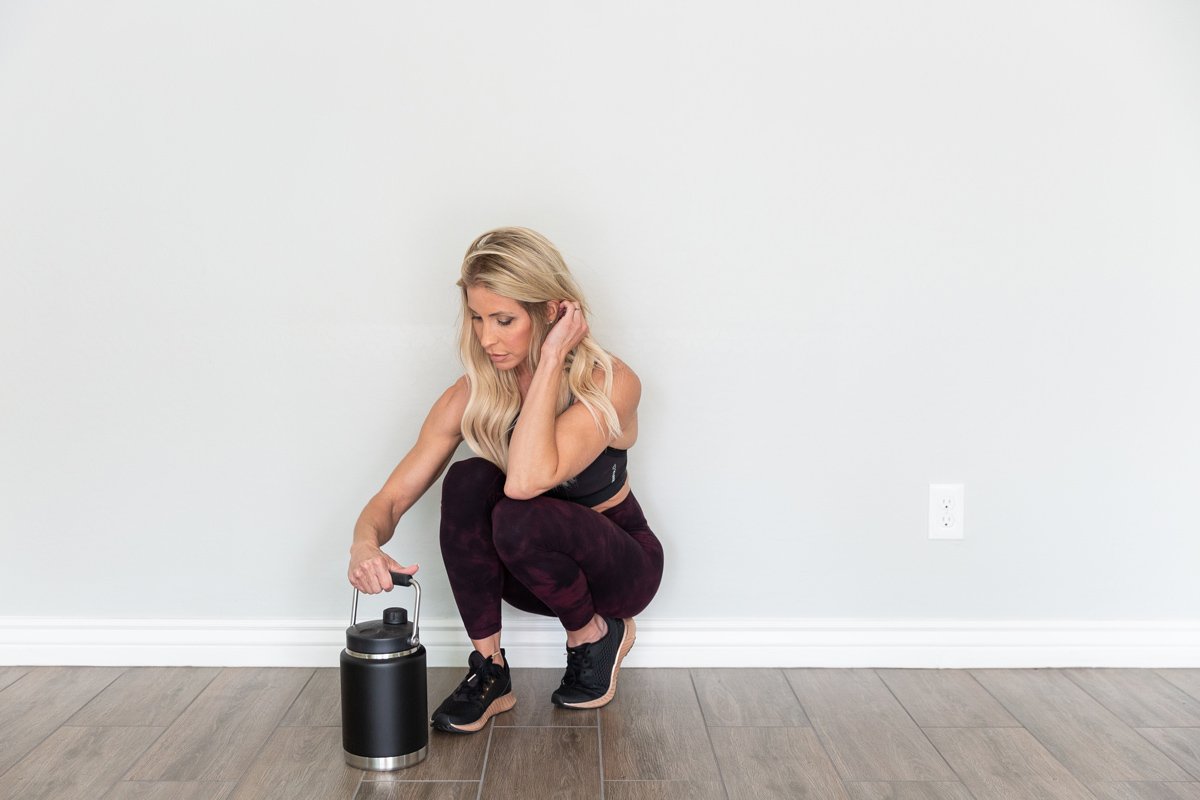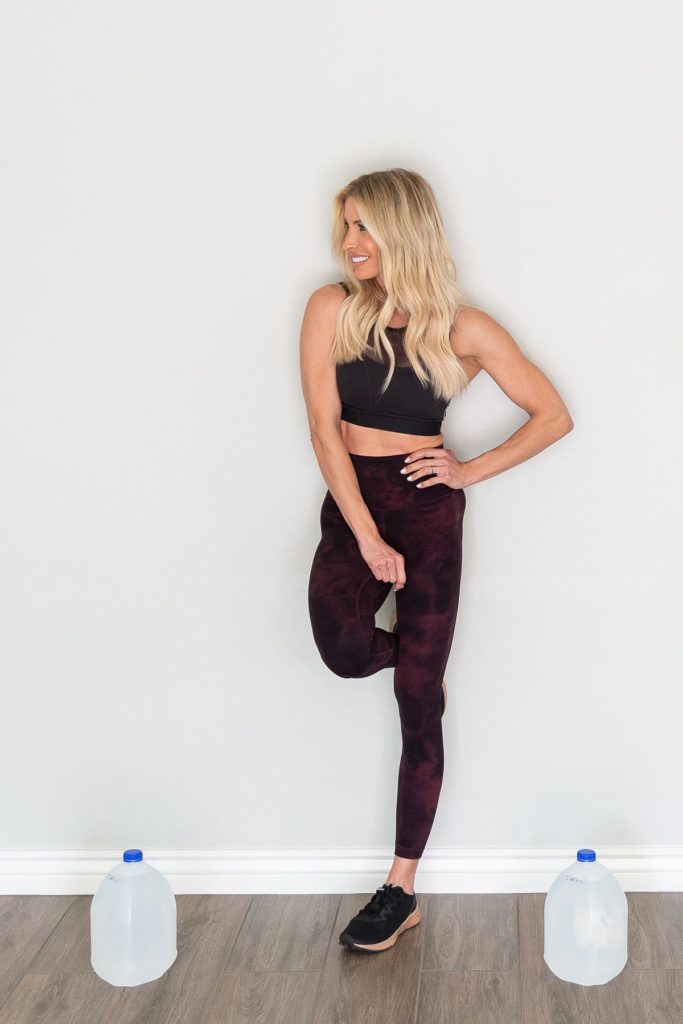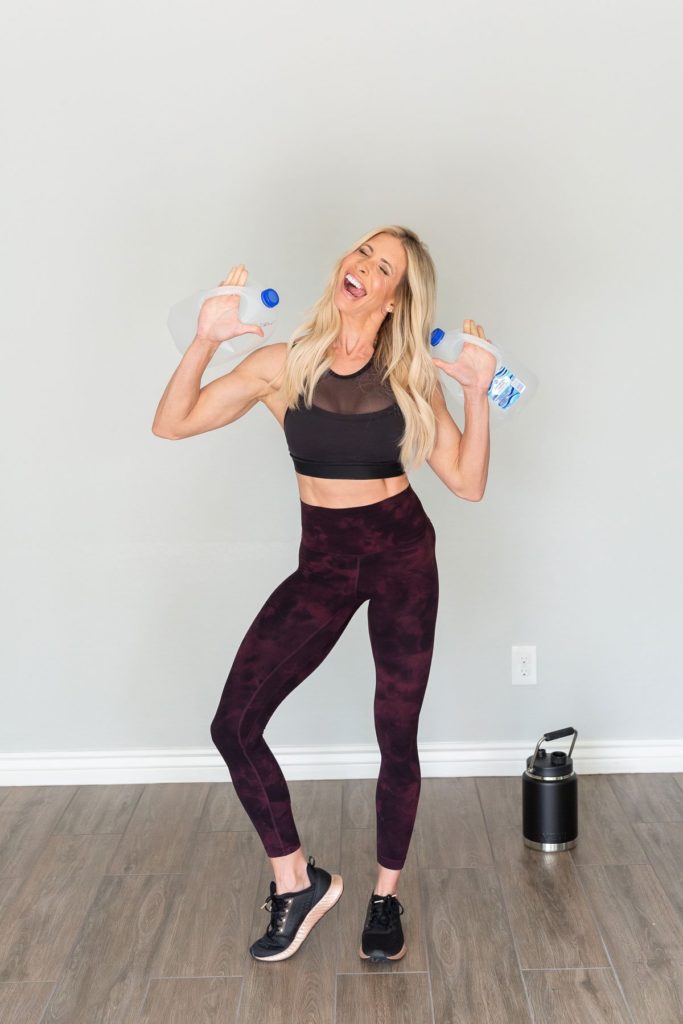 That's it! As if you guys needed even more proof that you can get in a good sweat session without, right? If you want some more at-home workouts, try these on for size:
Comment below after you give this one and some of the others above a try. Happy sweating!
xo,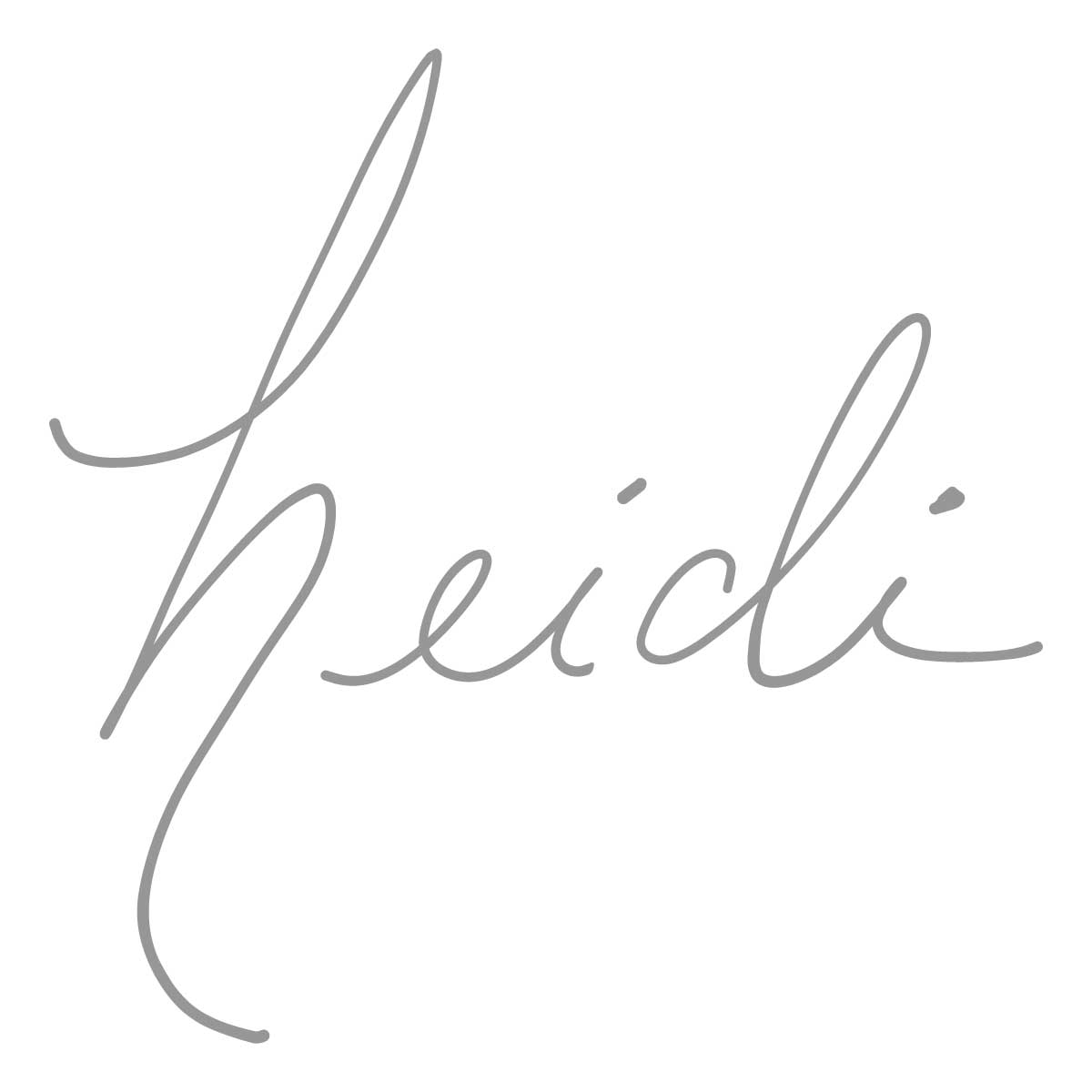 And…here are even more at-home workouts!
Lower Body HIIT At-Home Workout // No Equipment Needed!
At-Home Stepladder Workout
At-Home Five Move Booty Burner Workout
No Equipment? No Problem! At-Home Upper Body Workout
At-Home 20 Minute Total Body Burner