Originally published on?ElizabethStreet.com.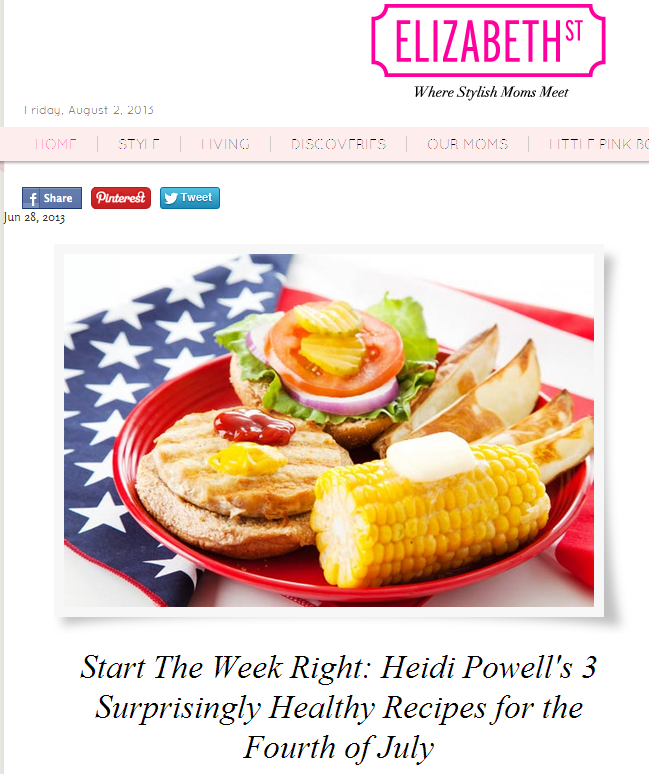 Heidi Powell shares some healthier all-American food recipes for your holiday party.
We?ve been so good,?exercised diligently, and generally followed?Heidi Powell's orders for?healthy living. So do we really want to blow it in one day for the sake of some nitrate-infested hot dogs and mayo-drenched potato salad? Kinda. But the least we can do is balance out the grease with some healthy options!
Don?t worry?we?re not telling you to hand out celery sticks at your?Fourth of July BBQ. But there are some wholesome dishes that you can serve without compromising on the delicious factor and all-American food traditions. You can still serve cornbread and cupcakes; just let your guests make the final decisions!
Read on to get?Heidi Powell?s?Fourth of July recipes.
Buffalo-Garlic Turkey Burgers
What you?ll need:
1 lb. ground turkey
2 tsp. minced garlic
? tsp. cayenne pepper
1 tsp. hot sauce (optional)
Olive oil in a spritzer bottle
How to make it:
Place the ground turkey in a bowl and sprinkle it with the cayenne pepper and?garlic. Add hot sauce if desired. Knead, mixing turkey and seasonings. Form into?patties.
Heat two spritzes of olive oil in a nonstick pan over medium heat. Add the patties and?cook on each side until done to your taste. You can also grill the patties.
Serve immediately with your favorite garnishes and sides. Serves 4.
Healthier Deviled Eggs
What you?ll need:
6 hard boiled eggs
? cup nonfat plain Greek yogurt
1 1/2 ? 2 tsp. yellow or Dijon mustard
1/8 tsp. salt
? tsp. black pepper
Paprika
How to make it:
Boil eggs, cool, peel, and cut lengthwise.
Remove yolks and place in a small mixing bowl with the yogurt, mustard, salt and?pepper. Mix well.
Put mixture back into the egg whites and garnish with Paprika.
Guilt-free Potato Chips
What you?ll need:
1 1/3 pounds potatoes (white, red, Yukon Gold, etc.)
2 tsp. extra virgin olive oil
? tsp. salt
How to make it:
Scrub the potatoes and slice into thin slices (1/8? or less).
Put the olive oil and salt in a plastic baggie, add the potatoes, and seal.
Shake well until all the potato slices are well coated.
Spray a microwave-safe plate with cooking spray. Arrange the sliced potatoes on the plate in a single layer with thinner slices on the outside and thicker ones on the?inside.
Cook on high for 2-3 minutes, turn, and cook an additional 2-4 minutes?(cooking time depends on the thickness of the slices). Chips are done when the?slices start to turn brown. The chips will continue to crisp as they cool, so don?t overcook them.
For variety, add vinegar, onion powder, garlic powder, Parmesan cheese, seasoned salt, or other seasonings to the plastic baggie before shaking.
Happy (and healthy) 4th?of July, everyone!