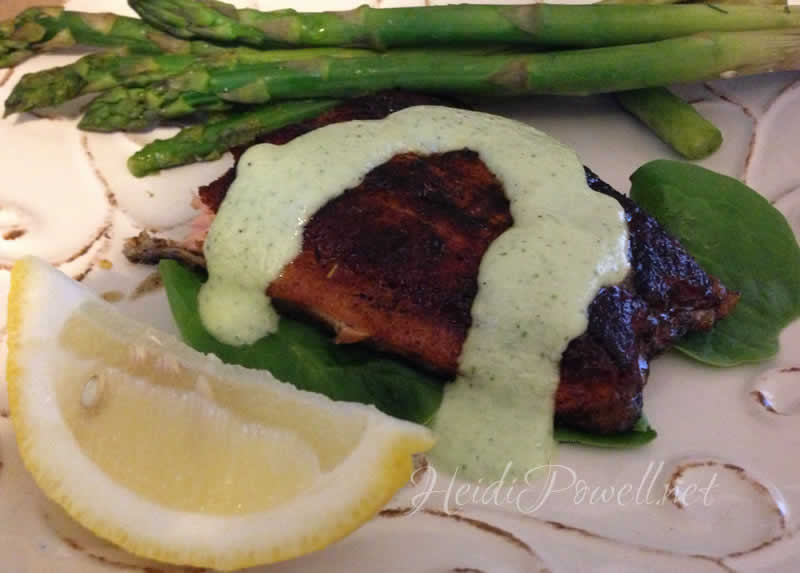 Salmon, anyone?! This swimmer not only tastes heavenly, but also packs a perfect punch of protein and omega 3 fatty acids. What does this mean for us? Well, protein is the building blocks for our shapely muscles (who doesn't want these?), and the omega 3's and healthy fats are the ultimate brain fuel and act as artery "uncloggers" (#babyonboard – I'll take it!). Enjoy this delicious recipe, straight from our friend Bill's kitchen ;).
Blackened Salmon with Cucumber Dill Sauce
Serves 3-4
What you'll need:
2 tablespoons low sodium Blackened Seasoning* (See tip below!)
4 3-oz. salmon filets (skin on) ?(men's portion is 5 oz)
1 tablespoon olive oil
6 oz non fat plain greek yogurt
3-4 cucumber slices (about 1/4″ thick)
1 tsp chopped fresh dill (add more to taste)
Lemon wedges
How to make it:
1. In a blender or food processor, mix together the yogurt, cucumber and dill until well blended. (Note: cucumbers can contain a lot of "water". Start with 3 cucumber slices and add more as needed but keeping a close eye to prevent your sauce from becoming too runny.) Set aside.
2. On a plate or other flat surface, coat the salmon pieces with the Blackened Seasoning, flesh side only.
2. Heat a large heavy-bottomed pan or cast iron skillet over medium heat then add the oil. As the oil starts to smoke, turn off heat.
3. Add the salmon to the pan, flesh side down. Turn stove back on to medium heat and cook for 5-6 minutes. Turn off the heat to the pan.
3. With a spatula, turn the fish over and continue cooking an additional 3-4 minutes until done and skin is crispy. (The hot pan will continue to cook the fish even though you've turned off the heat.)
4. Serve immediately with a lemon wedge and drizzle with cucumber dill sauce. Add your favorite vegetable for a complete meal.
What's in it:
Each 3-oz serving has: 208 calories, 21.5 g protein, 14.5 g fat, 70 mg sodium, and 1.75 g carbs.
Each 5-oz serving has: ?346 calories, 34.5 g protein, 23.5 g fat, 105 g sodium, and 1.75 g carbs.
*TIP: Store bought Blackened Seasoning is convenient but can contain a lot of sodium! Save on the salt by making your own Blackened Seasoning. Here's how:
Blackened Seasoning
Makes 4 servings
1 1/2 tsp paprika
1 tsp garlic powder
1 tsp onion powder
1 tsp ground dried thyme
1/4 tsp ground black pepper
1/2 tsp cayenne pepper
1/4 tsp dried basil
1/4 tsp dried oregano
Mix all ingredients together and store in an airtight container until needed.