Chris and I consider ourselves blessed to have the jobs that we do. Not only do we have a front row seat to watching peoples? lives change on the show, but we also get to see some of them do something so powerful – pay it forward. More than a handful of our peeps have used the tools they've gathered along their journey to change the lives of others. Jonathan McHenry, from season 2, is one of those people. Soon after his year with us ended, he became certified as a bootcamp instructor and began transforming lives himself!
Meet Don. A man whose life will forever be changed by our good friend, Jonathan.
We are so proud of you both 🙂
[slideshow_deploy id='3115′]
Paying it Forward…
with Jonathan McHenry
I went to school with Don's daughter and my wife played softball with her throughout high school. When my show aired last year she had him watch it. He heard that I was a personal trainer and led a bootcamp. He decided that what better way to lose weight than work with someone who knew what it felt like to be 500+ pounds.
When Don first showed up to just talk about the class he couldn't take more than 10 steps without having to hold on to something. He walked in and asked if we had a bench he could sit on. He then proceeded to tell us that his daughter was getting married in 13 months and he wanted to be able to walk her down the aisle with no problems. He was ready to do what it took. His highest weight was 502 lbs. After being in my camp for a year he now weighs 390 lbs. The biggest thing isn't that he lost over 110 lbs, its that he did it with no cartilage in his knee, a fused foot, arthritis in his back and that he weighed over 500 lbs. OH, and he is over 60 years old!
The best thing about Don is how hard he works. He always gives his best even if that means he could embarrass himself by falling or failing. He is always leading by example and pushing himself hard in class which inspires others to push hard. I have heard people say 'I mean why do I need a break when someone who is over 60 and weighs more than I do is still pushing it'.
When we first met he could barely walk into our studio and last week he accomplished one of his goals by walking continuously 1 mile up a big hill in our town. His journey reminds me of mine. I was so nervous my first class but I always showed up and tried to work the hardest. As I started seeing results, I knew that I could help others and he feels the same. He plans on getting certified as a trainer and working at Annapolis Fitness with me helping older, heavier people take back their lives.
The moment I saw him walking his daughter down the aisle yesterday, it was so emotional. I could see someone who was so proud that he was there and doing what he said he would do 13 months prior. He walked her down a long aisle on a hilly terrain on a golf course with no problem.
I will never forget the teary hug we shared after the wedding. Both crying as we shared in his success. It felt like the finale of our own TV episode. Some of his family hadn't seen him in over a year and were shocked by how he looks now.
We committed again yesterday that we were not done, but writing a new chapter starting this Monday.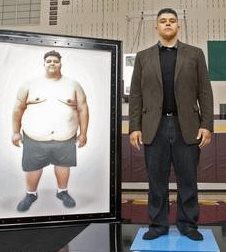 Want to connect with Jonathan? Find and follow him here:
website:?annapolis-fitness.com