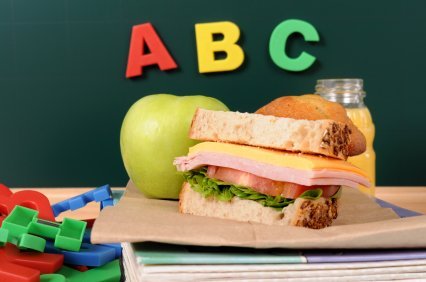 It?s that time of year again. Orange busses meander through the neighborhood. The kids are excited to show-off their brand spankin? new wardrobes. You converge with thousands of other parents at the school supply aisles of your favorite store, hoping (and possibly praying) you?ll get everything on that very long list before the shelves are empty. And you wonder, ?What will I pack in those lunches every single day?? because if you?re like me, thoughts of school lunches have taken a very long vacation over the summer.
Fear not. Help is on the way!
Here are some ideas that will help make lunchtime the bright point in your kids? day and give them the energy and nutrients they need for all that learning that will be happening all day long.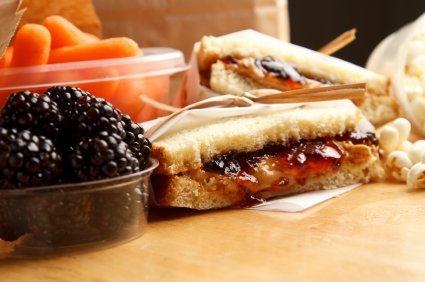 The main course:
? New and improved PB&J: Instead of the usual peanut butter, try almond butter, and replace sugar-laden jams and jellies with 100% whole fruit spread or slices of strawberries, apples, pears, peaches, or your kid?s favorite fruit. For some added variety, use whole wheat or gluten free tortillas or pita pockets to sandwich in all that nutty and fruity goodness!
Try these out:
PB&J and Banana Roll-Up: Spread peanut butter (or almond butter) and 100% fruit spread on a whole wheat or gluten free tortilla. Place a peeled banana on one end and roll it up. Sounds yummy, right?!
PB&J and Granola Wrap: Follow the steps for the roll-up, except replace the fruit spread and banana with sliced fruit and granola. Your kids will love this!
? Make-at-home Lunchables: Pair reduced sodium deli meat and reduced fat cheese with whole grain or gluten free crackers, tortillas, or pita pockets, cut them all to fit together, and you?ve got the makings for some lunchtime fun!
? Greek yogurt with fruit and granola
? Cottage cheese with fruit chunks
? Soup or dinner leftovers
? Quesadillas made with whole wheat or gluten free tortillas and reduced fat cheese
The sides:
? All kinds of fruit (sliced, dried, sectioned, or whole) either alone or in a mini fruit salad: berries, raisins, pears, peaches, grapes, apples, bananas, kiwi, Craisins, oranges, melons, and so on (to keep fruit like apples from browning, because no kid is going to eat ?brown? apples, soak fruit for 3-5 minutes in 1 tablespoon lemon juice per 1 cup water)
? All kinds of veggies: baby carrots, sugar snap peas, broccoli, cucumbers, celery, grape tomatoes, or whatever are your kids? favorites
? Hummus and veggies
? Whole grain or gluten free pretzels and crackers
? String, stick and cubed cheeses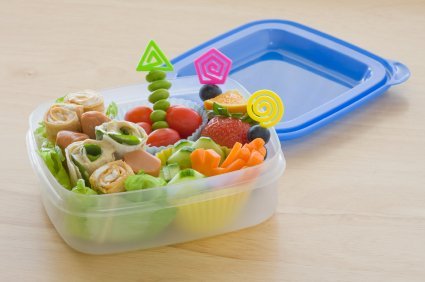 The dessert (because hard working kids need a healthy treat!):
? Peanut Butter Power Fudge and Protein Carrot Cake Bars, which are great treats for us moms too ?
? Trail mix made up of nuts, dried fruit, and mini semi-sweet chocolate chips
Check out these ideas to help you pack all that yummy nutritious food so it will make it to lunchtime:
? Basic containers that are BPA free
and compartmentalized to keep all the food in it?s place.
? Containers in various sizes
with removable ice packs to keep that yummy food cold.
? Sweat-Free Ice Packs
, because there?s nothing worse than soggy food when you?re hungry.
? Warm/Cold BPS free containers
with screw-top lids and a spoon. Perfect, right?
And lastly, some final tips to help ensure what you put into those lunch boxes actually makes it into their hungry tummies:
? Our kids get to pick a new lunch box every school year so they?re excited to eat what?s in it!
? Give the kids several healthy options, let them choose their own main course, sides, and dessert, and have them help you pack their lunches. They?re more likely to actually eat food they?ve chosen themselves.
Happy back-to-school! Now, what will you do with all your spare time?
Just kidding. ?