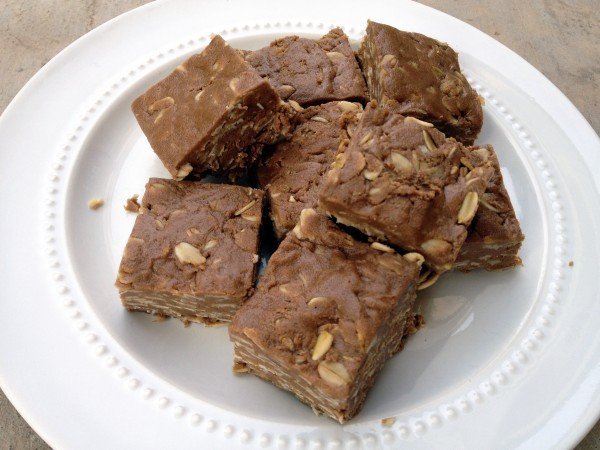 This delicious healthy fudge recipe is perfect for your kids? after school snacks! Gluten-free, refined sugar-free, and all-natural ingredients make it a wonderful go-to treat to keep their bodies full of the energy they need. Warning: These will quickly become Mom and Dad?s favorite too!!
Makes 48 servings
1 16 oz Jar Natural Creamy Peanut Butter
1 1/4 Cup Natural Honey
2 scoops 100% Natural Whey Chocolate Protein Powder
3 Cups Gluten-Free Oats
1. Heat peanut butter in the microwave for 90 seconds.
2. Add in honey, stir.
3. Mix in protein powder.
4. Combine oats with peanut butter mixture.
5. Spread evenly in 9×13″ pan, and refrigerate for at least an hour.
6. Cut into 1 1/2″ squares, and enjoy!
Each 1 1/2″ fudge square has: 110 calories, 5 grams of fat, 12.5 grams of carbs, 1.1 grams of fiber, and 5.5 grams of protein.