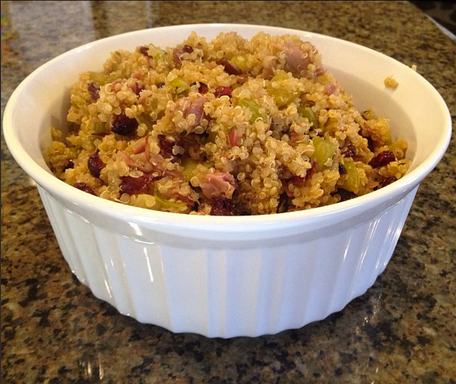 A holiday favorite of ours is back just in time for Thanksgiving! This perfectly sweet and salty combo will make your taste buds dance?and will save you the calories of traditional Thanksgiving stuffing ?. Win-win all around!
Bonus for my gluten-free friends ? this is one stuffing you can eat! Yup ? Chris and I have been making this recipe for years, and regardless of the fact that he is no longer gluten-free (this topic is a blog post, or novel, in and of itself) we STILL make it!
Bon appetite!
Cranberry Quinoa Stuffing
(Quinoa pronounced keen-wah)
Serves 8
What you?ll need:
1 package Pancetta (bacon)
1 container Trader Joe's Stuffing Starter Mix **
2 cups (dry) quinoa
1 quart low sodium chicken broth
1/4-1/2 teaspoon garlic powder (or to taste)
1/2 cup dried cranberries
**TJ's Stuffing Starter mix is about a 14.5 oz container of prechopped?onions and celery seasoned with parsley, sage, rosemary, and thyme.
How to make it:
1. In a large pan over medium heat, saute the Pancetta and stuffing starter, until veggies are wilted and the Pancetta is crisp, about 10 minutes.
2. Transfer to the rice cooker (or if you want to cook it on the stove top, a large pot)
3. Add the quinoa, broth, garlic powder and salt and pepper to taste.
4. Cook on the ?brown rice? setting, or until light and fluffy (stove top, cover, reduce heat and simmer for about 20-25 minutes).
5. Gently stir in the cranberries.
Enjoy.
Heidi 🙂
?