Congratulations to our Winner, Amanda Hoffman
Check back for more gifts coming soon from #BabyPowell in our 12 week Giveaway!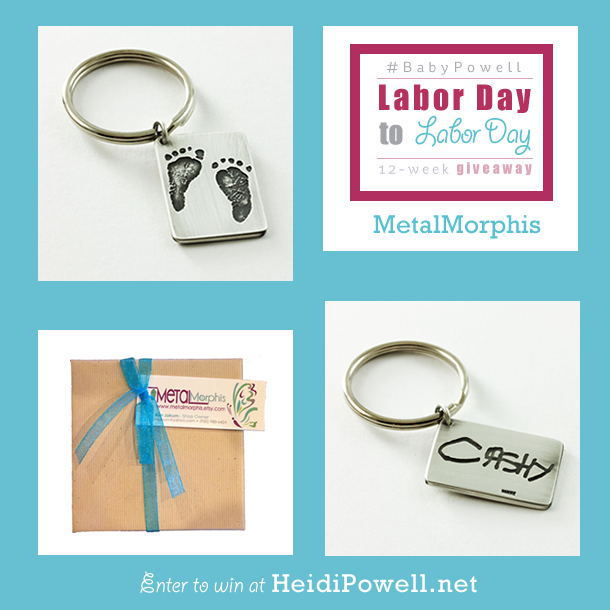 To say I?m excited about Cash?s Christmas gift to Chris is a total understatement. It?s so hard to find things to give the man that doesn?t ask for or require much?and especially something cute and sentimental that he will actually find use in.
This year, I?ve found it. The perfect gift from MetalMorphis. They have lots of great stuff to choose from on their site, but I loved the rectangular key chain for Chris, with Cash?s footprints on one side and his name (written by him, with a little assistance, of course) on the other side. In case you are wondering, I don?t think this blog post will spoil his surprise?he?s being kept pretty busy this week recording an audiobook version to his two books, Choose to Lose, and Choose More, Lose More (yay!)?so I doubt (and hope) he doesn?t have time to read my blog!?Today, I?m giving one away on my blog to one of my amazing readers?customized for you, of course, compliments of MetalMorphis ?.
Here?s how you can win one of these adorable gifts for your special someone (or for yourself, if you want!):
1. Comment on this blog post, telling me how you would create your own MetalMorphis gift. (A necklace? A keychain? Artwork? Footprints? So many cute options!) You can be discrete on who you would give the gift to, so not to spoil the surprise 😉
2. Follow me and Like, share, rePin, and/or repost this giveaway post on my social media channels: Facebook, Twitter, Instagram and Pinterest, or share an?image from the Etsy shop and tag me in it.?Be sure to use #BabyPowell so we can find you.
3. Follow MetalMorphis on Facebook, Twitter,?Pinterest?and favorite them on Etsy?(the more you follow and favorite, the more chances to win).
A random winner was chosen on Wednesday, November 6, 2013. Thanks for participating!
Heidi 🙂