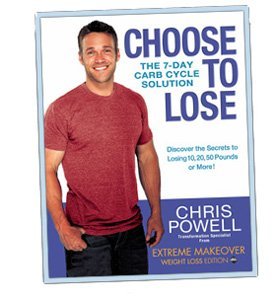 You've seen my husband, Chris and I change lives on television. Each day, those struggling with their weight reach out to us wanting to know how they too can lose the weight! Can we come to their city and their home to help them? We don't want a single person to wait on someone else to take back their life so we have taken our arsenal of weight loss tools and put them?into one place so that you too, can begin your own transformation journey!
In Choose to Lose, you'll find fast and easy workouts, diet guidance, basic recipes and insight into finding the true transformation mindset. ?You will discover the tips and tools used in the very transformations you've witnessed on TV.
Our easy-to-follow Carb Cycle Solution contradicts everything you've heard about avoiding carbohydrates in an attempt to lose weight. Not only are you encouraged to eat carbs, but Chris shows you how to use them to amplify your weekly weight loss. By cycling between high-carb and low-carb days, your body will alternate boosting metabolism one day and burning at the next. You will never feel deprived of the foods you love, because you can fine-tune the solution to suit your needs. We give you complete control over your nutrition, plus plenty of opportunities to indulge, and offer many delicious recipes to help you stay on track. If you work for it, the Carb Cycle Solution may very well work for you — the rest of your life!
With detailed exercises and accompanying photos, as well as guidelines on how to revamp your environment, support system, and more, Chris not only shows you how to lose pounds, but works with you as a coach and mentor, teaching you how to finally take control of the incredible machine that is your body.
Great physical change begins with a psychological one: change your mind, change your body!