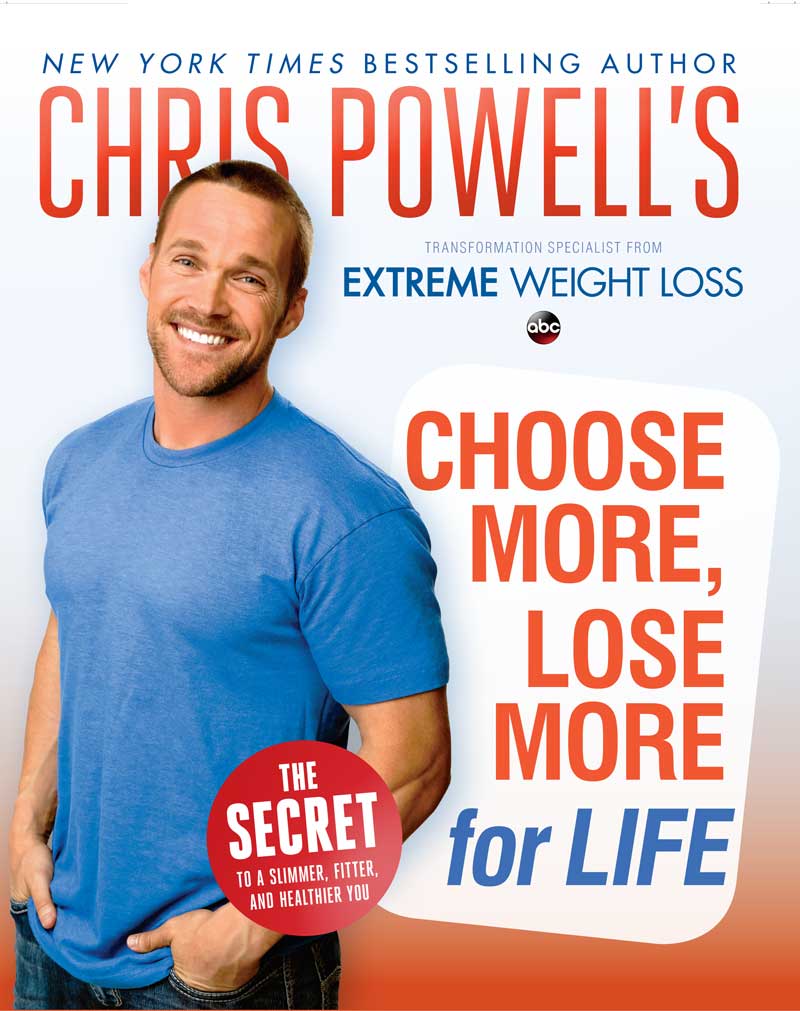 Each season, millions of viewers tune in to see
Chris Powell
lead extraordinary transformations on ABC?s breakout hit Extreme Weight Loss. Now, building on his basic weight-loss philosophy introduced in his bestselling book
Choose to Lose
, Powell has created a transformation plan anyone can follow?one that recognizes that no two weight-loss journeys are the same, and that more options mean long-lasting results.
At the center of Powell?s new book, CHRIS POWELL?S CHOOSE MORE, LOSE MORE FOR LIFE, is his
carb-cycling
plan, which kicks your metabolism into full gear by alternating between low- and high-carb days. Been carb-cycling but need to shake things up?
This book provides four different carb-cycle options to help readers find a plan that fits them best:
Powell also shares new workout challenges to put your body in motion and get your heart pumping. He understands that weight loss plateaus when we get bored. So in this book, he focuses on choices?including twenty new workouts called
9-Minute Missions
?that pack maximum results into minimum time. Sections in the book include advice on how to:
Shape Your Body in Just 9 Minutes Each Day: Each mission targets one of the three zones of your body?upper, core, and lower?and it doesn?t matter how many repetitions or rounds you complete it in. He writes, ?We squat when getting in and out of a car, we crunch when we sit up in bed, we push when getting off of the ground, we run when we need to get somewhere quickly. Every exercise in the 9-Minute Missions incorporates these fundamental movements of the human body.?
Find More Easy Recipes with Foods You?ll Love: Powell offers more delicious and easy recipes with foods you?ll love, to help you maintain and enhance your transformation. He shares tips on portion control, advance preparation for healthy meals, ingredients to add zest to your food, and food substitutions to keep you eating well. His plan allows you to eat the foods you crave and still lose weight.
Follow More Tracking Logs to Keep You Motivated: The book includes a 4-week personal log to detail each week?s workouts, accomplishments, challenges, and broken promises, plus a section to recommit to your goals. He asks questions such as: At the end of the week, have you kept your promise? Did you eat every three hours? Take walks on your lunch break? Powell encourages readers to keep a daily log of successes and setbacks to measure their progress and help fulfill weight-loss goals.
Read More Success Stories to Inspire You: Powell shares inspirational success stories of people who have transformed their lives using his carb-cycling and fitness plans. As readers write their own stories, they can learn how others have conquered dieter?s plateau, shaved off inches from their waistline, built lean, strong muscles, and increased their energy level.
With CHRIS POWELL?S CHOOSE MORE, LOSE MORE FOR LIFE, you will always be challenging your body and changing your resistance training regimen, so your body will never plateau and never stop moving forward. Each day and each week, Powell empowers you with tools to physically, mentally, and emotionally transform your body and your life.