Congratulations to our Winner,?Jackie LeBeau
Make sure you check out our next Labor Day to Labor Day BabyPowell Giveaway this Sunday!

We are so lucky today to have some of my babies? favorite swaddles on the blog to giveaway! Anyone who has tried the?aden + anais swaddles knows there is nothing quite like them. Super thin (and easy to carry with), yet incredibly warm and soft for baby. Cash?s swaddles seem to get softer over the years?he still keeps his close by ?.
That?s not all! aden + anais is also giving away an entire set of their new mum + bub skincare line! I haven?t tried this yet, but am DYING to. The entire line is gentle enough for baby to use, but amazing enough for mom!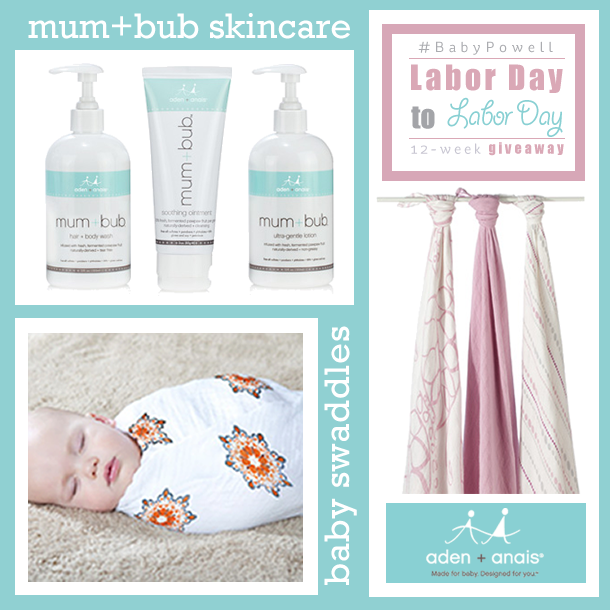 This week?s aden + anais Giveaway is worth over $106!! Here?s what you?ll get:
1. one pack of aden + anais swaddles, print of your choice ? I LOVE the tranquility bamboo muslin collection shown in the pic above, but you get to choose!
2. mum + bub skincare set of 3: soothing ointment (3 oz), hair + body wash (12 oz), and ultra-gentle lotion (12 oz).
Here?s how you can win:
1. Comment on this blog post, letting me know if this gift is for you, baby, or a friend (anyone is great, I?m just curious because these products are supposed to be fantastic for all!).
2. Like, retweet, rePin, and/or share my posts on Facebook , Instagram, Twitter, and/or Pinterest.?Please use #BabyPowell so we can find you!
3. Make sure you are following me and aden+anais on Facebook, Twitter, Pinterest, and/or Instagram (the more the better!).
A random winner was chosen on Wednesday, October 30, 2013. Thanks for participating!
Heidi 🙂