Believe it or not, we DO celebrate such a seemingly-silly day over here at the Powell home ? we?ll take any excuse to pair a delicious guac with some hearty tortilla chips :). They're a perfect, healthy combo for a guilt free day!
You can celebrate with us, and still stay on your nutritional track, by following these simple tips:
1. Find a heartier version of tortilla chips.
Lucky for us, they make them so many different ways these days: baked tortilla crisps, sweet potato tortilla chips, veggie tortilla chips, and (my favorite) quinoa and black bean corn chips. Thank you, Trader Joe, for making healthy living so tasty.
2.?
KNOW what your caloric portions look like!
One small avocado has 200 calories ? a 100 calorie portion is just half of this small fruit (yes?avocados are a fruit!). Eight of my tortilla chips have 140 calories. In this case, ignorance is NOT bliss?knowledge is power (and a sexy bikini body).
3. Don?t eat directly from the chip bag or the guacamole bowl.
We tend to be a little too lenient with our portions, and without realizing it, we can easily consume hundreds of extra calories.
So now that we know how to enjoy without over-indulging, on to the good stuff! My super-easy, awesome guacamole recipe. I?ll even give you the calorie breakdown!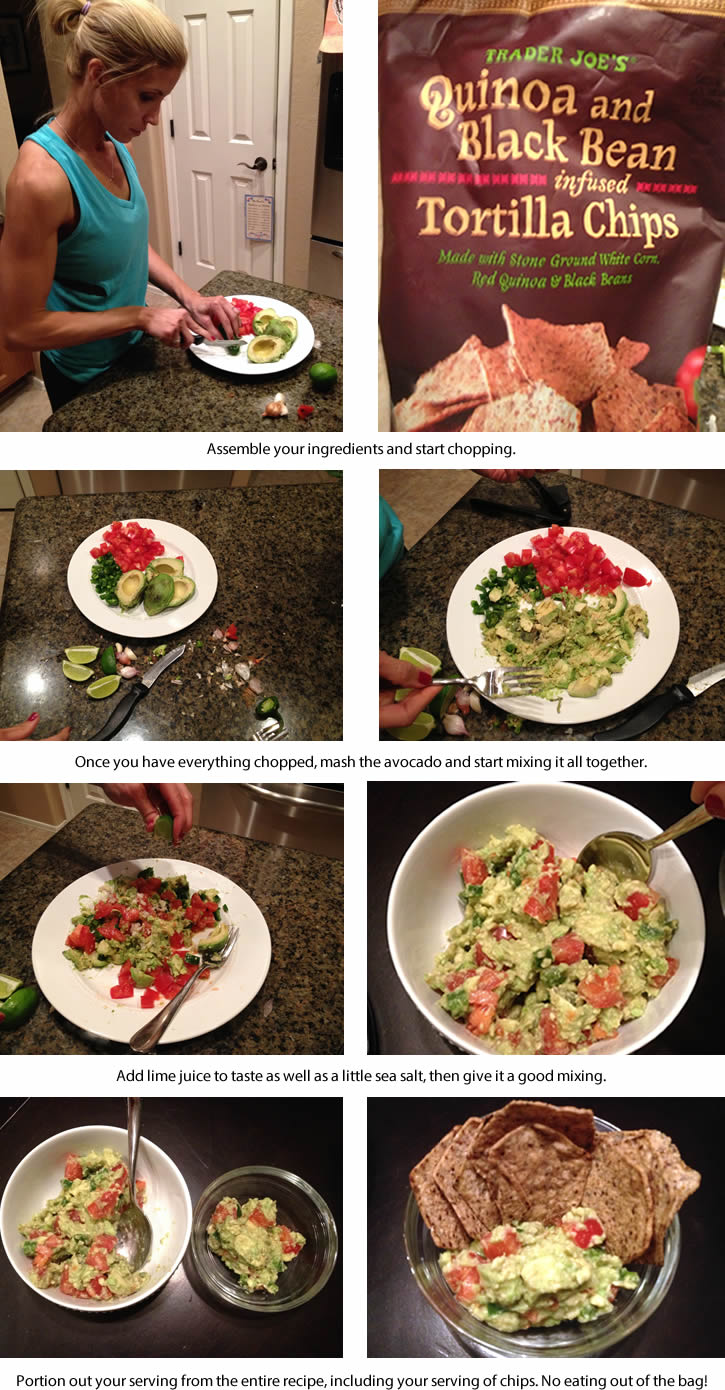 Super-Easy Guacamole
You will need:
2 small avocados
1 roma tomato
1 jalepeno (if you aren?t a fan of spicy, stick with 1/2 )
4 cloves of garlic, minced
1 small lime, quartered
sea salt to taste
Skin and pit avocado. Dice tomato. Finely chop jalepeno.
Mash avocado with a fork to desired chunkiness.
Fold in tomato and minced garlic.
Squeezed lime quarters to add a little lime juice to mixture. ?Add salt to taste.
Blend a little more with fork, and ENJOY with your hearty tortilla chip of choice!
This entire recipe carries about 400 calories with it. My portion is 100 calories, or one-quarter of the finished product. Adding 8 of my black bean and quinoa corn chips gives me a grand total of 240 calories!
P.S. I can?t post a recipe like this without letting you know that I always eat protein first! Before I ate my portion of chips and guacamole, I scrambled up 4 egg whites (60 calories = 300 for this meal).