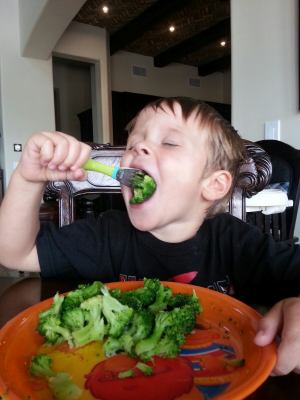 We are huge veggie fans around here! No surprise, right?! We love veggies because they?re super nutritious, very calorie friendly, and yummy!
I?m often asked which ones are the healthiest, and the answer to this question is very simple?all of them, but for different reasons. While veggies have so many health benefits, especially where cancer and heart disease prevention are concerned, the clue to the nutritional benefits of each veggie is found in the color of its skin (this info applies to fruits too!):
Red: Can help limit tumor growth and reduce the risk of cell damage.
Examples:
Orange/yellow: Can help your immune system function properly and reduce the risk of vision problems and birth defects, as well as help keep your joints and bones healthy.
Examples:
Butternut, summer, and winter squash
Yellow peppers
Pumpkin
Yellow tomatoes
Rutabagas
Carrots, corn, sweet potatoes, yams (Smart Carbs)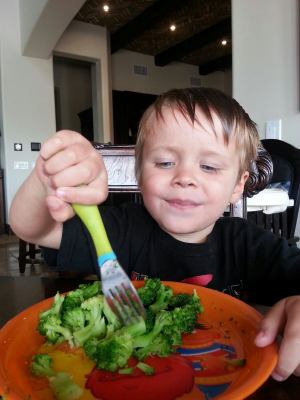 Green: Help keep your eyes healthy and reduce birth defect risks, and also keep your digestive system running smoothly.
Examples:
Artichokes
Asparagus
Green beans
Broccoli
Brussels sprouts
Green cabbage
Cucumbers
All varieties of lettuce
Peas (Smart Carbs)
Snow peas
Green onions
Celery
Okra
Green peppers
Spinach
Zucchini
Purple/blue: May help reduce the risk of stroke, keep your immune and digestion systems healthy, as well as protect your cells.
Example (there are so many fruits that fall into this category!):
White:?Help lower your cholesterol and blood pressure, and help keep hormone levels constant. (Love that last one! 😉 ).
Examples:
Cauliflower
Garlic
Jicama, potatoes, parsnips (Smart Carbs)
Mushrooms
Onions
Turnips
To get all of the benefits from these nutritional powerhouses, make sure your daily diet is as ?colorful? as possible, and the darker the color the better. And since a lot of the nutrients are found in the skin and the layer right beneath it, don?t skip the skin when possible!
Which colorful combination of veggies will you choose today? The possibilities are pretty much endless! 🙂