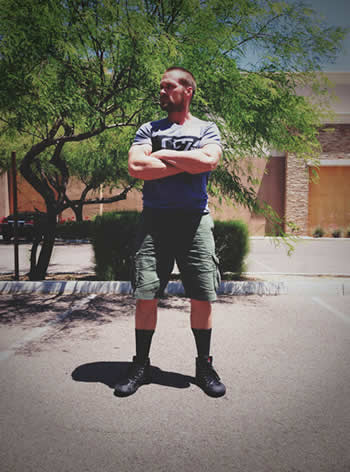 I can?t tell you how many comments we've gotten about Chris? favorite black socks he wears — pretty much everywhere –and pretty much every day. It's hilarious! 🙂 While it is true that his black socks are somewhat an adult-version "security blanky" for him and maybe even his new fashion statement/trend, he does have legit reasons for wearing them!
Before we chat about those reasons, let?s talk a little bit about workout socks and get you on your way to choosing your perfect workout ?sole? mate! Today, I'm focusing specifically on?CrossFit and running (walkers?this works for you too!), but this info will be helpful for any type of workout where socks are a must.
Here are the basics:
Material: Just as I?d never exercise in 100% cotton clothes, I?d also never wear 100% cotton socks to work out in. Why? Not only does cotton keep moisture in, but it?s also the perfect breeding ground for those nasty blisters! Instead, choose socks made with acrylic, polyester, or CoolMax?, which wick away the moisture and help prevent blisters.
Size: Make sure your socks fit snuggly so you?ll have less chance of blisters forming, but not too tight or you?ll be hatin? life and that workout.
Cost: Be ready for some possible sticker shock here, but trust me?every penny spent will be worth it when you have happy feet during and after your workouts.
Care: Be sure to follow the manufacturer?s care instructions and you?ll extend the life of your investment.
Comfort: This one?s kind of a no-brainer, but choose socks that feel good! And here?s a handy tip: If you?re blessed with sweaty feet, carry an extra pair with you while working out so you can make a change when moisture builds up. You?ll avoid blisters. 🙂
Fashion: Of course, I have to talk about fashion! Why not look as stylish as possible while you?re burning all those calories?! Many socks are made in really fun colors and designs, so the sky?s the limit here. Have fun!
Now for the specifics (and Chris' reasons for wearing those high socks!!):
CrossFit:
High socks: If you?ve ever done CrossFit, you?ll appreciate Chris' love for high socks :). During WODs (workout of the day), those shins can take a beating, especially if you?re doing box jumps or deadlifts! The most brutal for me?? Rope climbs. Crossfitters out there everywhere know this: NEVER DO A ROPE CLIMB WITHOUT HIGH SOCKS!!! Rope burns are no good. Need more reasons to rock some high socks? Here you go – Many high socks are made with antibacterial fibers to help prevent that smelly feet issue, as well as arch supports to help keep those feet stable during your WODs. Sold!!
No-show socks: If you?re just not feeling the high sock trend, no matter how?beneficial they are,?the no-show variety are a great option too! Many of these are also made with antibacterial fibers and arch supports just like their high socked buddies.
Compression socks: These babies help to stabilize your muscles so you?ll have more control and increased strength during your WOD. And…they?ll stay in place! No more stopping to pull up those sagging socks. 🙂
Who knew so much went into choosing socks?? And, they come in so many colors and patterns. Here are just a few really fun ones!!!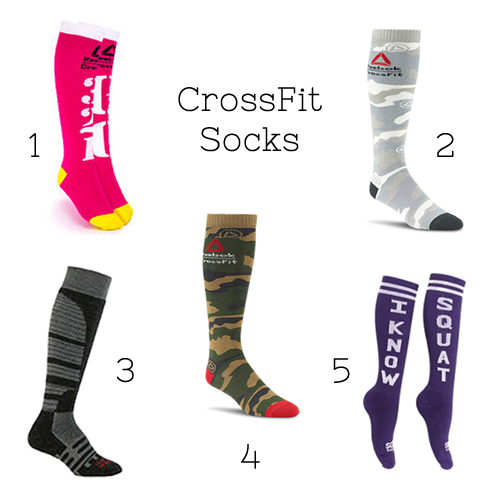 1. Reebok CrossFit 1,2,3,Go! Socks
2. Reebok CrossFit Go Socks
3. Dahlgreen MultiSport Compression Socks
4. Reebok CrossFit Camo Knee Socks
5. I Know Squat Knee High Socks
Running:
While good socks can seem a bit pricey, if you?ve ever dealt with a blister during a run?especially a long run?you will agree that good socks are worth every single pricey penny!?Anything to not have to deal with those pesky blisters and foot pain that you get when you cut the sock budget.
Some things to think about:
Arch support keeps the sock comfortably tight around your foot to help prevent blisters during all those miles.
Tabs so the heel of your sock doesn?t slip into the shoe, which can be really annoying and cause heel blisters. Ouch!
Sole cushioning for added support for every heel strike.
Thick vs. thin is a personal preference and for cold or hot weather training.
Layered to keep friction down and blisters at bay.
For cold weather running try some crew socks for extra warmth.
With so many different colors and patterns to choose from, add some excitement to your run by choosing socks that reflect your personality! Check these out:
?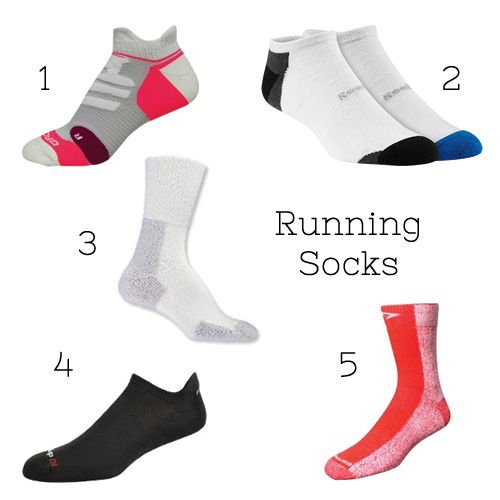 1. Infiniti Double Tab Mesh Socks
2. Reebok Training Low Cut Socks
3. Thorlo Unisex Thick Cushion Running Crew Sock
?4. Drymax Run Lite-Mesh No Show Tab Socks
?5. Drymax Cold Weather Run Crew Socks
Excited about workout socks? Here?s the chance of a lifetime you don?t want to miss: You can win a (new)?pair of Chris? favorite black socks! Leave a comment below telling me why you think Chris should or should not ditch those black socks. Enter up to 5 times until Friday, May 9th at 11:59pm PST, and three lucky winners will be chosen randomly and announced on May 10th.
Get ready. Get set. Go!!!