Avocado in my smoothie?? Yes please! I know what you're thinking…and yes, avocados are normally reserved for salads and Mexican food. You'll be amazed what happens to this fruit (not a veggie!) when you add in a little sweetness. This must-try recipe is an amazing way to get your healthy fats, all-over nutrition, and incredible taste in one power-packed smoothie!
If you like this recipe, check out the book it came from, Eating in Color
. Each recipe will make your mouth water ? not only are they beautifully prepared, but healthy and delicious. Bon appetit!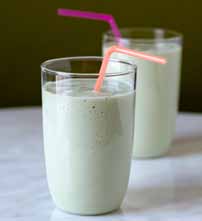 Avocado Smoothie
by Frances Largeman-Roth, Eating in Color

Serves 2
What you'll need:
? ripe Avocado, pitted and peeled
? large banana
? cup low-fat?vanilla yogurt
? cup ice (about 2 cubes), plus more for serving
? to 1 cup coconut water, depending on your preferred thickness
1 teaspoon agave nectar?(light or dark)
? teaspoon ground cinnamon, plus more for sprinkling
What you'll do:
1. Combine all of the ingredients in a blender.
2. Blend until smooth and frothy.
3. Sprinkle with additional cinnamon on top and serve.
What's in it:
Each smoothie contains 155 calories, 3g protein, 20g carbohydrates, 8g fat, 5g fiber, 1.5mg cholesterol.
Find more delicious recipes like this in Frances' book,
Eating in Color: Delicious, Healthy Recipes for You and Your Family
.