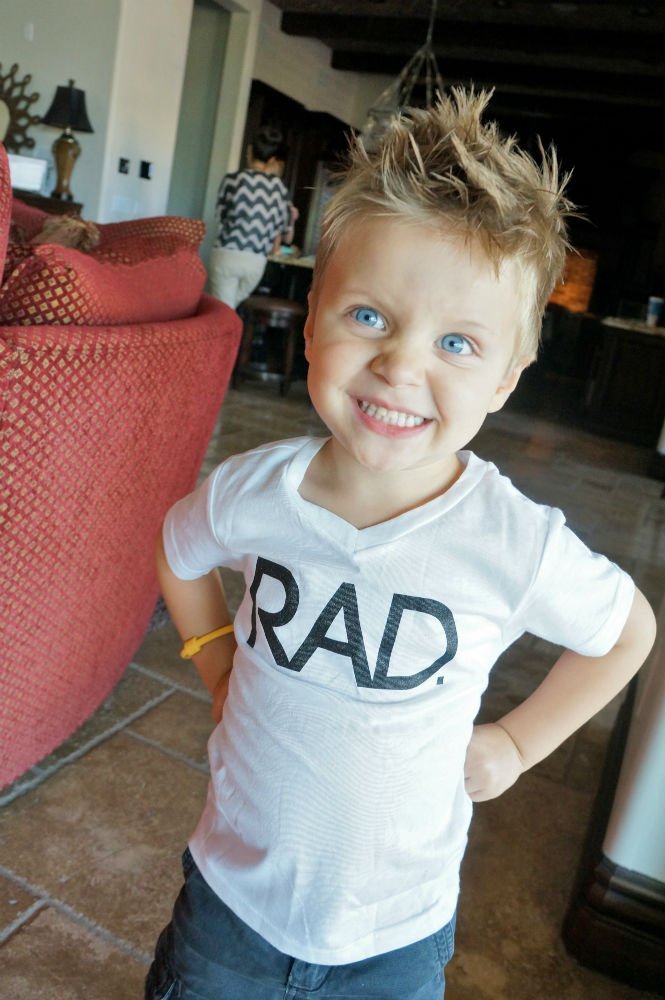 This shirt! I don't think a more appropriate one exists for my Cashy boy. RAD, he is indeed. And here is why:
1. Cash makes Daddy proud as our little patriot. He learned the National Anthem AND "God Bless America" by the age of 2! Most adults (myself included) have a hard time with these words!
2. Avocados and egg whites are some of his favorite foods! #luckymom
3. If you spend a day with Cash, he will surely proclaim his love for you at least 15 times. He'll also tell you a handful of times how "norgeous" (gorgeous) you are. Clearly, Daddy teaches him well.
4. When we stop to talk to anyone at all, Cash is sure to extend his hand for a handshake and say, "Nice to meetchu!" to whomever it is! He's quite the personable character :).
5. Cash has more rhythm than a 3-year-old should ever have. His hip shaking rivals Shakira, I believe.
6. He is ridiculously smart and annunciates his words clearer than I do!! At the ripe old age of 3, he uses phrases like, "Mmmm, Mmmmmm!!! Delicioso!" and "What…is dat AMAZING smell, Mommy?" or "Let me give you an EPIC kiss!" Ahhh…love him!
7. It's impossible to be in a bad mood around this little man. No joke…just try it. I have YET to meet one person (even the grumpy man in the elevator in Hawaii last December) that Cash CANNOT crack a smile on!!! He could make even Scrooge happy.
8. He is SUCH a sweet brother to his siblings. "Ruby, you're so cute…you're my princess," or "Mars, I love you," or "Maggots (Matix), you're da BEST BROTHER EVER!!!"
9. He lives life totally unfiltered. In an instant, and no matter who is watching…he will break into song, dance, or even hop into character and start reciting lines from his favorite shows. If only we were all so free-spirited. I hope this "confidence" never leaves him, no matter what others might say thoughout his life :).
10. Cash's world is happy, funny and totally RAD. I'm grateful as a mommy that my little man lives in this place 24/7!
I know each and every one of our littles have RAD inside of them. Tell me in the comments below what make yours so RAD…
PS – Cents of Style?…you nailed it with this RAD shirt!?I'm buying 10…so we never run out :).
Xoxo,
Heidi