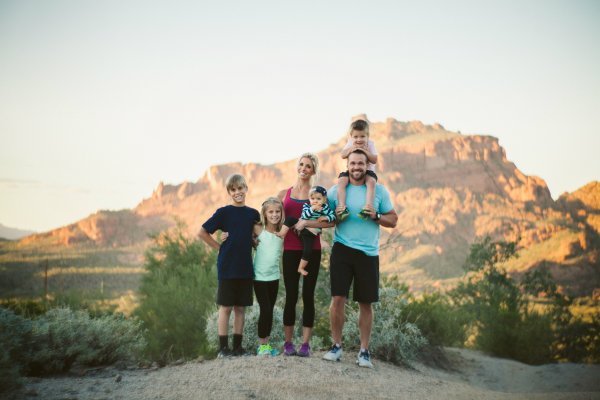 Today, and always, I am so incredibly thankful for these 5 sweet spirits. The happiness, laughter, pride, and joy that they bring to my life is unlike anything I?ve ever experienced, or even thought I could experience. I love each of them more than anything in this world, and am grateful for every waking moment I have with them. How did I get so lucky??
My best friend. He deserves a special shout out. I could not possibly be MORE grateful for this man. Chris is NOT just my husband?he is the soul that I share EVERYTHING with: good, bad, and ugly. He loves me unconditionally?with ALL of my baggage, weaknesses, struggles, temptations, and sometimes all-too-brutal honesty. It?s not often that you can share your deepest darkest fears and mess-ups in life with someone, and have him love you deeper. I. Love. Chris. So thankful.
My extended family?all of them?I am so thankful for you all. Hands down, I have the most bad-ass brothers that walk the earth?and the sister-in-laws they gave me are just as bad-ass. I?m grateful for my parents?one spending today with me in the flesh, the other in spirit. They brought me into this beautiful world and provided me with every opportunity I could need to grow, learn, and become whoever I wanted to be. Even further extended family and friends….we have so many wonderful examples in our lives that bless us and help us grow on a daily basis.
Matix and Marley?s dad. This world would be so much tougher for me if I didn?t have his love in support in all that we do. I?ve seen some nightmarish divorces?and I am grateful for my sake and my kids' that ours is not one of these. I am forever grateful for his efforts he continually puts in, and the efforts he pours into helping to raise our babies.
My health. Thankful beyond words. I know my health won?t always be what it is today?but while I have it, I will cherish it and take good care of it.
I am thankful for all of you. Without your support, we couldn?t do what we do. You change lives, even though you may not realize it.
Speaking of support?our supporting staff (aka Team Powell) is my daily backbone. There are so many that make this engine run. I love each and every one of them, and know that without them, this just doesn?t work.
For life, I am most thankful. Each and every day truly is a gift?good days and challenging days.
Last, but certainly not least, I am thankful for my challenges. These bumps in the road, thorns in my side, and adversity I am faced with have, and will continue to, make me a stronger, more compassionate, unconditionally-loving human being.
I am thankful.
Xoxo,
Heidi