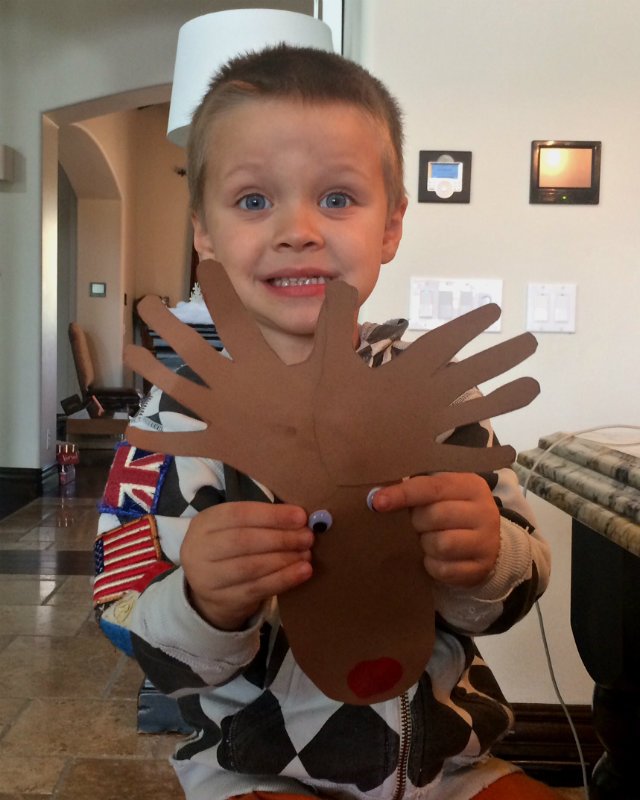 By far, the best gifts I?ve ever received are those sweet little crafts my kiddos have made for me at school, church, or just around the house. I love how hard they work to make things look just right, and how thrilled they are to give their homemade goodies away. This year I rounded up Cash to make a quick, easy, DIY Christmas craft. He had so much fun using his own two hands (and foot!) to put this together, and it only took a few minutes! Everything you?ll need to create our Rudolph the Thumbprint Reindeer is listed below. Have fun!
What you'll need:
The how-to:
Trace your kiddos' hands and one of their shoes on the construction paper.
Have them (if they're old enough) carefully cut out both the traced hands and shoe.
Glue the hands to the top of the shoe.
Place a dot of glue on each eye and place near the middle of the head.
Dip your littles' thumbs in the red paint and carefully press on the bottom of the shoe in the nose area.
Let dry and enjoy!?
So quick, easy, and fun! Bonus?bonding time with your kiddos (which we all know I NEED!). Merry Christmas!
Xoxo,
Heidi
P.S.: Sometimes ya' just gotta keep it real…behind the scenes of craft time! #myreal #momlife