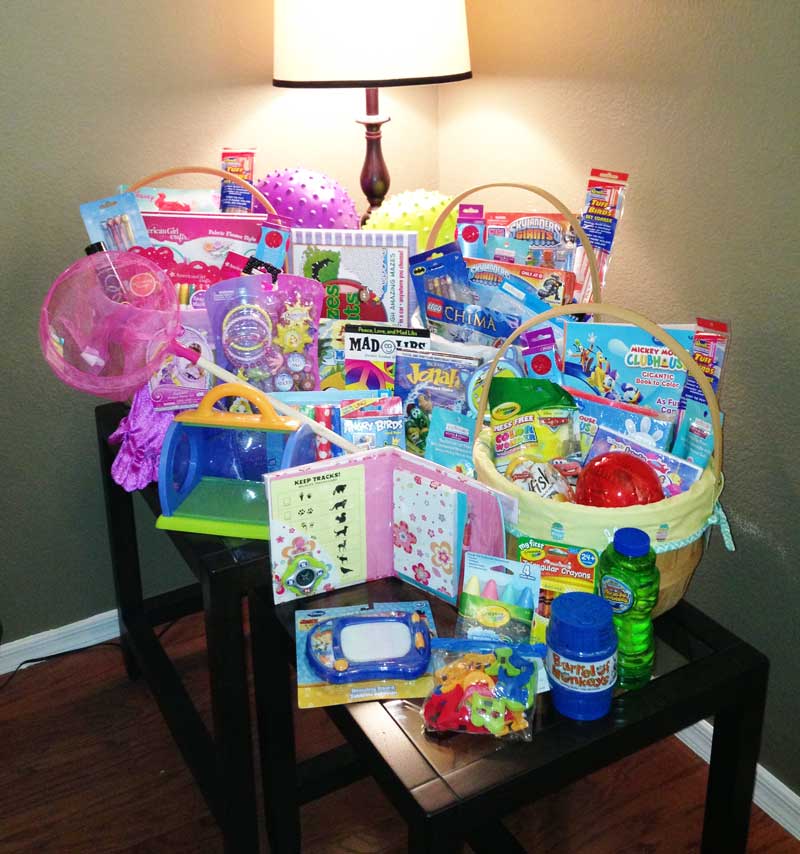 Easter is right around the corner! You know what that means?tummy aches for the entire family from WAY TOO MUCH candy. While we sure do love that furry little creature that hops around late at night to hide those protein-packed, decorated ovals, he?s always gotta totally counteract the goodness of the egg by leaving sugar-loaded baskets for all of us to gobble up.
What do we do about this? I say we help the Easter Bunny out (as well as our teeth and blood sugar levels) by shopping for some sugar-free, but totally fun, alternatives to fill the baskets!
Here are a few fun things Mr. Rabbit will be dropping in our kids? baskets on Easter morning?
1. Several sizes of Knobby Bouncy Balls
! Purple and Green knobby ones that are easy to grip and a smaller red one perfect for a toddler! There are so many games you can play with a ball that get the kids moving and burning off that energy.
2. Books filled with challenging Mazes Mats
and Mad Libs
: Keep them thinking and encouraging those creative minds!
3. Mechanical Pencils
in fun patterns and designs: Always sharp and perfect for completing your activity books. These are a must have!
4. Mini packs of Playdough: Who doesn't love playdough? These smaller containers allow you to take it on the go and not have such a big mess to clean up! Mr Rabbit found a Fun Dough Stack Pack 5
5. Rubberband Glider: Fun for all ages! You can assemble these glider planes and spend some time outside in the fresh air flying them around.
6. Mega Bloks – Skylanders Giants
: Get your kids off of the video games and playing with their hands with complimentary toys to their favorite games. Megablox (similar to Legos) has fun activity sets for one of Madix's favorite games, Skylanders
.
7. Mini LEGO Packs
: For just a couple of dollars, you'll find all kinds of fun Lego packs perfect for stuffing inside an egg or just tucking in the basket. Lots of varieties for both boys and girls!
8. Coloring Books
: Ideal for spending time at home or taking along on the go. Just add crayons, Sparkly Markers
or Colored Pencils
. For Cash, we also found Washable Triangular Crayons
perfect for young toddlers just learning to write.
9. Crayola Color Wonder Disney Cars Coloring Book and Markers
: If you panic at the thought of turning your child loose with markers, you'll love Color Wonder products! They only work when you draw on the special paper, avoiding the extra markings on your countertops and tables. And, you can't go wrong with anything from Disney's Cars Movie for little boys!
10. Mickey Mouse ClubHouse Board Books: Help your little ones learn their numbers, colors, shapes and more with fun sized board books. This 12 pack has them perfectly sized for tucking in a diaper bag too!
11. Red Foam Ball
: Smaller and bright. Ideal for an almost 2 year old to play along with the family!
12. Easter eggs filled with Goldfish crackers: We found some larger eggs and put a treat of Goldfish crackers in there. Look for more healthy alternatives of your sugary or fatty snack favorites. We picked BAKED Goldfish crackers.
13. Bubbles
: You can never have too many of these! They'll ensure hours of fun!
14. Barrel of Monkeys
: Look for compact games that can do double duty! We love that you can play this game with 1 person or with several.
15. Magnetic Alphabet
: Great for helping little ones learn their letters and new readers learn to spell. They're also great for leaving a surprise message for someone special on the kitchen fridge! 🙂
16. Sidewalk Chalks: Another easy and inexpensive way to get the kids outdoors and playing. Not only can you color pictures, but you can draw a hopscotch, 4 square and more to play games with the neighborhood.
17. Quick draw/erase board: We love this small portable size. It's great for traveling in the car and you never run out of paper!
18. Discovery Journal: Loved this darling journal (From Michaels Craft Store) that comes complete with a compass (great for learning how to tell directions on our family hikes) along with a tracker for animals and other wildlife you see on a walk. You could even make your own trackers for things in your neighborhood.
19. Critter Case
, Butterfly Net,
and Magnifying Glass
: 3 must haves for exploring nature!
20. Angry Birds Uno Card Game
: Fun twist on an old favorite. Card games are great too for taking along on a car ride without taking up a lot of space.
21. Glow Sticks: Loved these fun glow sticks that included a little Easter topper. They're perfect for turning an evening hike into a fun adventure as the kids carry their glow sticks. Mr Rabbit also discovered the fun packs of Glowsticks Bracelets
that also are perfect for playing night games in the backyard.
22. Dressing up with your favorite Disney Princess or character: Gloves, a Purse
, some jewelry and such will keep Marley entertained for hours and feeling like a princess!
23. Nail Stickers
: Fun little accessories for girls! Stick-on fingernails that give instant color and patterns without worrying about nail polish spills.
24. American Girl Self Inking Stamps
, Sticker Pad,
and Glitter Pens
: So many great things for little girls to learn from the American Girls characters. These will be a definite hit.
25. American Girl Craft Kits: The Kit Kittredge Fabric Flower Style Set
one lets you create headbands and hair accessories while learning a few basics of sewing and assembling. Craft kits come in so many varieties and are a fantastic way to get kids off the computer and using their hands and minds and then they have a finished project to be so proud of when they are done.
26. Veggie Tales "Jonah" Video: We love Veggie Tales and the lessons on character and values they teach. For $5 you can't beat this!
27. Little Einsteins Videos: Help your toddler learn as they watch one of our favorite series, Little Einstein.