What's better than a backyard BBQ during a holiday weekend?! How about a backyard BBQ that won't break the diet? Sounds perfect to me! And if there's one BBQ meal that us Powells crave often, it's one that includes a juicy burger and fries. It's no wonder that while developing recipes for our book, Extreme Transformation, a delish and clean-er burger was a must-have! Through some trial and error?and A LOT of taste testing (lucky Chris!)?we've finally found a healthy, satisfying burger…that actually tastes as good as it is for you! Fire up the grill and check out this Powell Pack-approved favorite: The BLT Burger + Sweet Potato Fries!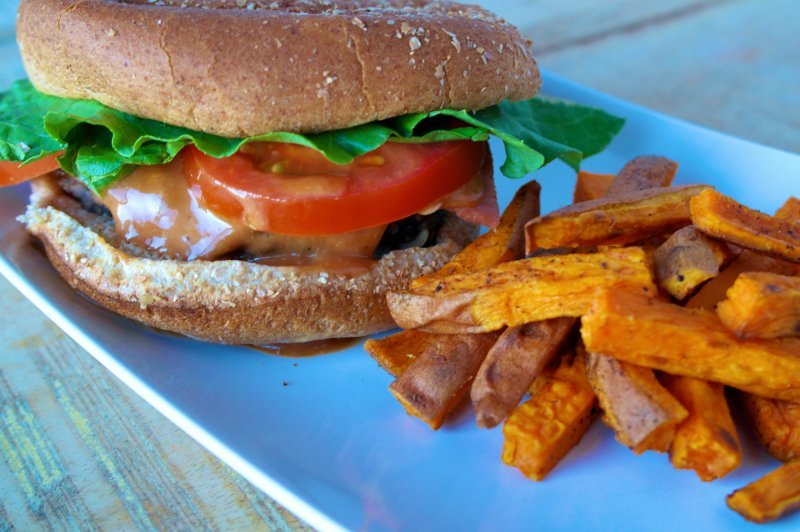 BLT Burger + Sweet Potato Fries (high carb meal)
Makes one serving
Ingredients:
1/2 cup sweet potatoes
Sea salt to taste
1/4 pound beef
Dash each of salt, pepper, cumin, salt-free seasoning blend, and dried minced onion
Whole grain bun (1/2 bun for women, whole bun for men)
1 slice nitrate-free turkey bacon
Lettuce
Tomato
1 tablespoon reduced-sugar BBQ sauce
Homemade mayo (we just use reduced-fat olive oil mayo)
Directions:
Heat oven to 425 degrees. Heat grill or skillet to medium-high heat.
Slice 1/2 cup sweet potatoes into fries. Place a single layer of fries on a baking sheet lined with a crinkled and greased piece of tinfoil. Spray the tops with cooking spray or an olive oil miso and sprinkle with sea salt. Bake 15 minutes, flip. Bake another 15 minutes.
Mix beef and seasoning together with your hands and form a patty. Grill burger and bacon or cook on skillet to desired doneness. Place burger patty on bun. Layer with bacon, lettuce, tomato, BBQ sauce, and mayo (try it with just the bottom bun!)
Eat fries on the side OR try to stack them on your burger. Enjoy!
Nutritional Info:
Makes 1 serving
Women: 496 cals; 22g fat; 41 g carbs; 31g protein
Men: 590 cals; 24g fat; 57 carbs; 36g protein
Xoxo,
Heidi
For more healthy recipes + all of the tools you need to create your own incredible transformation, check out TRANSFORM , our new app full of meal ideas, work out plans, and everything you need for your transformation journey.