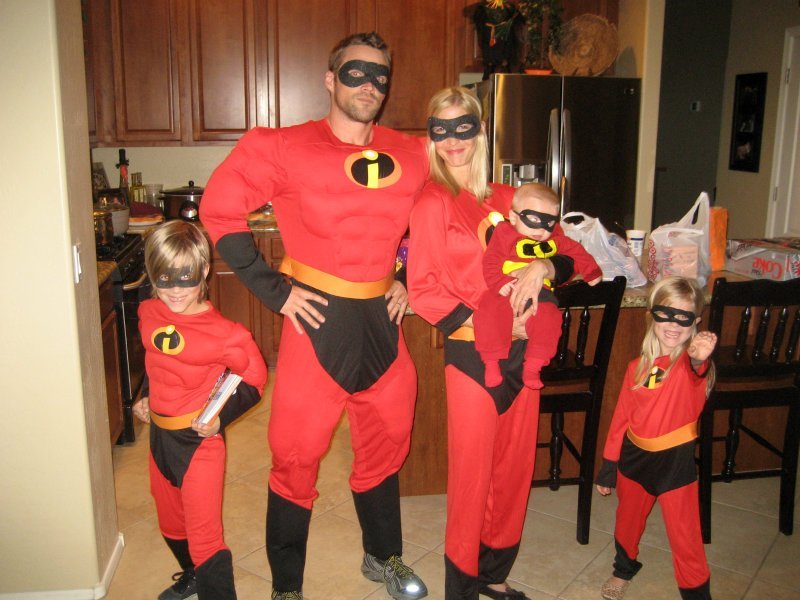 10/18/15: Hey guys! Here are our winners: #1: Joytiffany, #2: Melissa Pimentel, #3: Alexis Franco, #4: J Ortenzi, #5: Rachel.Baker, #6: Heather Sabatino, and #11: Lisette Weldon. Please check the email address linked to your blog comment so I can get your costumes shipped ASAP! And congratulations! 🙂
After a busy summer and a hectic back to school season, the Powell Pack is cleaning house and making room for Santa?s sleigh! Just in time for trick-or-treating, we're giving away some of our favorite costumes from Halloweens past. Oh…the memories as I look at each of these. I miss my littles being so small, but I know these costumes will go to good use!
Okay, so each costume is shown in the pictures below with a coordinating number. To win:
1. Simply comment with the costume number you would like to win.
2. Post your favorite tip to ward off the temptation for Halloween sweets in the comments below!
Winners will be chosen randomly and? announced on Sunday, October 18th, right back here in this post. Good luck!!
*Apologies in advance, I don't have exact sizing for these, so hopefully sharing how old my kiddos were when they wore them will give you an idea of sizes!
Ruby's DIY Spider Costume (as seen here!):- 6-12 months
Tootsie Roll Costume: Marley wore this for her first Halloween when she was just a couple weeks old!
Yellow Angry Bird Costume: Cash wore this last Halloween at age 3
Pirate Costume: Matix wore this 2 years ago at 8 years old. For sizing, remember he is tall!
Pirate Costume: Marley wore this at age 7.
Option for both Pirate Costumes
Incredibles Costume: Matix was 6 at the time.
Incredibles Costume: This one was mine, I typically wear an adult small.
Incredibles Costume: Marley apparently decided to make hers into Daisey Duke's after Halloween…take it or leave it! Ha! She was 5 when she wore the costume.
Incredibles Costume: This costume was Chris', he is usually a medium/large.
Option for complete family set of 4 costumes (as seen here!) – Sorry, Cash's was homemade and I have no idea where it ended up!
Alright guys, start commenting now!
Xoxo,
Heidi