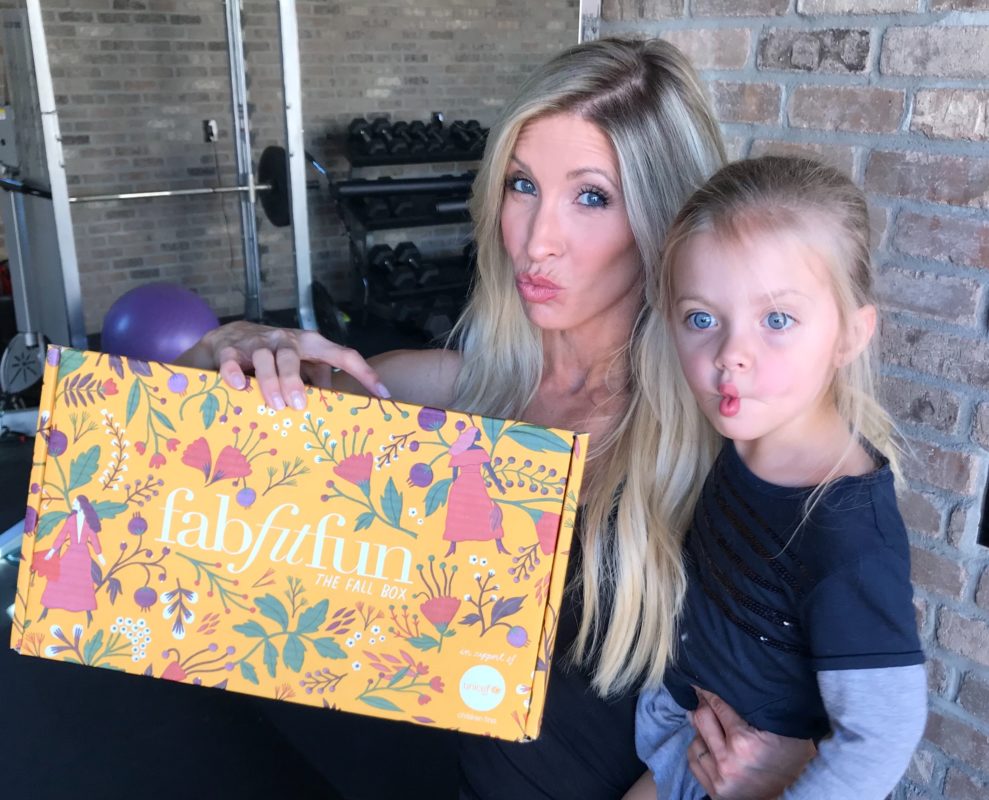 So if you missed my mess of a box opening today with little Miss Ruby Lane (where I attempted to apply lipstick with the cap on and totally painted outside of the lines once it was off?haha!!), you must go check that out on my Facebook page by clicking here. Dying. Laughing so hard at one woman's comment that while I look decent, I have no idea how to open boxes! DYING…good laughs and good times, so go watch! #FabFitFunPartner
Let's talk about these amazing little FabFitFun boxes for a minute. Who doesn't love the idea of opening a box full of goodies that includes a gym bag, a hot/cold pack, and a cozy wrap…for as little at $39?? Crazy inexpensive, and crazy cute stuff. I can't tell you how happy I am to be able to get some of the newest in fashion and fitness gear without leaving my house (or computer!). All of the FabFitFun boxes have been amazing, but this Fall box is LEGIT the best one yet. I couldn't be more excited to have partnered with them once again!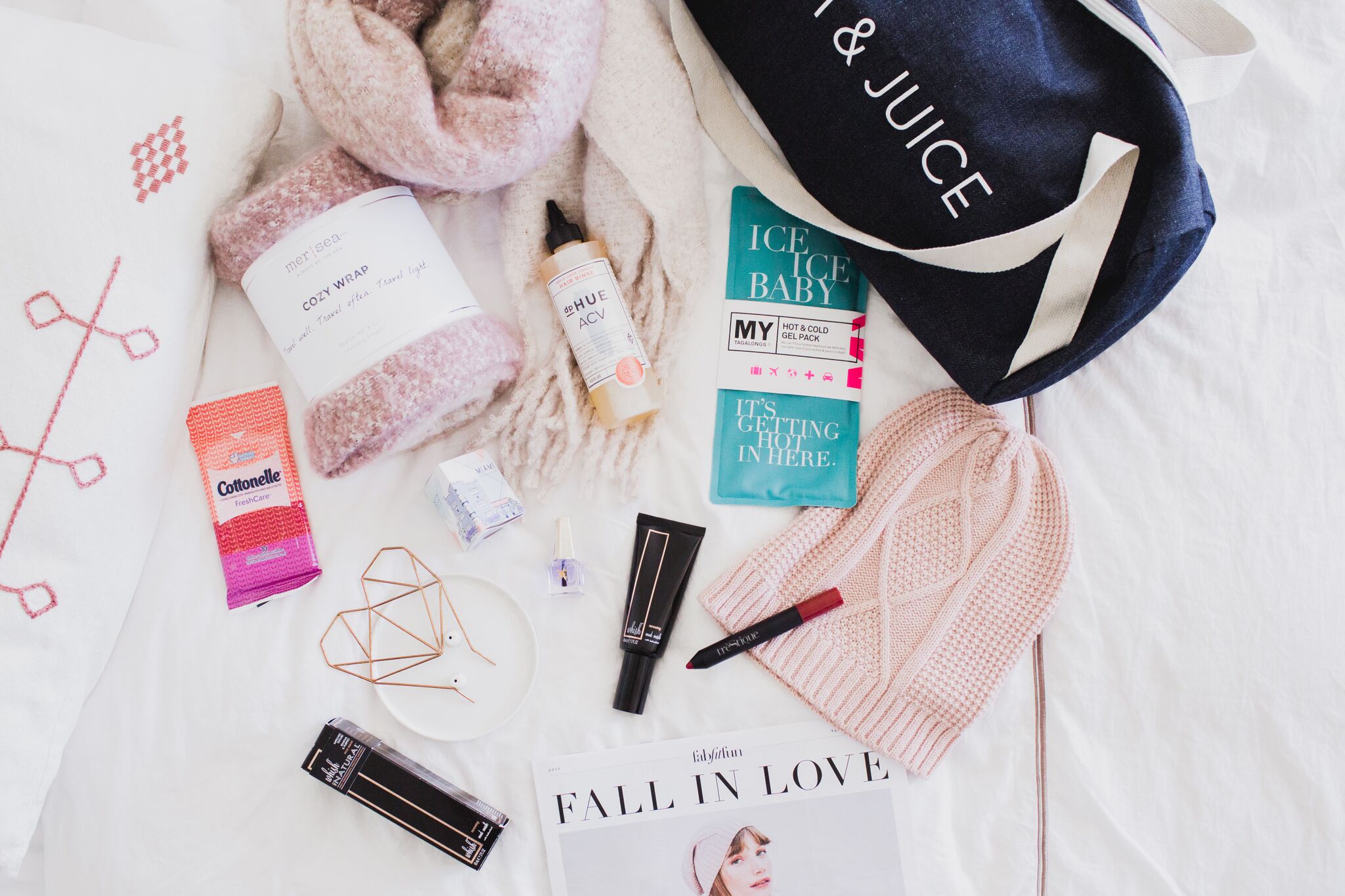 What is FabFitFun ? FabFitFun bundles together the latest in fashion, beauty, and lifestyle products in a monthly package?shipping it straight to your door?making it easy for us busy women to get the best for less! They give REAL SIZE (no trial size crap) in their boxes, valued at over $300, and sell them to you for $49. JUST FOR YOU, FFF is gifting $10 off your first box using code HEIDI. #Yourewelcome!!
Here?s what?s in the box:
Mer Sea Scarf : With the amount of travel Chris and I do, this wrap is travel perfection! I'll be taking this from the plane, to the beach, or even just wrapping up in it for family movie nights. Bonus tip: It can be rolled nicely into your carry on or you can wrap it up into a plane pillow (everyone needs one of those!).
Trestique Lip Crayon: When it comes to lip color, staying power is everything. Being a mom is a full-time job by nature, and then some of us have a full-time job on top of that full-time job to pay the bills. That's exhausting enough and leaves little time to check-in with your lip color. Long lasting makeup products are a must for every busy mama!
Private Party Gym Bag: A cute gym bag can get you from the house and into the gym in style! The cute saying on this bag also makes it a fun option for a beach bag (giving you more bang for your buck!).
Whish Mud Mask: Every busy mom needs a spa day (we so deserve it), but it's not always an option due to schedules and finances. But from time-to-time, taking a moment to escape and do a quick mud mask refreshes not only your skin, BUT also your mind. I'll definitely be using this!
IMM Living Jewelry Holder (similar one seen here): I've talked about my love for Kendra Scott jewelry before, and this minimalist jewelry holder is the perfect, simple, and easy piece to hang my favorite pieces of jewelry.
Deco Miami Lavender Cuticle Oil: Another product that brings the spa to you with its relaxing smell and replenishing effect for those tired nails. It's so important for us busy mamas to take five minutes for ourselves, and this is the perfect five minute treat.
My Tagalongs Cold/Hot Pack: For anyone who has stiff, tense, or sore muscles or who wants to minimize swelling to reduce aches, sprains, and muscle tears caused by sport/other injuries, hot/cold packs are a total game changer. These amazing gel packs are designed for both hot and cold therapy, BUT the bonus feature is that they fit easily into that cute gym bag.
Molr Charcoal Toothbrush + Tooth Polish: Who doesn't love a pearly white smile? Molr uses 100% all-natural activated charcoal made from coconuts. The whitening here doesn't happen through abrasion (like what sand paper does, stripping away layers), it works through adsorption (the bonding of particles to the pours within the activated charcoal), so it's friendly to your teeth! Excited to see more about this product and try it out!
Mia Belt (similar one here): There's something so easy about throwing on a belt to dress up or down an outfit. This one is extra cute because it adds a little boho twist to an every day item. This is a must have for those days you want to look on trend without overdoing it or spending too much to putting your outfit together (because who really has that much time?).
Charity Partner: UNICEF
Thank you again, FabFitFun, for this amazing box and for sponsoring this post! And thanks for always sending extra goodies for my girls!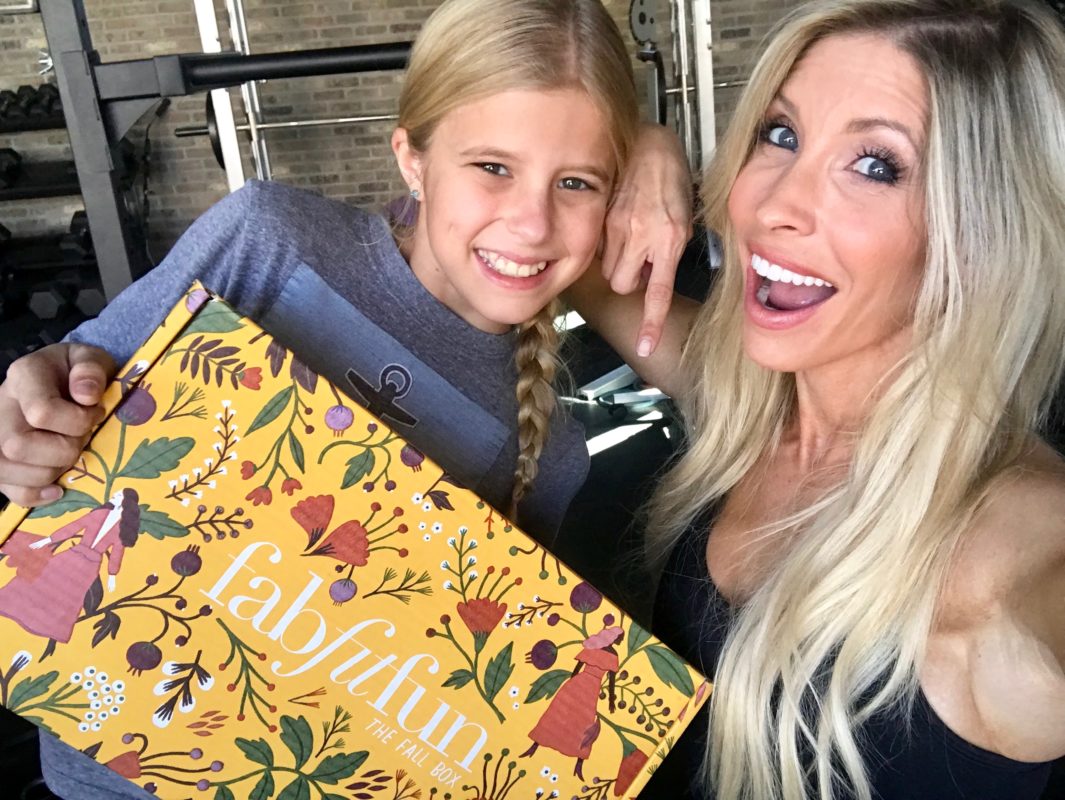 Xoxo,
Heidi
Related reading:
Summer Must-Haves: FabFitFun Edition
Friday Favorites: FabFitFun Edition
Nordstrom Anniversary Sale: My Wardrobe Essentials
My 5 Gym (and Home Gym) Must-Haves