I'll be honest, as much as I LOVE the idea of sticking my Beats on (seriously, best headphones ever!) and getting in the zone while I work out, most of the time that's just not possible. I may or may not have taken a work call or 10 mid-squat sesh. Ya' gotta do what ya' gotta' do! However, when the stars do align and the music gods shine down on me, I've got a go-to playlist that I'm absolutely obsessed with! It may not be the most typical workout playlist, but it's got all of my faves, and it always pumps me up!
Here's a peek at my workout playlist: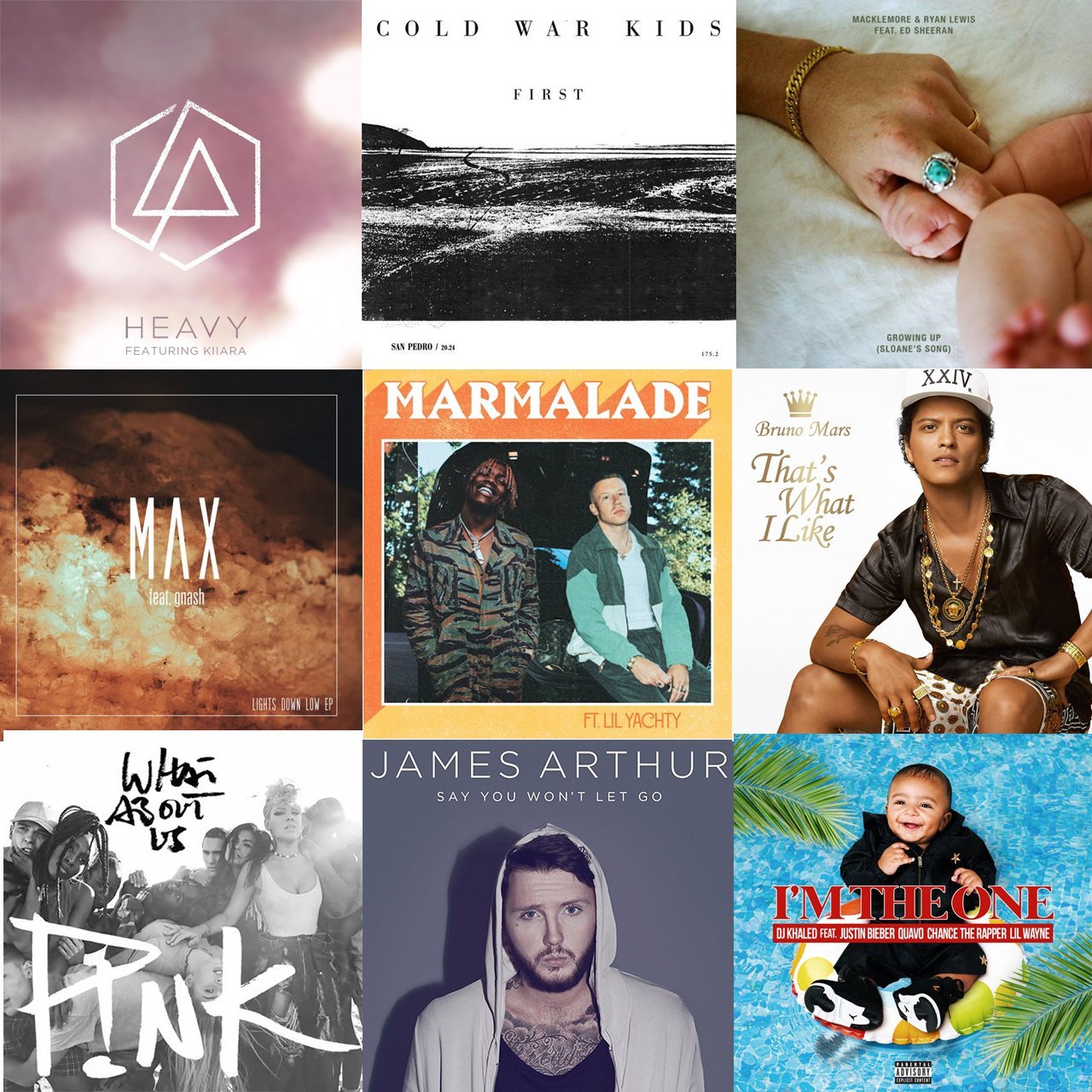 Macklemore feat. Lil Yachty – Marmalade: Stole this bad boy straight off of my 12-year-old's playlist! We share an Apple account, so I can see what he downloads. Gotta' say, I'm loving his taste in music these days!
Macklemore/Ryan Lewis/Ed Sheeran – Growing Up: Another from my little big 12-year-old man.
Macklemore – On My Way: One more Macklemore because, why not? The tempo for this song is great for the stair stepper or any body weight movements all together.
Pharrell Williams – There's Something Special: Despicable Me 3 – ha! Heard it first at the theater and was totally hooked. Hard to believe it's a song from an animated movie because it's almost too good!
Justin Bieber/DJ Khaled – I'm The One: The Biebs is back and better than ever! I didn't like him much before, but I swear now there is not a single song he DOESN'T kill…meant in the best way.
Sam Hunt – Speakers: Because I'm a total hopeless romantic…ugh.
Justin Bieber – Love Yourself: Again. The Biebs. Need I say more? Well, maybe I will say I love this song because it helps me channel and manage any frustrations I have toward certain peeps in my life I feel may have connected with me for inauthentic reasons. Ulterior motives are not cool. Period.
Bruno Mars – That's What I Like: The beat is EVERYTHING. I totally turn into one of Bruno's backup singers with Beats headphones on when this song comes on. Not. But in my head I do.
MAX feat. gnash – Turn the Lights Down Low: Yes… I work out to slow songs. Love this. #ImASap
Linkin Park (feat. Kiiara) – Heavy: The words to this song are so powerful. Perfect to pump you up to push hard to the end of your set.
Boyce Avenue – Demons: The original is by Imagine Dragons, but I like the Boyce Ave rendition of it. My kids can all play this on the piano, and I love this song for this reason, as well as for the meaning. In short, we all have demons we fight?I don't care who you are. This song reminds me to stay humble and focused on fighting the good fight.
James Arthur – Say You Wont Let Go: Sappy Love Song #101 on my playlist.
Canon In D (piano) – Use the album called Wedding Day Music – Piano Music for a Perfect Wedding: I know, I know. It's definitely not your typical workout song, but it means so much to me. Chris plays this song as beautifully as it is played here in this rendition. People think it's crazy that I can work out to classical music, but nothing inspires me more than this idea of the truth of what our relationship is built on. He is hands-down the best man I have ever met…this song is him. All him. So beautiful. I could work out all day long to this. And it pushes me harder than any heavy metal could ever make anyone push.
Pink – What About Us: Because really…what about us? And I love her voice. I adore Pink and her carefree attitude!
Cold War Kids – First: The beat to this song is perfect for running and any other tempo movements.
Thomas Rhett – Die A Happy Man: Still…after a whole year…it's on my list.
Plain White T's – Hey There Delilah: Because it's our song from when it all began. Just listen to the words?only Chris was a transformation specialist traveling the world, not a musician.
Titanium – David Guetta feat. Sia: Another song with the perfect beat to kick some major booty.
The perfect work out accessories to add to your perfect playlist.
Comment below with some of your favorite songs to work out to!
Xoxo,
Heidi
Related reading:
Friday Faves: What?s on My Feet 2.0
Fit On The Job! 6 Tips + 14 Exercises for the Desk Bound Professional
A Lotta Tabata || 4-Minute Total Body Toning Workouts
Top 10 At-Home Exercises for Total Body Toning
My Top 4 Fat-Blasting Cardio Workouts