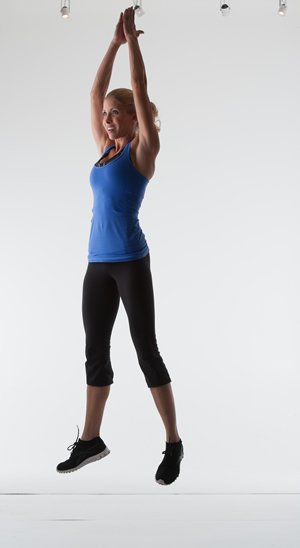 Can you believe 2013 is already almost halfway done? What happened to 2012??? I?m not sure if it was all of the travel, or just the everyday crazy-busyness of raising three kids and trying to squeeze it all in, but these years seem to fly by all too fast! While there are parts of 2012 that I?ll happily leave in the past (like our family?s weeklong flu attack), there are quite a few things I happily brought along to 2013 ? one of them I?ll share with you today ?.
Jan 1, 2012: There was not a workout move I dreaded more than the doggone burpee. There was very little Chris could say or do to get me to happily burpee-run my way around the block like he seemed to LOVE to do on an every-few-day basis. The push-up, the hop to squat, the frog jump and clap above the head?it made me queasy to think about. Then to repeat the move 15-20 times before running and doing it all over again??? Seemed like torture, so I would avoid at all costs while Chris only got fitter, and better at that bugger of a move.
June 24, 2012: Enter CrossFit Open. No, I did not compete (someday I would love to be that fit!), but I decided to be a good teammate to Chris, and do the exact workouts he was required to do each day of the competition. I had committed to this BEFORE seeing what day one?s workout was: 7 minutes of burpees. You better believe I tried all I could to get out of that workout, but Chris – nor my conscience (and maybe my ego) – could let this workout go. I figured I?d buck up and do more burpees in 7 minutes than I ever imagined I would do in my life.
The 7 minutes was long, and the burpees? Hard as heck. But as I plowed through the workout loaded with the one move I thought I hated so much, I found a groove ? a nice pace to my burpees that made them feel easier than they had ever felt before. I couldn?t believe it when I realized I didn?t hate burpees so much after all?in fact, I kind of liked them! I just needed to do enough of them to feel comfortable with the movement pattern. Even more importantly? I needed to realize that burpee workouts should NOT be a race for me ? just a SLOW, CONSISTENT chipper workout!
This 7 minute torture session was exactly what I needed. You see, before, I felt so weak each and every time I tried burpees, so instead of pushing through and making myself stronger, I would just run away. But when I forced myself to face my fear, I realized my potential to be as strong and as good at burpees as I wanted to be! This was my own personal growth experience with ?practice makes perfect?. And out of this, I found the move that brought my fitness to new levels in 2012, and the move that I have continued incorporating into my workouts in 2013 (and to infinity and beyond!).
Burpees are such an incredible total body burner: breaking down the chest, shoulders, triceps, core, glutes, and hamstring muscles. But this isn?t even the best part! Burpees not only strengthen these muscle groups, but they also give you an unbeatable cardio-respiratory workout. Hands down, the burpee is my move of the last 12 months!
Looking for a great way to boost your exercise routine? Take the 7 minute burpee challenge today! Set the clock for 7 minutes, and burpee your way to a happier, healthier YOU! Got get ?em 😉
How To Burpee: