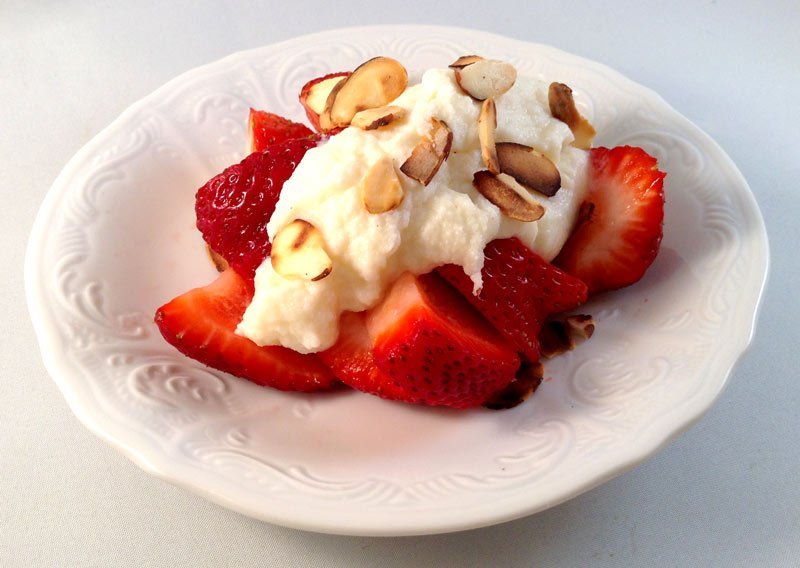 This delicious, light, and fruity dessert is the perfect way to indulge without overdoing it. An added bonus? It?s super quick and easy ? just what us busy parents need!
Here?s what you?ll need:
4 servings
? C slivered almonds
2 C whole strawberries, cleaned
1 C low fat ricotta cheese
2 Tbsp calorie free sugar substitute (I like baking stevia ? you can use less if you prefer)
? tsp almond extract
Here?s how to make it:
1. In a small, dry skillet on medium-low heat, toast almonds, stirring frequently ? about 2-3 minutes or until golden brown and fragrant. Transfer to a cool plate immediately. Allow to cool completely.
2. Hull and slice strawberries and evenly divide among 4 cute dessert bowls.
3. In a separate bowl, mix ricotta cheese, sugar substitute, and almond extract until smooth. Dollop evenly among sliced berry bowls.
4. Sprinkle strawberry and almond cr?me dessert bowls with sliced almonds. Take a picture (because you made it so pretty) and enjoy!
Here are the facts:
This recipe makes 4 servings. Each serving carries 120 calories, 6 grams of fat, 11 carbs, and 9 grams of protein. Not too shabby!!