Originally published on ElizabethStreet.com.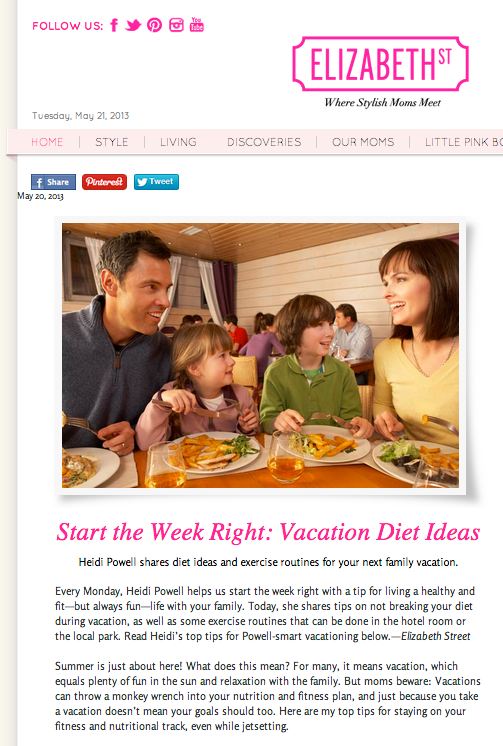 Every Monday,?Heidi Powell?helps us start the week right with a tip for living a?healthy?and fit?but always fun?life with your family. Today, she shares tips on not breaking your diet during vacation, as well as some exercise routines that can be done in the hotel room or the local park. Read Heidi?s top tips for Powell-smart vacationing below.?Elizabeth Street
Summer is just about here! What does this mean? For many, it means vacation, which equals plenty of fun in the sun and relaxation with the family. But moms beware: Vacations can throw a monkey wrench into your nutrition and fitness plan, and just because you take a vacation doesn?t mean your goals should too. Here are my top tips for staying on your fitness and nutritional track, even while jetsetting.
Pack healthy snacks in your carry-on, in your car, and wherever you go so they are right at your fingertips. Not only will you save money, but you?ll also save calories! Some of our favorites: Protein bars, almonds, protein powder, veggies, and lots of water!
Book a hotel room with a kitchenette, or at least a microwave and a mini-fridge so you can store fresh produce and healthy foods. Most hotels are incredible about providing these items?just ask for them at check-in.
Hit the local grocery store to stock up on fresh produce and healthy foods as soon as you reach your destination. Not only will this keep you eating on track and feeling great, but it will save you tons of cash.
Don?t deprive yourself of local food fare, but be sure to eat it in moderation. Our dining out rule-of-thumb: Either split a meal with someone or ask the waiter to box up half of your plate before delivering to your table?this helps keep portions in control.
Stay hydrated. Oftentimes, we might think we are hungry when we are simply just thirsty. Before reaching for a second helping (or even a treat when you know you shouldn?t), try drinking eight ounces of water. Keep in mind, soaring the open skies will dehydrate even the best of us. Drink up!
Skip the hotel elevator and take the stairs. Not only are you burning extra calories, but it can actually get you to your room quicker too!
Walk! Enjoy your destination to the max by ditching the car and using your feet.
Check out my?Total Body Workout?for the perfect hotel routine. These exercises were designed to be done anywhere, and only require the use of your body weight. Don?t like sweating in your hotel room? Do them in the local park!
Happy vacationing!