Read the complete article on ElizabethStreet.com.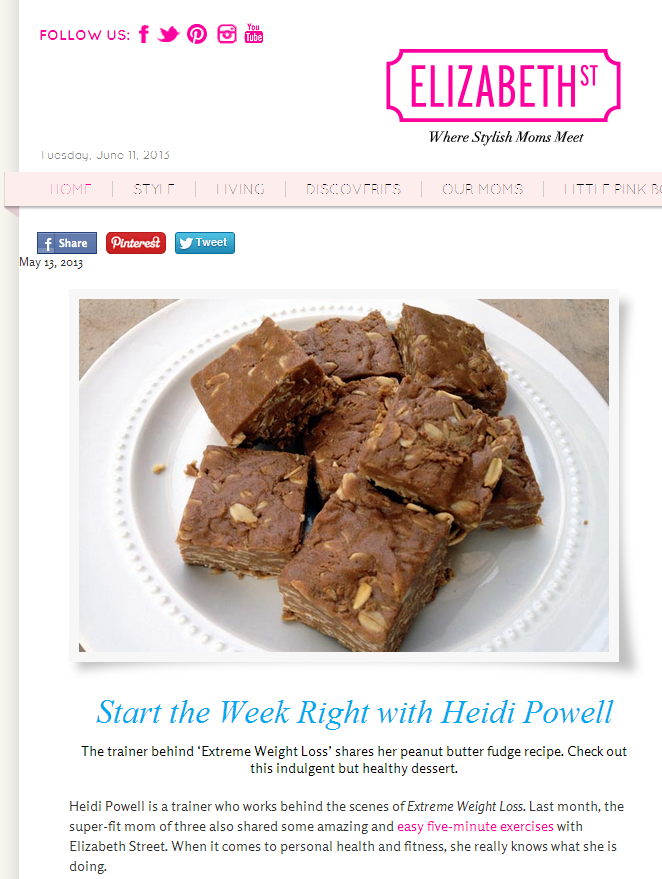 The trainer behind ?Extreme Weight Loss? shares her peanut butter fudge recipe. Check out this indulgent but healthy dessert.
Heidi Powell is a trainer who works behind the scenes of Extreme Weight Loss. Last month, the super-fit mom of three also shared some amazing and easy five-minute exercises with Elizabeth Street. When it comes to personal health and fitness, she really knows what she is doing.
That?s why we?re so pleased to announce that Heidi Powell is helping us start the week right with a tip, recipe, or idea that will help you live the healthiest life you can. The series stars today with a protein-packed bar that not only makes a great afternoon snack for kids, but could easily pass as a healthy dessert. Read on to get Heidi Powell?s peanut butter fudge recipe.
?This delicious healthy fudge recipe is perfect for your kids? after-school snacks,? Heidi says. ?Gluten-free, refined sugar-free, and all-natural ingredients make it a wonderful go-to treat to keep their bodies full of the energy they need. Warning?these will quickly become mom and dad?s favorite too!?
Read on to get Heidi Powell?s peanut butter fudge recipe.
Peanut Butter Power Fudge
Makes 48 servings
Ingredients:
1 16 oz. jar natural creamy peanut butter
1 ? cups natural honey
2 cups natural whey protein powder
3 cups gluten-free oats
Heat peanut butter in microwave for 90 seconds.
Add in honey, stir.
Mix in protein powder.
Combine oats with peanut butter mixture.
Spread evenly in 9×13″ pan, and refrigerate for at least an hour.
Cut into 1 ? " squares, and enjoy!
Each fudge square has: 110 calories, 5 grams of fat, and 12.5 grams of carbs