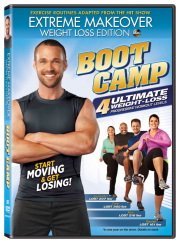 Created for every body and level, this program includes four fat-blasting workouts, each more challenging than the last. As you progress, you can even combine workouts to accelerate your transformation. Join Chris, inspiring past show participants and myself as you make over your own body with fun, total-body exercises! Get your copy today! Click here to purchase?and get working out by doing…
Warm-Up: Set your body in motion and get your heart pumping with our signature moves designed to limber up for a fun workout.
Level 1: Begin your transformation and jump-start your metabolism with easy-to-follow exercises that get every muscle moving to start burning fat and calories.
Level 2: Rev up the calorie burn and melt inches with this low-impact interval workout that challenges the body with five total-body exercises repeated in 45-second bursts.
Level 3: Up the ante and the fat burn with a calorie-crushing workout that includes five mega moves that shred, sculpt and slim the body with four 20-second blasts each.
Level 4: Get extreme results with four-minute circuits of hard-core exercises like Mountain Climbers and Squat Jacks designed to torch calories, obliterate fat and sculpt muscles.
Cool down: Calm your breathing and soothe challenged muscles with complete-body stretches and movements that protect and invigorate your body from head to toe.