This post was created about 30 minutes before my water broke at home last Saturday morning :). Because a trip to the hospital was in order, it was clearly never posted. But I really do think this may have done the trick! It's funny to read this post, knowing so much was just on the cusp of happening…and at the time I had no idea.
Blog post, typed just hours before Ruby was born, below.?
PS – I am counting this as Days 11, 12, 13, 14, and 15 that I missed during labor and recovery. Little Miss Ruby has given me so much to be thankful for in this Month of Thanks, I?believe this is warranted :).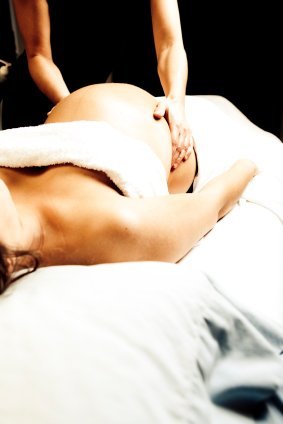 I don't get them often, but when I do get a massage, I sure do appreciate it :).
Yesterday's was amazing.
Once I realized that no amount of physical activity, hiking, jumping, or sex (sorry if TMI, but many of you suggested it!) could put me into labor, I decided to take a shot in the other direction with some much-needed "rest and relaxtion". "Maybe THIS will do it for me," I thought.
I called our amazing massage therapist and she made it to our home within 3 hours to do the job :). It. Was. The. Most. Amazing. Massage. Ever. Maybe because my body has been in need for so long, or maybe because I was so tired…or maybe because Jenn has magic hands! I don't know, but I will tell you this…I am SO thankful for yesterday's massage.
Let's hope the R&R did the trick! The clock is ticking…no baby yet…