With Baby Ruby here, our Powell Pack is officially a 6-Pack ?. While we are enjoying her to the max and BEYOND grateful, I have to admit that my time for ME is becoming harder and harder to find?and I thought 3 kids was busy ;). Four is even busier?but WAY more fun!
With holiday parties around the corner (and us hosting Thanksgiving right here at the house!) I called in the help of my good friends at Lunchpails and Lipstick to help this fashion-challenged mama (yes, me) get ready for these holidays. Instead of keeping all of their great secrets for myself, I thought I?d share so you ladies can get some style ideas for all of the parties on your horizons ?.
Day 16: Today, I am every-so-thankful for my fashionable friends at Lunchpails and Lipstick. Enjoy their tips for Holiday Fun!

Holiday Fun
by Lunchpails and Lipstick
Add a little fun to your festive fashion this year with these timeless styles and accessories.
Holiday Party Tips:
You can never go wrong with a red lip for your holiday party. If bright red seems a bit scary, choose a brownish red or even a red gloss.
When in doubt wear a metallic shoe! Gold, silver, pewter, bronze..they are all a neutral and will add an element of fun to your outfit!
A holiday party is the perfect excuse to wear sequins. Go for it!
Make sure you feel comfortable in your dress. If it's too tight now, it will surely be extra snug once the festivities are over. Don't be afraid to by one size up and have it tailored to fit you perfectly.
A must have for every clutch are breath mints, gloss, powder and a small roller perfume or sample size. Who knows, you may just get lucky that night.:)
We recommend you eat something before the party. Something healthy like a salad, soup, and definitely some protein. Hopefully this will prevent you from over eating so your perfect holiday ensemble will fit throughout the party season!
Most importantly wear what you like. This is the season to take risks, go glam and have fun!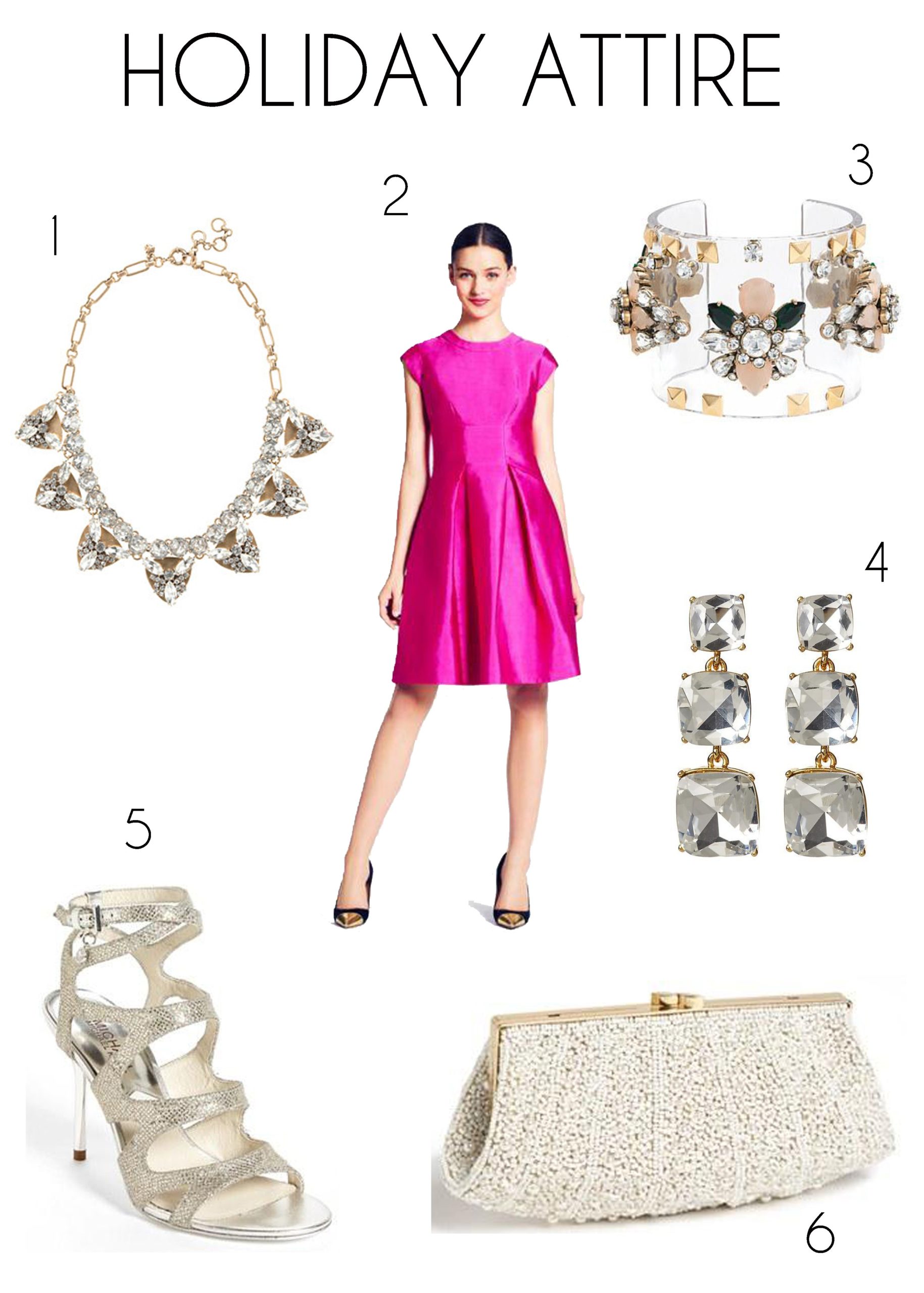 Holiday Attire links:
1. ?Jeweled Triangle Necklace
2. ?Vail Dress
3. ?Jeweled Cuff
4. ? Shaken And Stirred Graduated Linear Earring
5. ? Michael Kors 'Yvonne' Sandal
6. ?Glint 'Pearl Encrusted' Clutch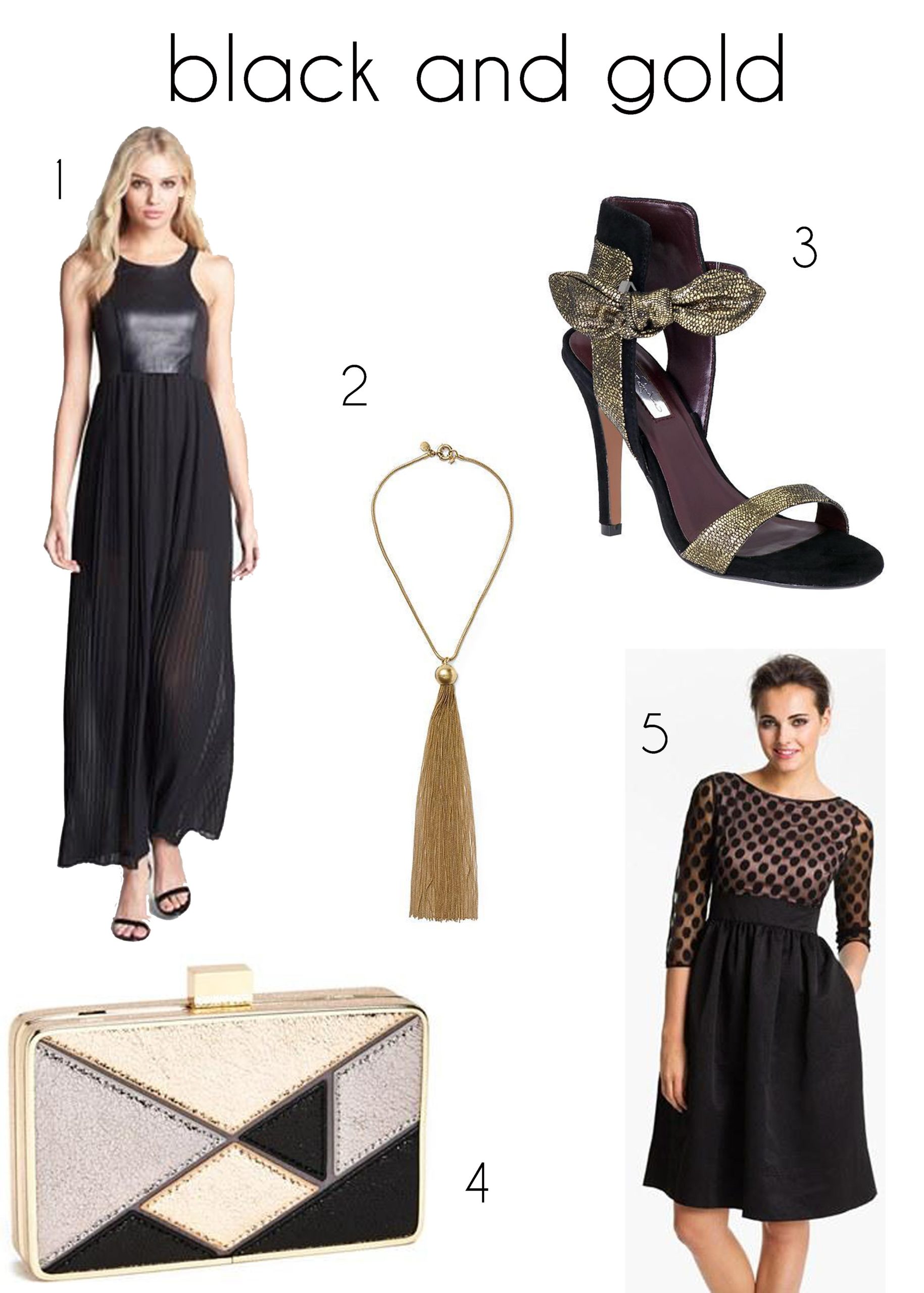 Black and Gold links:
1. ?Blaque Label Faux Leather & Pleat Chiffon Maxi Dress
2. ?Big Tassel Necklace
3. ?Zany by Report
4. ?Expressions NYC 'Crinkle' Box Clutch
5. ?Eliza J Dot Mesh Bodice Fit & Flare Dress
Love,
Lisa, Jenna & Summer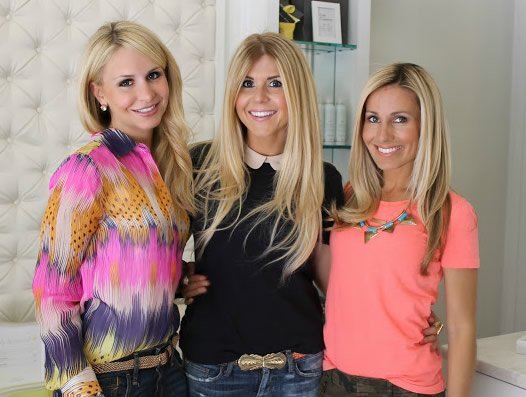 For more great fashion ideas and to connect with the fabulous ladies of
Lunchpails & Lipstick, connect with them here:
website: www.lunchpailsandlipstick.com