Congratulations to our Winner, Kristin Guidry!
Be sure and watch for the next week's Labor Day to Labor Day 12-week Giveaway prize from Munchkin!
11 more prizes coming your way!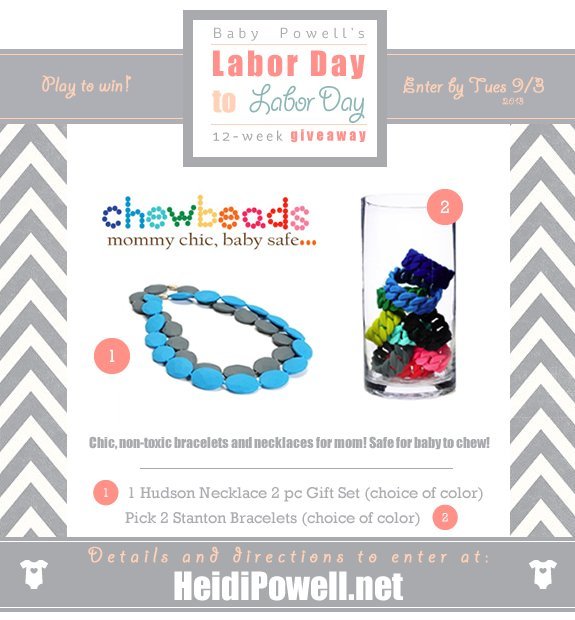 #BabyPowell Chewbeads Giveaway!
Any Mom, Dad, Grandma, or nanny knows this: EVERYTHING goes straight to Baby?s mouth during the teething stages. Yup – and if you are anything like me, this is terrifying! I had nightmares of them choking on a broken bead from my necklace, and stressed constantly about the unwanted chemicals and paints that I knew were being consumed by my little ones as they chewed on jewelry.
Eventually, I became one of those moms that just stopped wearing jewelry all-together until Matix, Marley, and Cash made it past the ?everything-to-mouth? phase. Because it kept them safe, I didn?t mind. But I?m not gonna lie ? I longed for the days when I could wear cute accent pieces again, or for the nights out without Baby so I could dress up and feel like a woman again!
I was BEYOND excited to hear about this adorable jewelry line that makes it possible for Mom to feel like a woman, and for Baby to be safe?AND have a chew toy!! Chewbeads brilliantly created fashionable and chic jewelry that is soft, non-toxic, colorful, and (most importantly) safe for babies! Also exciting? The bracelets can be used as a reminder for which side you?ve just nursed. Sorry if TMI?but I must admit that as a nursing mom, this can be incredibly confusing! Especially with no sleep 😉
#BabyPowell?s Shower Gift of the Day!!
From Chewbeads, TWO Stanton Link Bracelets, and ONE Hudson Necklace Duo (two necklaces). Color choice of winner! This #BabyPowell Shower Gift is valued at over $110.00!
How to Enter
1. Follow me and share this post on Twitter, Facebook,?Instagram? and/or Pinterest (Pin the image above to your board using the link below or your browser Pinit Button) and be sure to include the hashtag #BabyPowell. The more you share, the more chances to win! (Enter up to 4 times!)
2. Leave me a comment here on the blog for each SHARE before 11:59 pm Tuesday, September 3, 2013 and include which social media channel you shared the post on and include your @username so I can visit you! ? (If you shared 4 times, make 4 comments.)
Random winner was announced on Wednesday, September 4, 2013.?