Congratulations to our Winner, Sally H.
Watch for the next Labor Day to Labor Day 12-week Giveaway from Vemma.
More prizes coming your way.
Lauren Parisier and Kelli Kenny, founders of the award winning expectant mom skin care line, basq, weigh in on the battle of stretch marks during pregnancy. They've even donated some of these amazing products for this week's Baby Powell Giveaway!
Scroll to the bottom to enter to win!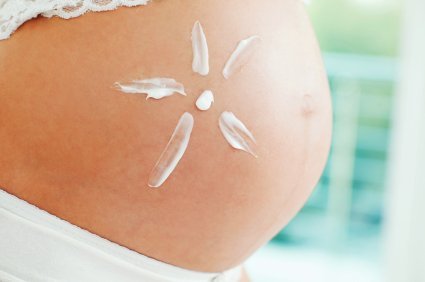 When it comes to stretch marks, everyone wants to use a product that truly works. The truth is, when you become pregnant your skin may or may not mark- but, prevention is key! The good news is specific products can prevent stretch marks, bad news- once you?ve got them they don?t go away you can only make them smaller.
What you do in the early months is critical ? building skin strength early on is your best bet for a mark free pregnancy. Collagen and Elastin are the fibers that keep your skin strong and stretchy. You need products that go beyond moistuirzation to fuel the build of collagen and elastin so it can stretch more and hopefully avoid breaking (which is what gives you the marks). Remember, while stretch mark prevention isn?t instantly gratifying because you can?t see what would have been ? it?s better than the alternative. There are a few easy steps to dramatically improving your skin?s strength and stretch-ability during those early glowing months:
Step 1: Exfoliate
Exfoliation preps skin for better product absorption and it kick-starts your skin?s natural repair process, key for stretch mark prevention. But when it comes to exfoliating, not all polishes are created equal. Stay away from salt scrubs? they are drying which equals more damage. Many everyday scrubs have clary sage, rosemary and caffeine ? these should be avoided in pregnancy. Loofahs and shower mitts can deliver exfoliation that is too hard, causing micro tears which harm skin instead of helping. We created basq Citrus Sugar Body Polish for pregnancy-safe exfoliation. The natural sugars gently smooth while rich oils and butters nourish. Focus on mark zones for best results: chest, belly, thighs and hips.
Step 2: Stretch Mark Ingredients Proven to Work
It is important to look for ingredients clinically proven to work. For real stretch mark care you need your products to work deep down where damage happens ? surface moisturizing isn?t enough. Feed your skin ingredients that it can break down and use to build collagen and elastin, which support strength. At basq, we spent a long time working on a butter that could blend the oils your skin wants and needs with ingredients proven to work. The core stretch mark ingredients in the award winning, basq Advanced Stretch Mark Butter are Algesium C and Darutoside. Both have been proven in clinical testing to prevent and repair marks. Plus it contains omega rich Borage and Grapeseed oils and a rich Shea Butter base ? it?s all you could want and need in a stretch mark butter.
Step 3: The All Over Stretch
Marks mostly happen on the chest, belly, hips and inner thighs but don?t forget the rest of your body. For head to toe care, we recommend oils that are rich in Linoleic Acid needed to build Collagen and Elastin. Remember, not all oils are created equal. We blend the highest grade Omega Rich oils to absorb completely so there is no greasy feel or worry about clothing. A little bit goes a long way, oils are the smart choice when you?re looking for less to do more. The basq Resilient Body Oil has been an editor and celebrity favorite (Heidi Klum is a fan!), but if you remain an avid butter user, our Ilipe Body Butter is the product for you.

Now, time for Baby Powell's Weekly Giveaway!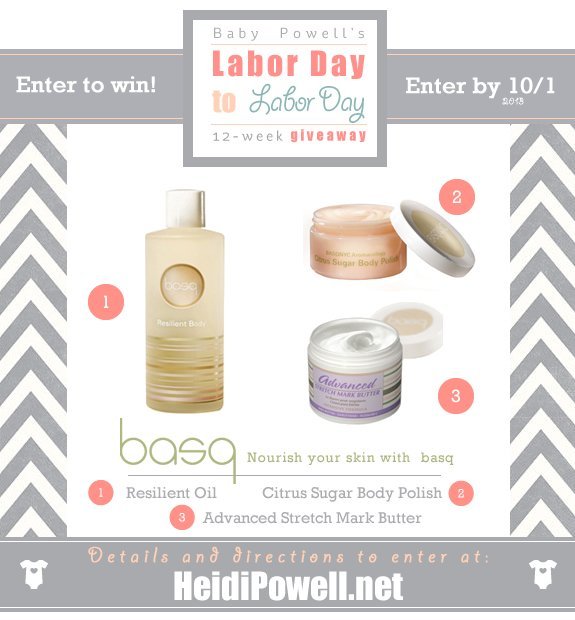 For this week's #BabyPowell Giveaway, Lauren and Kelli are giving away my favorite Basq products ($100 value!):
Basq Resilient Oil, and
Basq Citrus Sugar Body Polish, and
Basq Advanced Stretch Mark Butter
How to Enter:
1. Follow me and share my giveaway posts from Twitter, Instagram, Facebook, and Pinterest.
2. Go virtual shopping on BasqNYC.com's website and tell us about one of their products that most interested you by commenting below.
3. Share any blog from my site via your social media channels (recipes, crafts, mommy stuff! You pick!). Be sure to tag @RealHeidiPowell or my Facebook Page in all shares and posts. Use hashtags #BabyPowell and #basq so we can find them. The more you share, the more chances to win!
Random winner was announced on Wednesday, October 2, 2013. Thanks for participating!