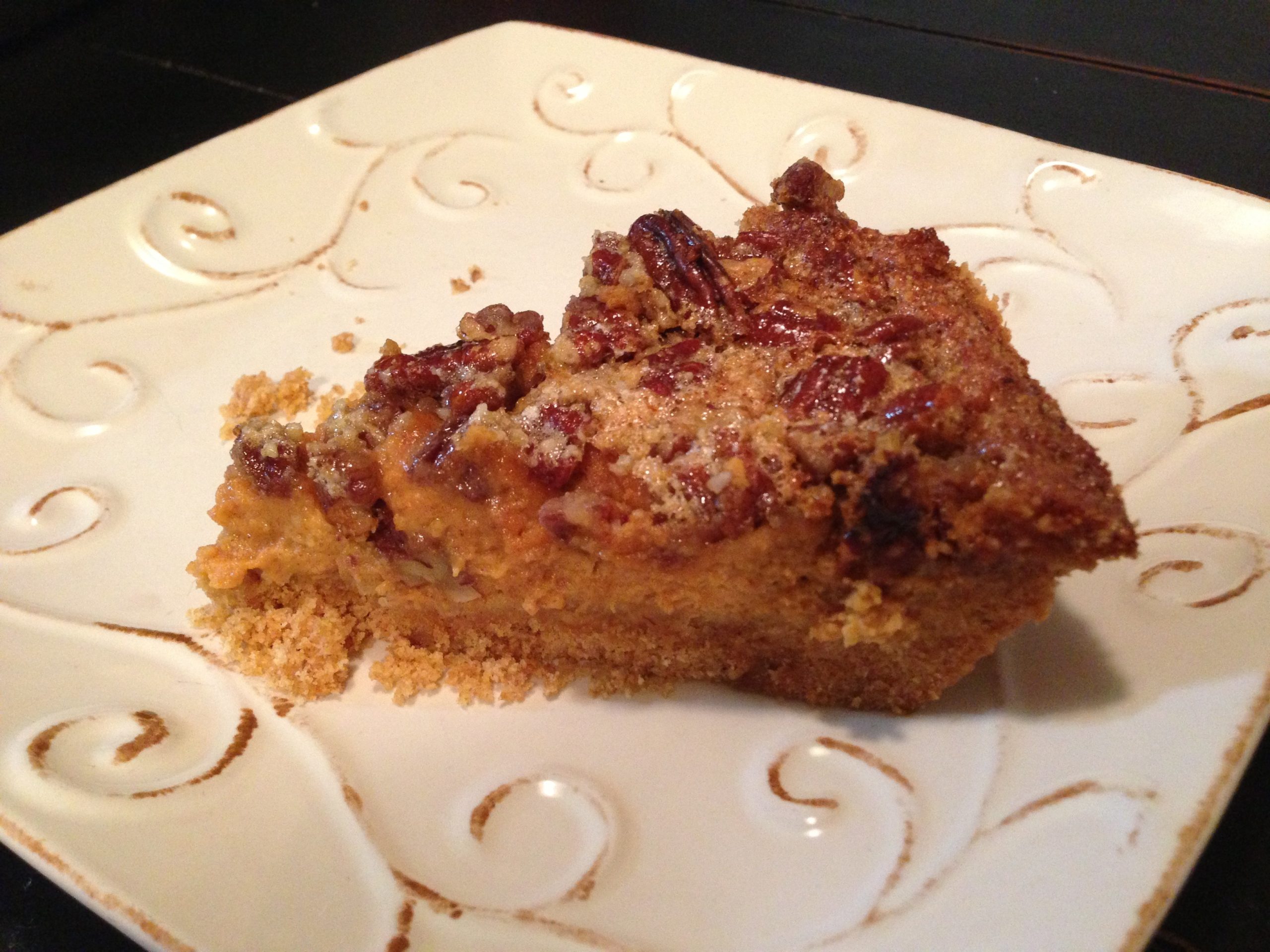 I can?t believe October is already here! What does this mean for most of us? Baking season and holiday festivities (along with those unwanted holiday pounds) are waiting for us around the next corner. While we could always try to resist the deliciousness of pies, cookies, and festive foods, I must say this method is not for me. You tell me I can?t have a cookie?I will want it even more! I am a believer in the occasional indulgence without overdoing it! If I can find or create a healthier version of my favorite dessert, this is a huge bonus! This holiday season, I?ll be sharing healthier versions of my favorite recipes so you can enjoy the holidays without breaking the calorie meter!
First up, three of my favorite things combined into one: pecans + pumpkin + pie = one heck of a decadent (and lower calorie) pecan pumpkin pie! Before I realized there was a healthier version of this pie, I was consuming over 400 calories per slice (ouch!). With a little tweaking and a few substitutions, the calorie count was reduced to 279 for this heavenly treat .
So, if you have any interest in leaving some of the guilt out of those guilt-free days, give this recipe a try!
Pumpkin Pecan Pie
Serves 12
What you'll need:
Crust
2 cups low-fat graham crackers, crushed until fine
1/2 cup melted butter
Pumpkin Cheesecake Filling
4 oz low-fat cream cheese
3 tablespoons maple syrup
1 tablespoon Splenda OR Baking Stevia
4 egg whites
1/2 cup canned pumpkin puree
1/2 teaspoon cinnamon
1/8 teaspoon ground nutmeg
Dash of salt
Pecan Topping
1 large egg
1/2 cup agave syrup
1/2 tablespoon maple syrup
2 tablespoons Splenda OR Baking Stevia
2 tablespoons almond flour
1/4 teaspoon salt
3/4 cup chopped toasted pecans
How to make it:
Make the crust
Preheat your oven to 325* F. Place crushed graham crackers in a large bowl and pour melted butter over the crackers. Mix together well until all of the crumbs are coated with butter.
In a 9-inch pie pan, cover the bottom and sides of the pan with the crumb mixture. Bake until golden brown, about 15-20 minutes. Let cool.
Make the Pumpkin Cheesecake Filling
In a mixing bowl, cream together the cream cheese, Splenda and maple syrup until very smooth. Add the pumpkin puree, cinnamon, nutmeg and salt and continue mixing scraping bowl periodically. Add eggs, gently mixing until incorporated. (Do not over mix.) Pour into the crust and place in the freezer. Freeze just until it is firm to the touch. (The freezing will keep the pecan mixture on top of the pie and not sink into the pumpkin mixture.)
Make the Pecan Topping
Preheat oven to 350* F. In a large bowl, whisk together all of the pecan filling ingredients until well mixed. Pour the topping mixture onto the frozen pie and place it in the oven. Bake for 20 minutes then open oven, rotate the pie 90 degrees, close door, and continue baking for another 23-28 minutes, or until the filling doesn't move when jiggled.
Allow the pie to cool before serving. Enjoy!
What's in it:
Each slice has 279 calories, 5g protein, 31g carbs, 16g fat, 2g fiber and 277mg sodium