Originally published on Guardianlv.com.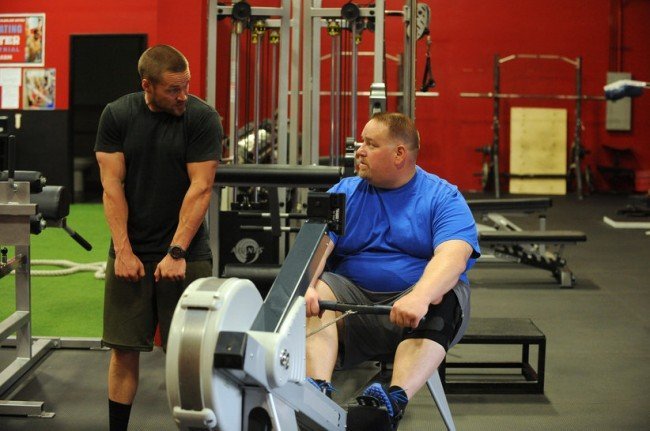 On?Extreme Weight Loss?(ABC) this Tuesday, the episode will follow the efforts of an obese policeman from Wisconsin, Bob, as he attempts to lose weight and qualify for skin removal surgery. Bob faces major knee problems that might stand in the way of his exercise routine, and of meeting his year-long final weight loss goal.
Bob?s knee and weight issues might even end up costing him his job as a police detective, unless transformational coach and co-host of the show (along with his wife, Heidi), Chris Powell, can help him lose his excess weight without further damage to Bob?s knees.
At his initial weigh-in, Bob tips the scales at almost 450 pounds. The state of Wisconsin has implemented the requirement that all police detectives must pass a physical fitness test called ?Fit for Duty? and Bob is worried that he might not be able to pass the test.
Desperate to lose weight and pass the test so he won?t lose his job, Bob turns to Chris Powell for help, hoping that Powell will accept him as a participant in the?Extreme Weight Loss?series.
Chris agrees to take Bob on, but a problem arises during Bob?s very first workout. Both Chris and Bob hear a loud ?pop!? Unfortunately, the sound is Bob?s knee getting re-injured.
The police detective now has a decision to make. Should he continue with the program and risk permanently injuring his knees, or should he rest and try to heal up, for consideration next year?
Bob decides that he is tired of carrying around his excess weight, and he want to change himself, and also get fit enough to pass the ?Fit for Duty? test, instead of waiting another year.
Using as his main fitness regimen swimming and boxing, Bob renews his dedication and commitment to lose weight.
As with the other participants of the Extreme Weight Loss series, Chris tells Bob as an extra added incentive, he will reward him if he meets his weight loss goals and milestone challenges during the year.
For example, if Bob meets his six-month goal, Chris will send him and his wife, Kelly, to Paris to renew their vows. ?Also, while in France, Bob and Chris travel the final leg of the Tour de France together.
Another major obstacle arises when Bob?s other knee gets injured, and he?s taken away from his exercise regimen for an entire month. Will Bob?s injury prevent him from losing enough weight to qualify for the skin removal surgery, and pass the test so he can keep his job?
This will be the final episode of?Extreme Weight Loss?(ABC) season three, but, have no fear, fans of the show ? it?s been renewed for another season! Until then, tune in on Tuesday, September 3, to see if Bob is able to meet his weight loss final goal, get his surgery, and pass the ?Fit for Duty? test!