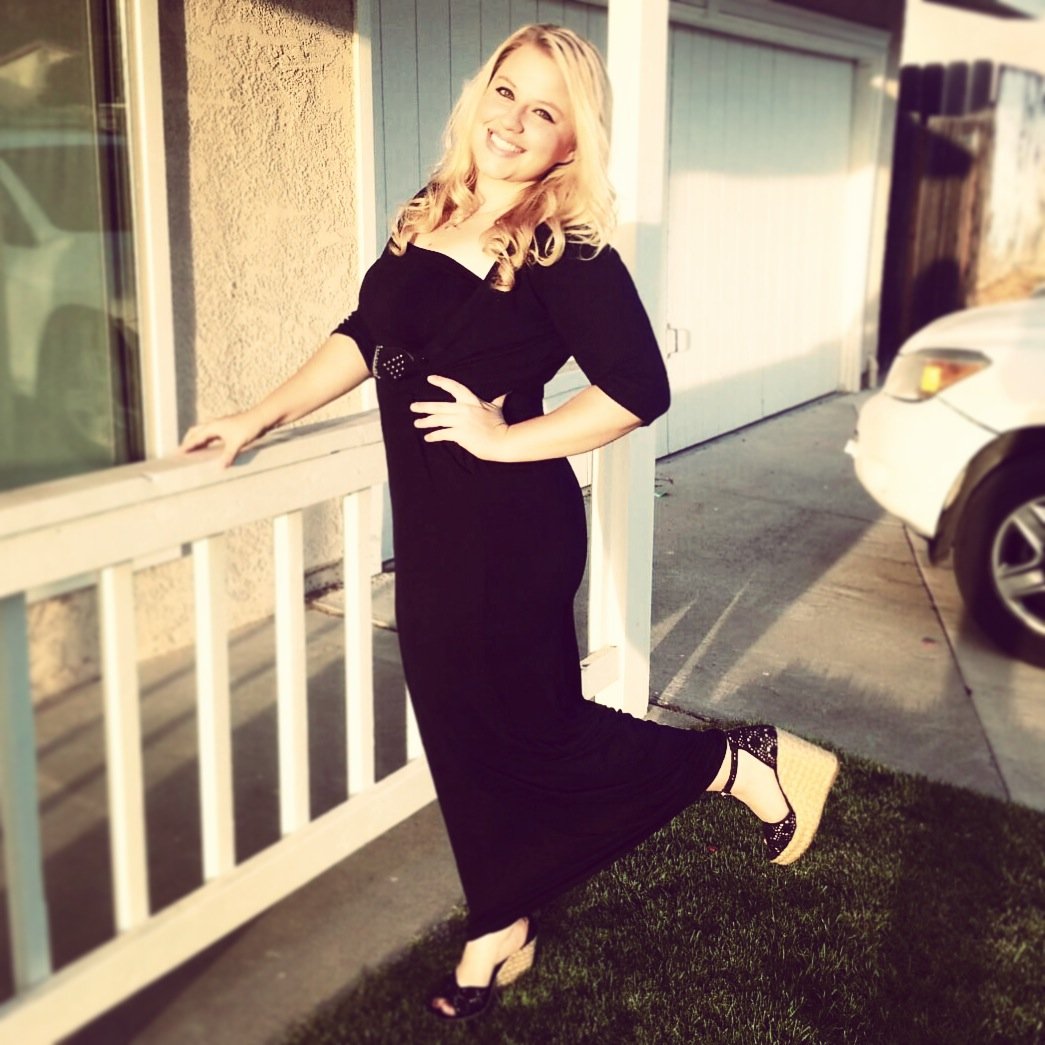 It is no wonder America fell in love with our beautiful friend, Ashley Hylton, after her episode of Extreme Weight Loss (season 3) aired this summer. Not only did she manage to captivate audiences with her hard work and dedication, losing 164 lbs in one year, but she made it clear that what she values most is family. This amazing mama brought her husband in on the weight loss action too – he lost a whopping 170 lbs in his year!!!! Go Jason! If you didn't get to see their episode, keep your eyes peeled for Sunday night reruns on ABC – airing now.
Want a peek into how Ashley maintains her family's healthy lifestyle? Well, here you go. Check out this amazing recipe that will surely make some happy tummies around your dinner table tonight :).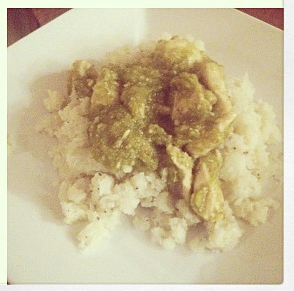 Ashley's Chile Verde – a deliciously spicy chile verde sauce served over cauliflower rice!
Chile Verde Sauce – Serves 6
What you'll need:
5-6 tomatillos (pronounced toe-ma-tee-ohs), husks removed
1 New Mexico chile or poblano
1 tomato (Optional. If not using, add 1-2 more New Mexico or Poblano chiles will make it a more vibrant green)
2-3 small jalapenos or 1 large
1-2 Serrano chiles (the more, the spicier)
1 onion
3-4 garlic cloves, unpeeled
1 teaspoon sea salt
1 1/2 pounds chicken, cut into bite sized pieces (Pork is yummy too!)
3 tablespoon oil (I used coconut oil)
How to make it:
1. Preheat over to 450.
2. Roast the veggies for 15 minutes. Remove from oven.
3. Peel your garlic.
4. Remove stems and seeds from chiles depending on how spicy you want it. The more seeds you leave, the spicier it will be.
5. Process in a food processor or blender with the salt and set aside.
6. Add the oil in a large pan with a lid on med/high heat. Add the meat and par cook (partially cook to seal in the juices) for about 5-7 minutes.
7. Pour salsa over the meat and stir to incorporate. Bring to a bubble. Cover, and reduce heat, simmering for 20 -25 minutes until meat is cooked and tender.
What's in it:
Each serving has 232 calories, 25.5 g protein, 10 g fat, 320 mg sodium, 8 g carbs and 1.6 g fiber.
Cauliflower Rice – Serves 6
What you'll need:
1 head cauliflower, cut into small florets
1/2 onion, minced
2 tablespoons coconut oil
Salt and pepper to taste
How to make it:
1. Process your cauliflower in a food processor or drop florets one by one in a blender on low-med speed until the consistency of rice. (If using a high-power blender like a Vitamix, use the lowest speed). Set aside.
2. In a large sauce pan or saute pan with a lid, heat the coconut oil on med/high heat.
3. Add onions and cook until soft and transparent, about 3-4 minutes.
4. Add the cauliflower and cook for another 3-4 minutes.
5. Reduce heat to medium, stir in salt and pepper to taste. Cover and cook for another 7-10 minutes stirring frequently.
What's in it:
Each serving has 69 calories, 2 g protein, 5 g fat, 55 mg sodium, 6 g carbs, and 3 g fiber.