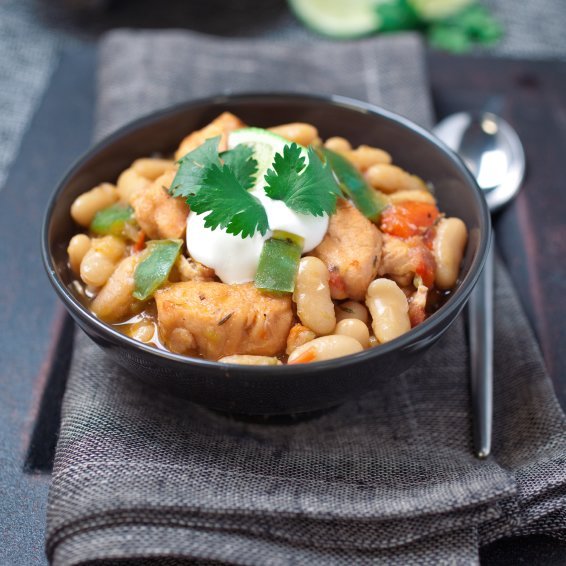 Slow cookers were made for me, I'm pretty sure. It seems like the only way my family can get even close to a gourmet (or even home cooked) meal these days! The Powell 6 Pack is amazing, but they sure keep my time limited :).
Slow cooker to the rescue! Stews, chili, soups, roasts, lean meats…All cooked to perfection in the slow cooker. It helps that there are SO many healthy recipe options using this little appliance too! Here is one of them:
White Chicken Chili
Serves 9 (1 cup servings)
What you'll need:
4-5  4 oz boneless, skinless chicken breasts, cooked and shredded (leftovers work great, you could also use leftover Thanksgiving turkey)
3   15.5 oz cans great northern beans (rinse and drain to remove extra sodium)
½ cup chopped onion
1  4 oz can chopped green chiles
1 ½ tsp. chili powder
1  14.5 oz can low fat (I prefer 99% fat free), low sodium chicken broth
Plain, non-fat Greek yogurt for garnish
How to make it:
Put everything in your slow cooker (except the yogurt), stir together until well mixed, and cook on low for 6-9 hours. That's it. Stir a dollop of yogurt into each serving for some extra creamy goodness and enjoy!
If you have a favorite healthy slow cooker recipe, share it in the comments below so we can all try it out!
What's in it:
Recipe makes 9 servings. Each serving has 251 calories, 21.5g protein, 7g fat, 22g carbs, 7.5g fiber and 122.5mg sodium.
*Adapted from Busy People's Slow Cooker Cookbook
.