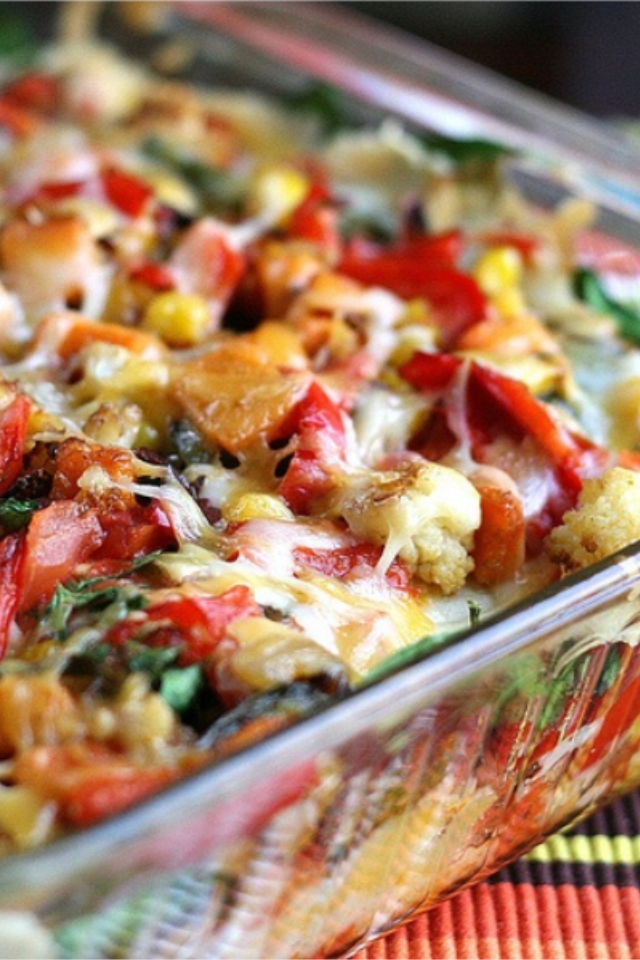 So when I was down and out following Ruby's birth and my kidney stone surgeries, one of my favorite people in the world came and spoiled us rotten with THE ?best, veggie-packed dinner ever! We loved it so much, I had to share the recipe that Karlee discovered on Perry's Plate?Pinterest page! 🙂 Enjoy!
Stacked Roasted Vegetable Enchiladas
What you'll need:?
1 poblano chile, cut into matchsticks
2 red bell peppers, cut into matchsticks
1/2 head of cauliflower, cut into 1/2-inch chunks
1 small sweet potato, peeled and cut into 1/2-inch cubes (about 1 1/2 cups)
1 medium onion, halved and slivered
1 cup corn kernels, fresh or frozen
3 T heat-safe oil like grapeseed or coconut
1 1/2 tsp ground cumin
2 garlic cloves, minced
salt and black pepper
1/2 cup chopped fresh cilantro
2 cups homemade or store bought salsa/pico de gallo
2 ounces baby spinach leaves (about 2 big handfuls)
9-10 corn tortillas, halved
2 cups grated cheddar cheese
sour cream and thinly sliced scallions (green onions) for garnish, if desired
What you'll do:
1. Preheat the oven to 425 degrees F.
2. Lightly oil a large shallow roasting pan or rimmed cookie sheet.
3. Place poblanos, red bell peppers, cauliflower, sweet potato, onion, and corn kernels onto cookie sheet. Drizzle with a high heat oil like grapeseed or avocado oil. Sprinkle the cumin and minced garlic over top. Add a generous pinch or two of salt and black pepper, then use your hands to mix everything together….
Nutritional information (serves 8?not including garnish): Calories: 245.4, protein: 9.7g, carbs: 21.1g, fiber: 5.5g, fat: 15g, sodium: 733.6mg.
Here are some other options:
To make this a high-carb meal, replace the cheddar cheese with 1 cup of low-fat mozzarella cheese. Here is the nutritional information for this option: Calories: 166.9, protein: 6.7g, carbs: 21.3g, fiber: 5.5g, fat: 7.9g, sodium: 665mg.
Add 24 oz. (3 oz./serving) of boneless, skinless chicken breast for some added protein, which adds the following per serving: Calories: 93.5, protein: 19.6, carbs: 0g, fiber: 0g, fat: 1g, sodium: 55.3mg.
(For complete recipe directions and additional tips on adapting this yummy recipe to your personal preferences, go to Perry's Plate.)
Enjoy!