High in vitamin C, low calorie, high fiber and . . . it tastes yummy! It's grapefruit season, especially here in Arizona. Neighbors love sharing the fresh grapefruit picked right from their own backyards. It's so fresh and delicious!
Another great reason to talk about grapefruit today is in honor of National Grapefruit Month! This sweet tangy fruit has many health benefits and comes in a variety of colors including red, pink, and white. For the most nutritional bang for your buck go for the red ones; they are highest in antioxidants and other vitamins and minerals.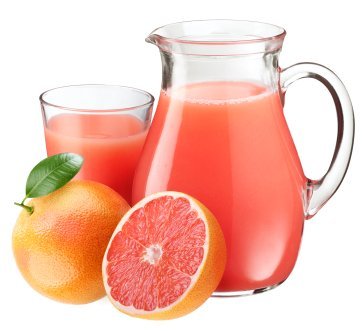 I love to slice a grapefruit in half, sprinkle some cinnamon, nutmeg, or all spice on it with a dash of stevia and lightly broil it in the oven. Instead of your morning glass of OJ, enjoy a glass of grapefruit juice. Fresh squeezed grapefruit juice is a great way to start your day!
Not only has grapefruit been touted as a helpful food for losing weight but MyPyramid.gov reports that eating more grapefruit can reduce the risks of serious diseases such as cancer, especially cancer of the stomach, mouth or colon. YAY! And here?s more great news: According to FruitsandVeggiesMoreMatters.org, grapefruit can reduce risks of coronary heart disease as well as stroke and cardiovascular disease.
Grapefruit are in season right now, so the time is right to grab a few to enjoy. You might want to try adding some grapefruit sections for a tangy twist to your salads on a high carb day, or if you?re really adventurous you can toss in some diced grapefruit with cilantro and chili peppers to make a unique salsa.

Word to the wise, if you take prescription medications, especially statin drugs, talk to your doctor or pharmacist before eating grapefruit. There is the potential for some undesirable, potentially life threatening, interactions with certain medications.
On a happier note, have you avoided grapefruit because it took forever just to cut them up? Did you know there?s a special two-sided serrated knife and serrated spoons to help make eating grapefruit easier? Check them out here!
So, with a glass of fresh squeezed, red grapefruit juice in my hand, I say Cheers and enjoy!