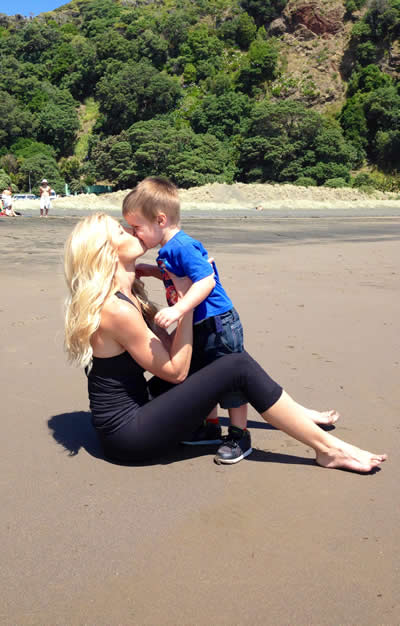 ?Are you here on holiday?? Everybody here asks?with their dreamy New Zealand accent, I must add.
This isn?t the first country (or state for that matter) that we?ve visited where this question seems to be asked repetitively. If not by the locals, then by friends, family, and our loyal Facebook, Instagram and Twitter friends. Nope. As a matter of fact, so much of our lives is spent on the road in beautiful, breathtaking places that Chris and I had only dreamed of visiting just a few short years ago.
While it might seem like the answer to that burning question should be an easy ?yes? or a ?no?, it?s slightly more complicated than that.
Yes, Chris and I get to travel the world. And we get to do it with our family in tow. But I must admit, not one single, itty bitty (or huge) trip we?ve taken since we have met has been for the sole purpose of vacation or pleasure. I kid you not!
All of them, every single one, to date has been for the purpose of work. Most of these trips are to visit our peeps or shoot the show, but occasionally our trips are to take business meetings, or visit some of our favorite morning or talk shows. ?That?s a LOT of work trips,? you say! Yes, yes it is.
BUT?and this is a huge ?but?, this doesn?t mean that we don?t make every trip a holiday ?. Because we do!! We have learned that since time is precious?and it?s hard for us to take time for ourselves, or ever really travel just for fun, we can make fun wherever we go.
I never in a million years would have thought that I would have the opportunity to see the world like I have been able to. I also never imagined my 4th child would see 6 states and 3 countries just after her 2 month birthday. And that?s just little Ruby?s experiences! If Cash, Matix, and Marley ever write a book?I?ll tell ya, they would have some adventures to share!
How do we do this? We work hard (REALLY hard), nearly all day everyday with a huge smile on our faces. Why smile when we work? Two reasons:
One: We hardly consider this work. We get to inspire and BE inspired by people everywhere, and we get to make best friends with those people transforming their lives. The saying is true?
?Do something you love and you?ll never work a day in your life.?
Two: Because we know in the midst of these extremely long days we put in (on the phone coaching from afar, on the computer writing or tweaking programs, shooting the show, developing tools to help millions?not just those on the show), that when our work day wraps, a new adventure in a foreign location awaits the Powell Pack ?.
The perfect example – Today we were lucky enough to get to spend half of our work day on one of the most beautiful, black sand beaches of New Zealand. Knowing this was the location of the shoot, we brought the family along to play between shoots. Cash had the time of his life (going on a scavenger hunt today) while Ruby smiled at everyone and everything ?. And for us? What?s better than being able to sneak kisses and hugs from some of our bundles of joy during our work day? Dream come true.
So, whenever you wonder if ?we are here on holiday,? you now have your answer.
No, but yes ;).