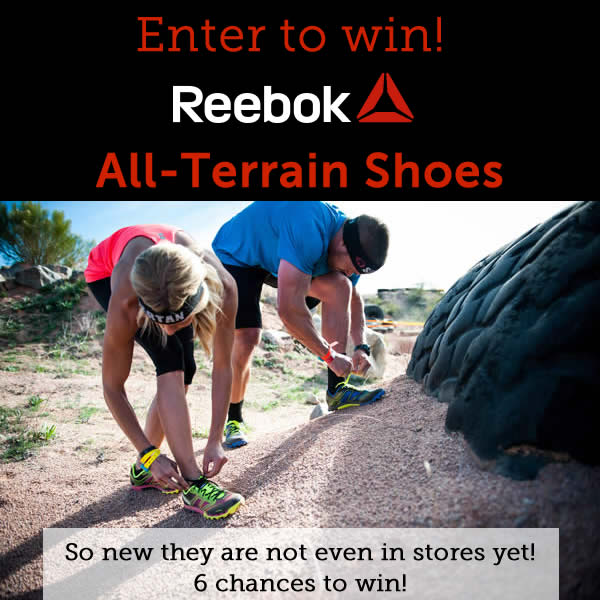 UPDATED 2/26/2014:
CONGRATULATIONS TO OUR WINNERS
My Picks:
Corinne Doughan
Tricia Tucker
Stephanie Rader
Chris' Picks:
Jeremy Johnson
Keith Christensen
Mike Lyons
There have been so many great comments and curious minds asking questions about the Reebok All-Terrain Series shoes Chris and I keep talking about, so we figured what better way to answer your questions than to just give away some of the shoes for you guys to try! Now, these shoes don't even come out until March 15th, so the winners will be the lucky few who get to rock these shoes early! 🙂
And here?s the best part: I?ll be giving away 3 women's pairs, and Chris will be giving away 3 men's pairs :). Yes. You read that right?that?s 6 pairs of shoes! Are you excited yet?!
Here's how to win:
1. Since the goal of every Spartan Race is to test the mental and physical capacity of every competitor, ?leave a comment on this post telling us in 100 words or less?one thing you?re doing this year to test your own mental or physical capacity, and why you?re doing this one thing.
2. Follow both me?and Chris on social media and share this post. The more you share, the more chances to win!
Heidi: Facebook, Twitter, Instagram, and/or Pinterest
Chris: Facebook, Twitter, Instagram, and/or Pinterest
Be sure to include the hashtag #PowellReebokGiveaway so we can find you!
3. Enter by Sunday, February 23, 2014 @ 11:59 p.m. PST.
Six winners have been chosen on and notified through the social media channels posted in #2 above.
Get ready. Get set. Go!
And good luck! 🙂
To learn more about these amazing shoes, read our reviews here:
Mine -?Did the Shoes Make the Cut??or find the shoes HERE!?
Chris'- Testing out the new Reebok All-Terrain Shoe!