I just got word of the who the lucky winner is for a brand new, not-yet-released Nano 4.0?s! A Huge congrats to: Scott Johnson
?My father has been a shining example of how to live ones life. He gives until he literally has nothing left to give. He has taught me to never judge anyone by what they do or how they look. Everyone has their own cross to bear and we need to do what we can in helping them, is what I heard everyday growing up. He is an amazing man who has left is print on the world.?
Please email me at derek (at) chrispowell (dot) com so I can get? your information to get you your Nano 4.0's. Thanks for everyone who took part. We loved reading the posts about the special fathers in your lives. Stay tuned for more fun giveaways!!?

>>>>>>>>>>>>>>>>>>>>>>>>>>>>>>>>>>>>>>>>>>>>>>>>>>>
Father?s Day is EXTRA special around our house because??.we have 2 dads we get to celebrate! While many may see our split family and feel sad for us, we all feel incredibly grateful to be a part of each other?s lives. And I am not exaggerating one little bit. Sure, it has been (and can be) tough at times?but what non-split family doesn?t have tough times too, ya know? What I can say is that there is more silver-lining to our situation than anything else ?. To name a few:
? While Chris is the biological dad of Cash and Ruby, and Derek is the biological dad of Matix and Marley, all 4 of them really do have two dads. Derek and Chris both love all 4 kids like they are their own. For those of you that know us, you have witnessed this and can attest to this truth!
? We all get 2 times as much support, care, and concern. Legit ? whether Chris is on the road or not, we all know and feel safe having Derek as our extra set of eyes on our family. No, he does not live with us (ha!) but he cares deeply about everyone in our home, and is our family?s second source of protection at all times.
? The kids get to bring 2 dads to school on Parent Career Day, and get 2 dads to help out during school holiday parties ?. It?s pretty amazing with all 3 of us there!
? And the kids? favorite thing: There are 2 dads to hug them, tease them, teach them, and love them ?.
Like these kiddos, I feel incredibly blessed to have both of these two dads in my kiddos? lives. It isn?t luck that got us here though?it?s hard work on all of our parts, especially those two men. It takes both of them (and me, of course) starting every single day by remembering what is most important in their lives?our kids. We all know that as long as we keep that in mind, put the kids first, and our disagreements second, it will all work out ?. Thanks to our hard work (especially the efforts from Chris and Derek), we are all not only an amazing, modern family?but also awesome friends ?.
[slideshow_deploy id='8108′]
So what did we get these 2 amazing fathers for Father?s Day? Some pretty good stuff, I gotta admit! Taking a step back, none of this?and I mean none of this?would be possible without my amazingly talented helpers ? Tayla and Kalala (as Cash pronounces their names). Tayla and Kalala knew I wanted something heartfelt from the kiddos, and boy did they ever produce! Within about 5 hours of texting them my plea for help, they came up with these?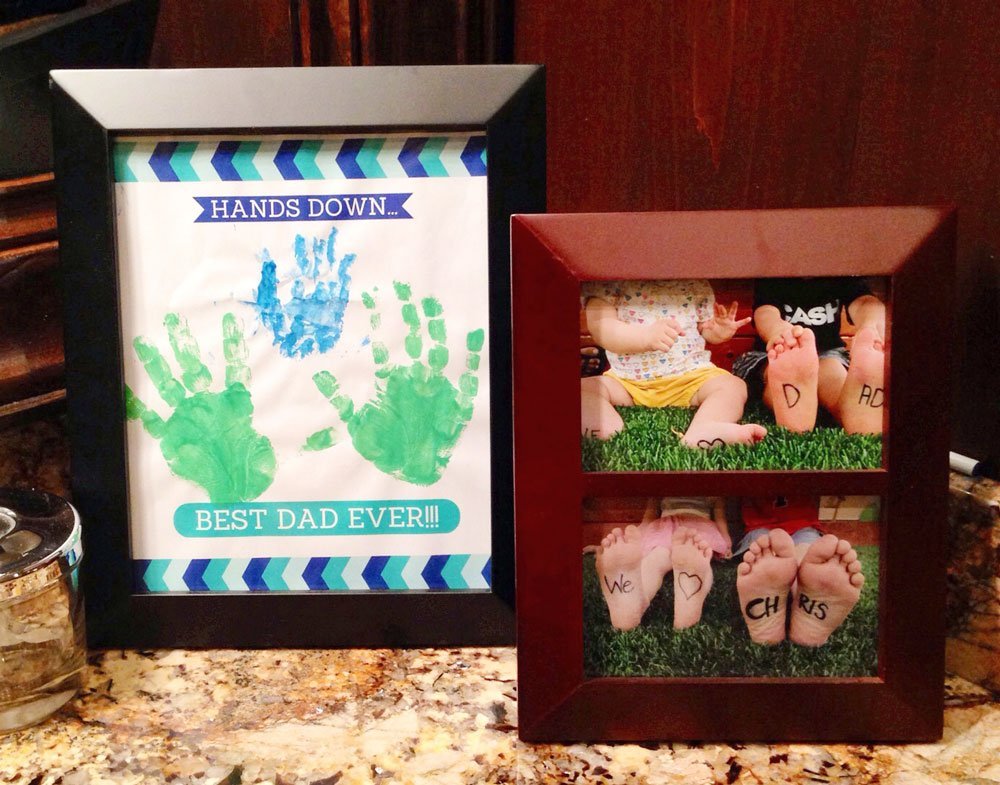 Derek got one too?but I don?t have a pic of his ?. So cute though.
Now from Mom. I can?t tell you what I got Derek yet, because he hasn?t opened it (and he is going to help me post this blog ? I?d hate to spoil it!). But for Chris? Only the not-yet-released Nano 4.0?s ?. I?m not sure who what more excited about opening them?Cash or Chris? You tell me!
As a Happy Father's Day to all you fathers out there, I am giving away?another pair of these yet-to-be-released Nano 4.0's!! Use the Rafflecopter below to enter to win!
The blog post comment can be about your husband or father. 🙂 The deadline is Monday night at 9:00pm (EST) and we'll choose a winner at random who has completed all 5 steps.
Happy Father?s Day to all you fathers out there?modern or traditional!!
Xoxo
Heidi