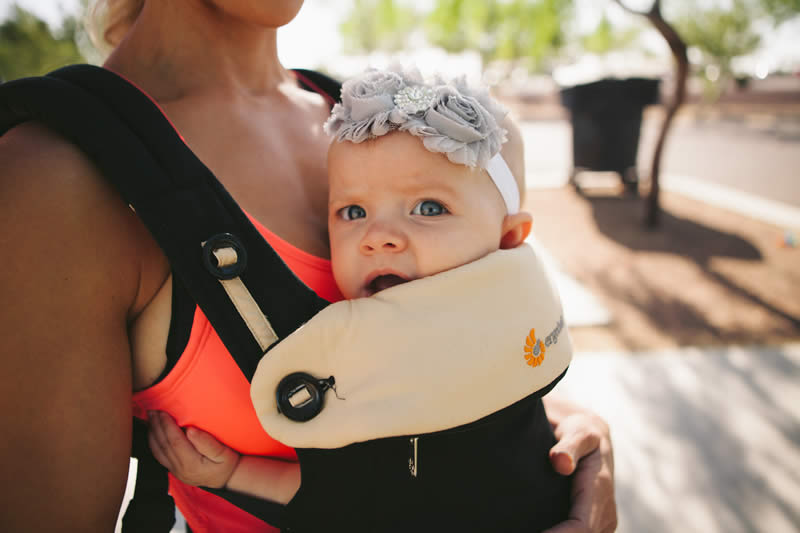 Remember this babywearing post from a few months ago? Our Ruby was still just a tiny little thing. My, how time is flying…Way too quickly, if you ask me. 🙁 Now our little Ruby is 7 months old, and is quite the sassy pants! She?s a girl who knows how to get your attention, and we love seeing her little personality develop day by day.
If you have a baby who?s around Ruby?s age, you?re probably starting to feel like you?re finally getting back to some sort of ?normal,? and you?re ready to take your postpartum workouts to the next level. But if you?re like me, you also have other kids to take care of, plus a seemingly endless to-do list that grows every. single. day. Fitting in a workout, on top of everything else, can seem like a really nice dream, to say the least! Thankfully, the awesome people at Ergobaby are here to help us out again! Their Four Position 360 Carrier is simply amazing! It?s perfect for babies in the 5-9 month range, and I?m wondering how I survived life without it with my other three kiddos!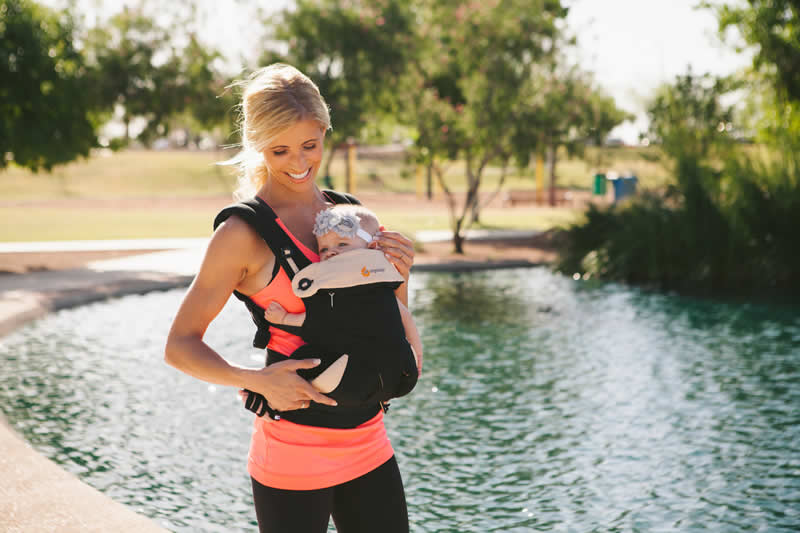 Here are the things I love, love, love about this 360 Carrier:
This is not just a front facing carrier, oh no. I can wear Ruby in four positions: front-inward, on my hip, on my back, and front-outward. Changing positions is so easy too!
Front-inward allows Ruby to be safe while we?re moving around and provides the neck and head support she still needs.
The hip position allows me to hold Ruby on my hip without the usual ?popping out of the hip? that can get so uncomfortable! And you can breastfeed in both the front-inward and hip positions?which is a huge bonus for us moms! 🙂
The back position is a nice option when Ruby starts to feel heavy in front-inward, or as a way to simply change things up a bit.
The front-outward position is a great way for Ruby to begin to experience the world around her, but this position does come with some cautions. It?s recommended that baby only be in this position for short periods of time?15-30 minutes?when she can interact with the world around her (like feeding the ducks, looking at animals at the zoo, touching new things, etc.), not just to take a walk, and never while exercising. Oh my gosh! This was a huge wake up call for me! Chris and I did this so wrong with Cash?we used to have him front-outward in our old carrier for way longer than 30 minutes! Also, do not use this position when baby is sleepy, and watch for signs that she?s getting over-stimulated (cranky, fussy, rubbing her eyes, spreading her fingers and toes, making fists, laying her hands in front of her face, spacing out, turning away again and again and again, etc.). Remember, your little one?s not used to moving around at an adult pace!
I love the structured bucket seat that keeps Ruby sitting safely no matter what position she?s in.
The extra wide Velcro waistband helps support my back, and it can be worn in two different positions for even more comfort.
The extendable back panel adds additional support for Ruby?s head, neck, and back.
Besides providing more support for Ruby?s head while she?s snoozing, the sleeping hood also helps protect her from the sun.
For even more awesome info about the 360 Carrier, check out Ergobaby?s FAQs section.
And now, here?s what you?ve all been waiting for?an all-new workout you can do with your baby! I like to call it the Piggyback Park Workout, and it takes less than 30 minutes to complete. Don?t have time to go to the park? Do it in your yard at home! No matter where you do it, it?s a win-win in my book?working out and bonding time with your little one all at once! And you know what else? Working out while babywearing is like wearing a weight vest…only way cuter and much more fun! 🙂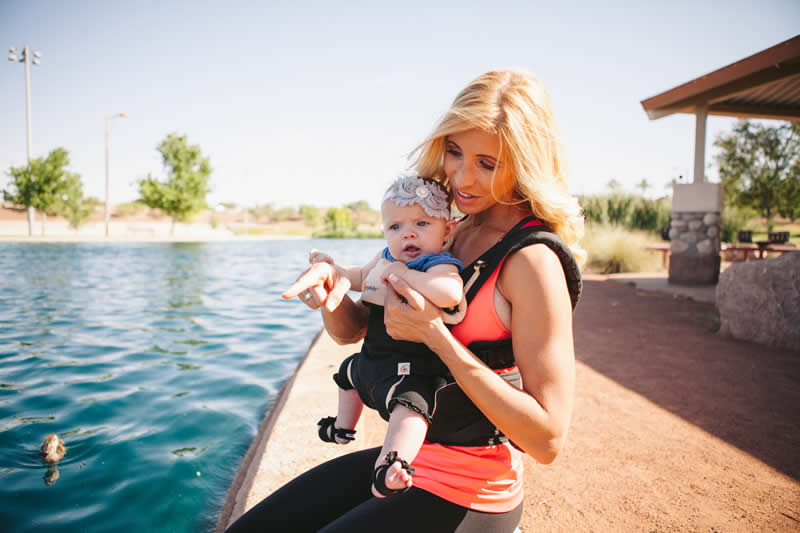 Ready? Grab a stopwatch, your baby, and let?s go!
The Piggyback Park Workout
Step 1: Warm Up (baby in the front-inward position). Take a brisk walk around the park (10 minutes).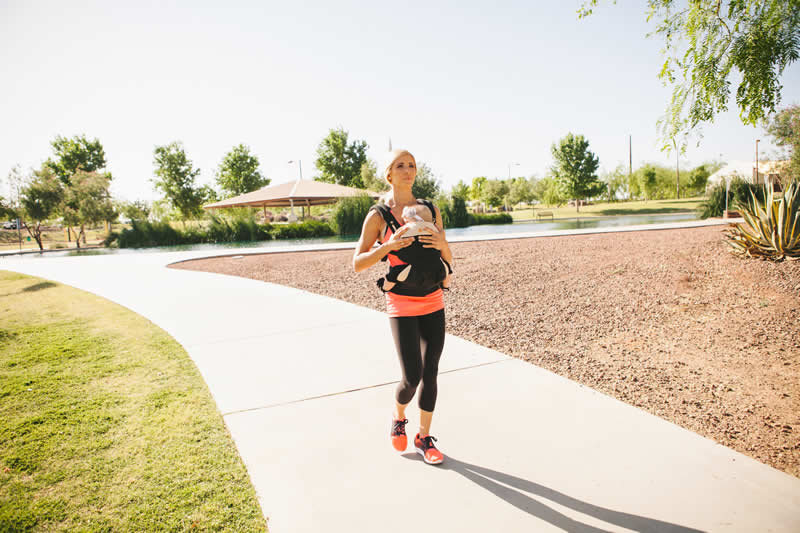 Step 2: Park Bench Squats (baby in the front-inward position). Find the nearest bench and do three rounds (6 minutes).
Do 1 minute of squats
Do 1 minute of rest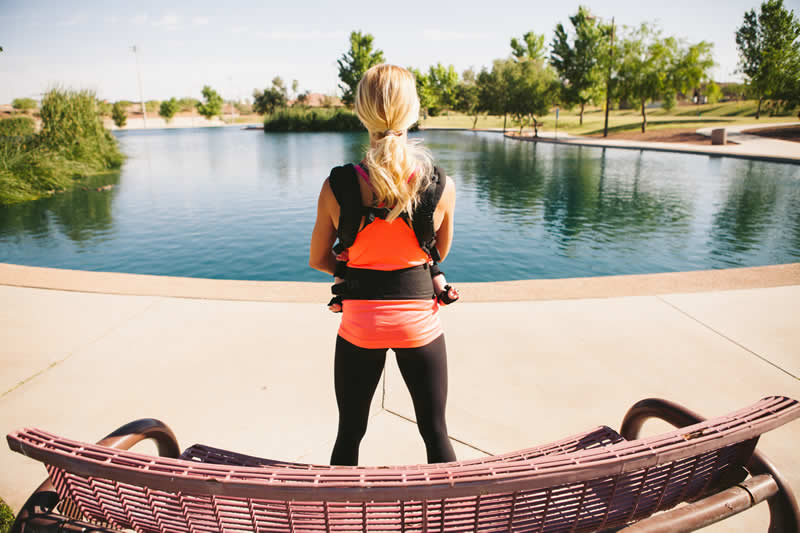 Feeling the burn? Awesome! Don?t hesitate to stop for 3 seconds to shake it out, and then get right back into it for maximum results.
Step 3: Step It Up a Notch?literally! 😉 (Baby in the back position). Find the nearest set of stairs and do three rounds (6 minutes). Can?t find any stairs? No problem! Find a cement ledge or a raised curb.
Do 1 minute of stairs
Do 1 minute of rest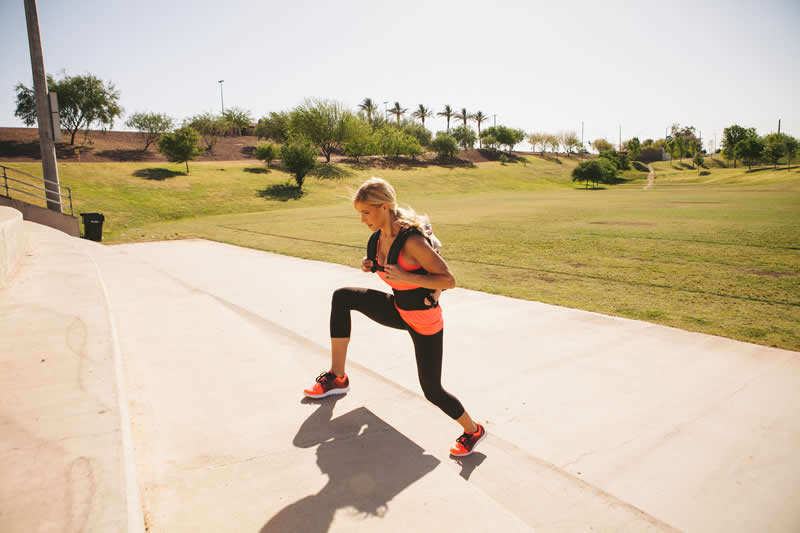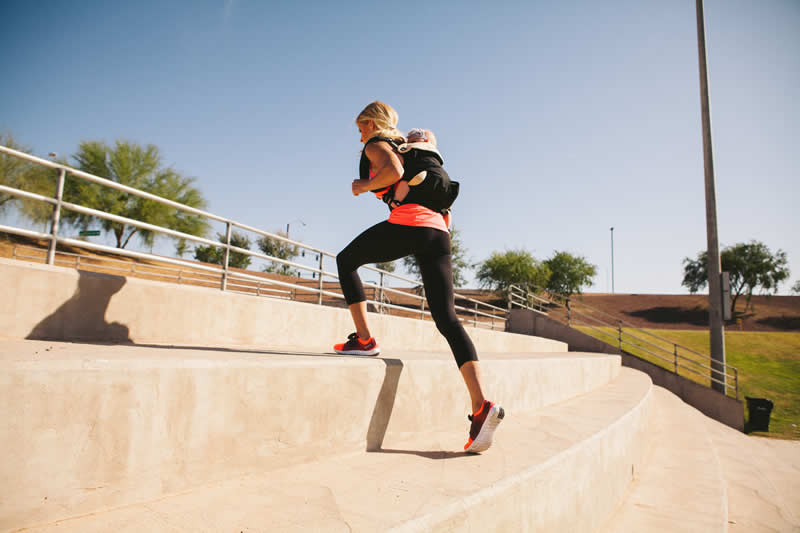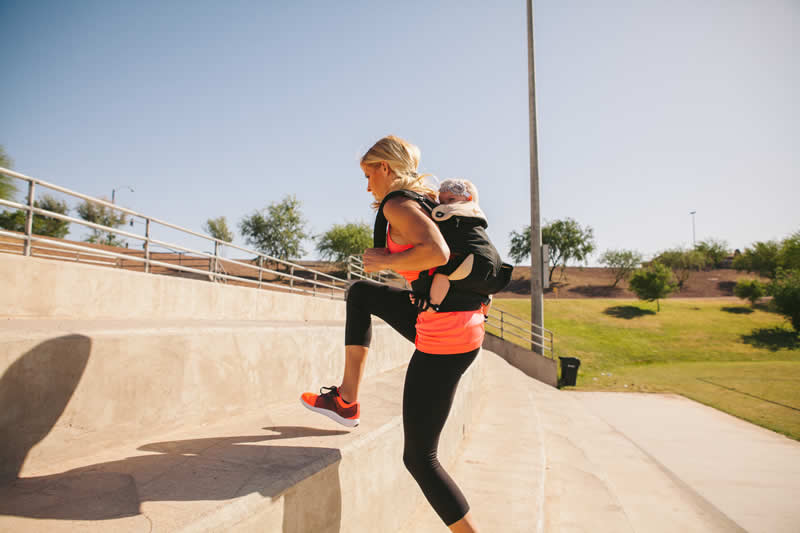 Easy, peasy, right?! And again, if you really start to feel the burn (yay!), stop for 3 seconds and then get going again.
Step 4: Feeling like you want and can handle more? Try some lunges! I did the length of the field and was DONEZO!!! For this one, keep baby in the back position.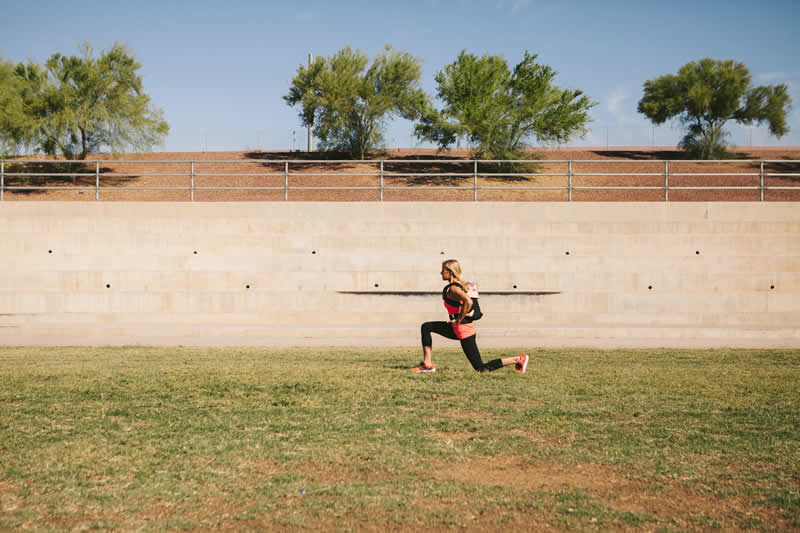 Step 5: Cool down (baby in the front-inward or back position). Take a walk around the park (5 minutes).
Bonus step: Take some time and let baby explore the world with you (baby in the front-outward position, and please remember the cautions). This one was my favorite! It was so fun to see Ruby?s reaction to the ducks?I think she wanted to share their treat with them! 🙂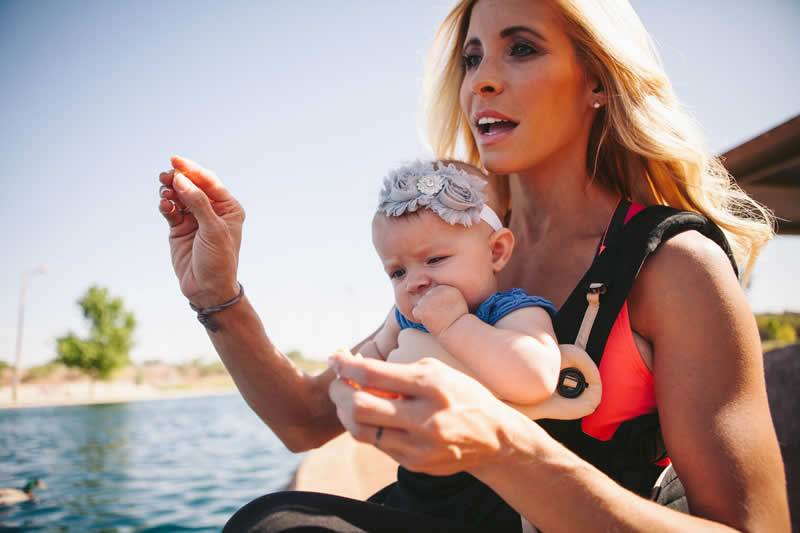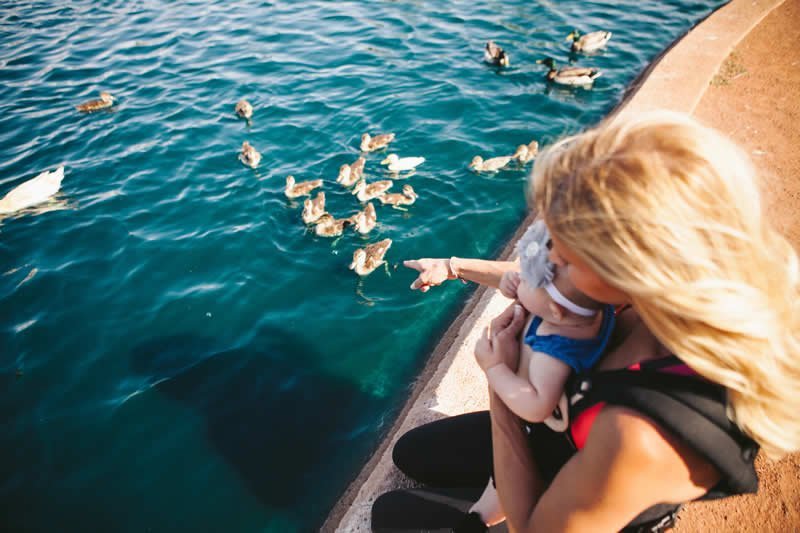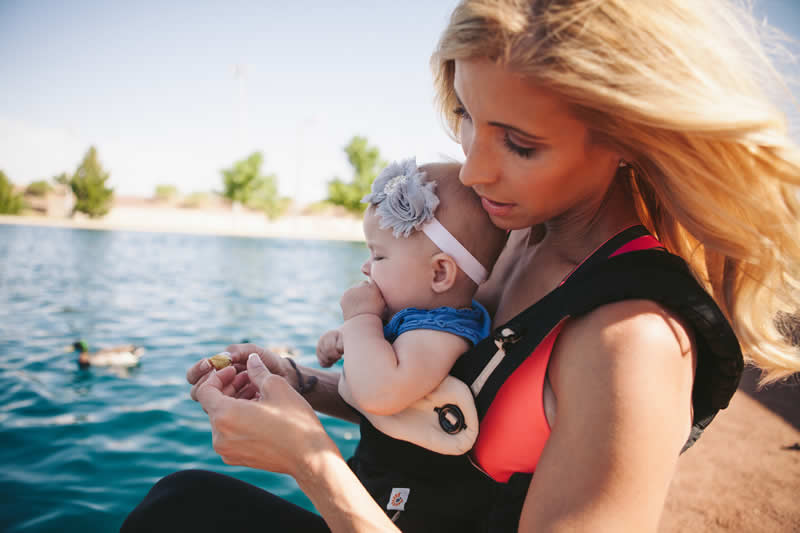 Believe me, you?ll love the results you?ll get from this workout! And when it gets too easy, simply throw in some additional rounds!
The possibilities with this awesome Ergobaby Four Position 360 Carrier are pretty much endless, so check it out and enjoy the beautiful summer weather, spend some priceless time with your baby while crossing things off your to-do list (including ?work out?!), and make the most of this precious time in your baby?s life!