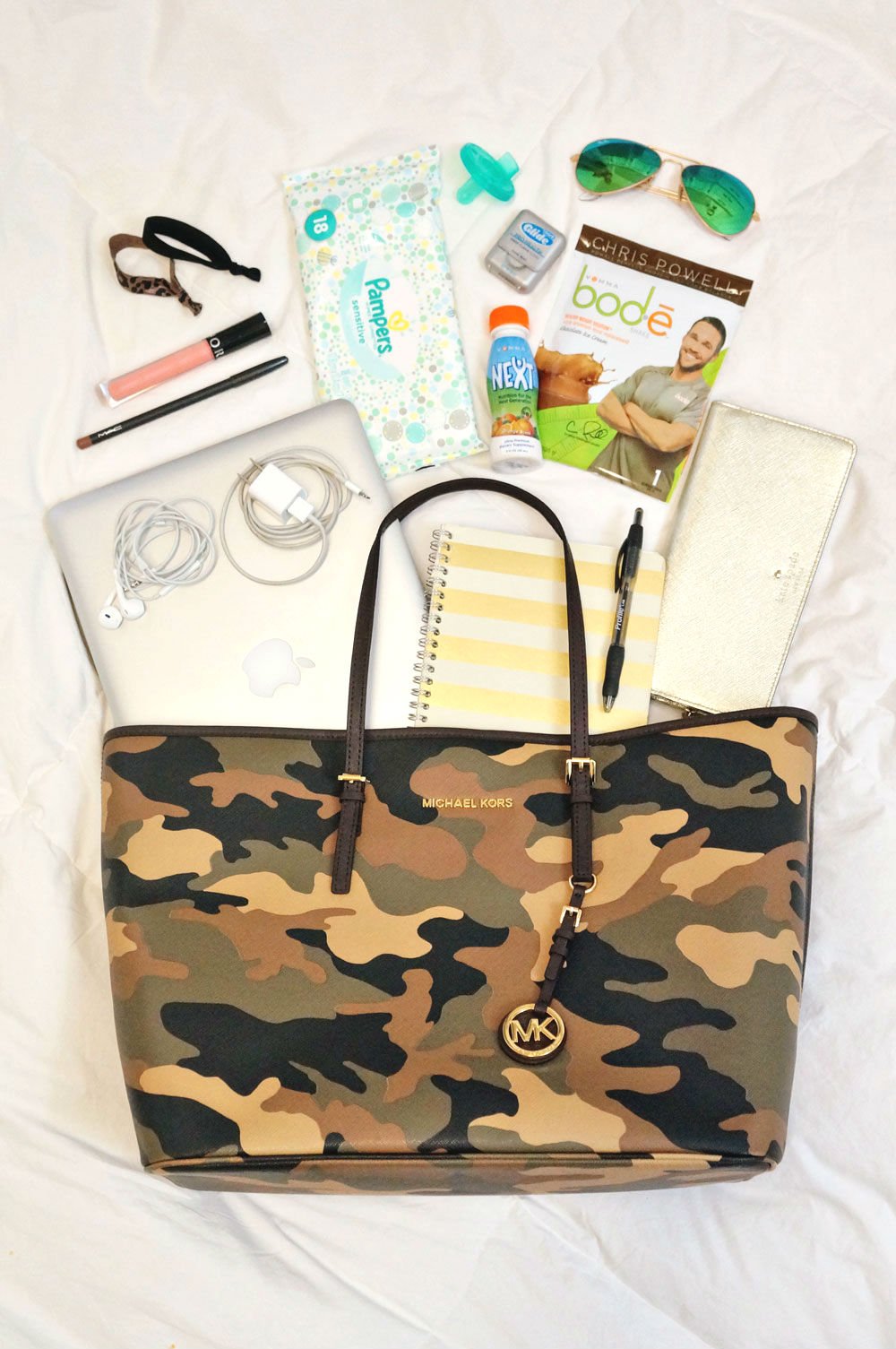 Being that I'm a mom on the go, it's so important that I'm always prepared…and for me that starts with the right bag to fit all of my necessities. This Michael Kors Camo Tote?is a dream! The size is absolutely perfect, it fits my laptop comfortably and there is still plenty of room for everything else I need. And the print! I am loving camo print everything right now, so the second I saw this beauty I had to have it. It's a fun print, but the colors are so neutral I feel like I can wear it with absolutely everything…which is a must since I never have time to change out purses to match outfits.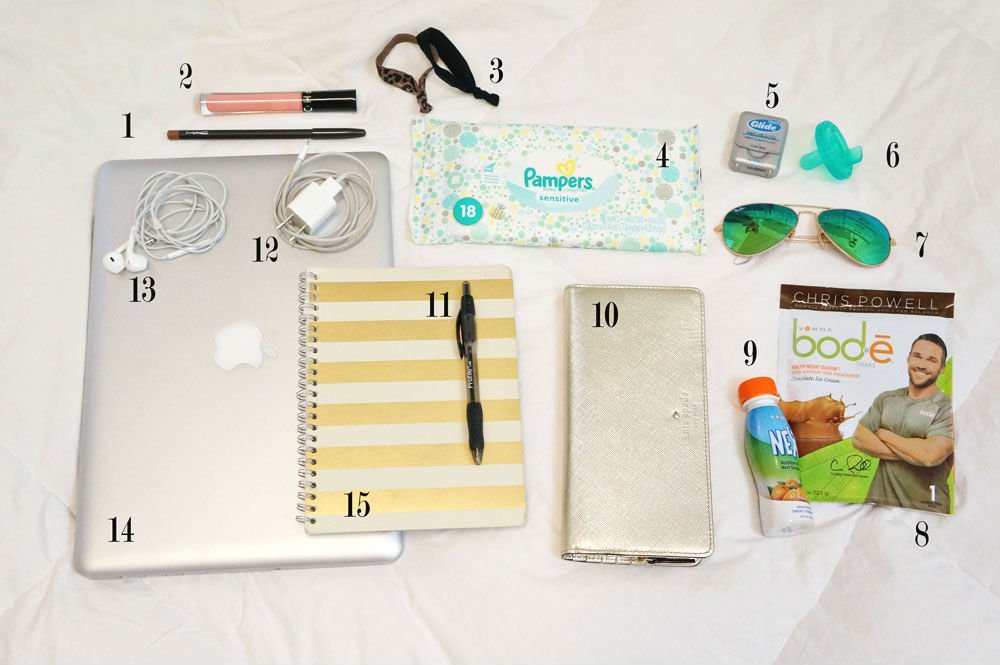 What's in my bag:
1. Mac Lip Liner in Oak – This lipliner was featured in my "My (Not So) Secret Lip!" ?post and I love it! Definitely my go-to.
2. Sephora Ultra Shine Lip Gloss in 14 Shiny Natural Look – Again, featured in my "My (Not So) Secret Lip!" post. This summer weather makes it too hot to keep a lipstick on hand, so this lip gloss has been a perfect replacement. So shiny and SUCH a great color!
3.?Goody Ouchless Ribbon Elastics?– Between training EWL contestants, working out, and just being on the go, a couple of these fun hair bands are a total must. I love that they don't leave a crease in my hair, making it super easy to transition from the gym to being out and about. Plus…with fine hair, I need something super gentle on my strands :).
4. Pampers Sensitive Wipes Travel Pack?- Okay, moms – you know what this is all about! Of course I always have these on hand to wipe little bums and dirty faces, but they're also perfect for cleaning up a quick mess too!
5. ?Glide Mint Flavor Floss – The easiest, quickest way to clean and freshen my teeth…and make sure I don't get caught on camera with greens in my grill ;).
6. Philips AVENT BPA Free Soothie Pacifier, Green, 3+ Months, 6 pack

– Not the most glamorous item, but a complete necessity. If baby isn't happy, nobody is happy!
7. Ray-Ban Sunglasses -?I have a huge love affair with Ray-Bans, and this pair is my new favorite! The color is so light, and the lenses are such a fun color! They're definitely my summer staple.
8. Powell Perfect Protein Packs – ? They're so great for kicking cravings and fueling up wherever we are. Super convenient, and my favorite breakfast on the go!
9. Vemma NEXT Kids Drink -?Cash and the other kiddos absolutely loves these, and they are so nutritious that I'll give them to my kids anytime! Perfect way to keep his belly (and my conscience) happy!
10. Kate Spade Carmilla Wallet -?I JUST got this new wallet and I'm obsessed! The gold color is perfect, and there are so many card slots and compartments for everything I need to keep on hand.
11.?Pilot G2 Gel Ink Black Pen?-?Who doesn't love a good pen?! Gotta have at least one of these in my purse to jot down quick notes!
12. Apple iPhone Charger?-?I'm constantly on my phone and without a charger handy at all times, it'd be dead in no time. I have to take my charger wherever I go!
13. Earbuds –?Honestly, I actually carry more like 2 or 3 pairs of headphones wherever I go. I use them all the time and am always misplacing them (#babybrain). Definitely a staple in my bag! I found the cutest ones the other day, you'll HAVE to check them out! Chicbuds.com… seriously, a color and a pattern to match every outfit. Use the code Heidi20 to get 20% off your entire purchase.
14. Apple MacBook Pro Laptop?- Between updating the blog, sending emails, logging on to Facebook, etc., its so important I have my laptop handy so I can work wherever I am. Good thing I have a big bag to carry it in ;).
15. Notebook?– Truth be told, I have a bunch of these notebooks and I pick them up all the time from pretty much everywhere…you can never have too many notebooks! I carry at least one with me everywhere for quick brainstorming sessions or ideas I come up with throughout the day. I love the gold stripes on this one!
My favorite bag, filled with everything I can't leave the house without! So, what's in YOUR bag?! Comment below…
xoxo,
Heidi